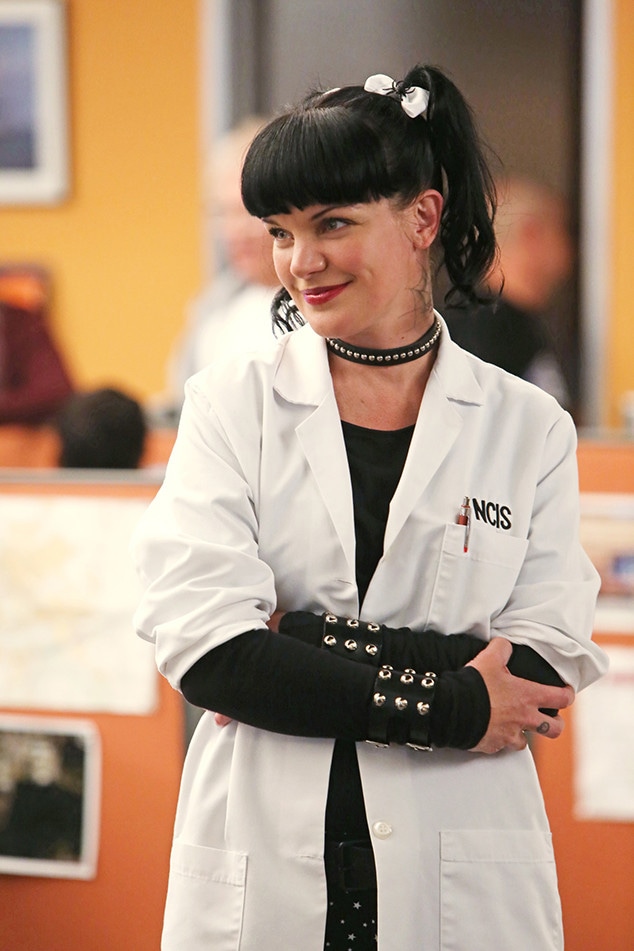 Monty Brinton/CBS
"It makes me sad to imagine a world without Abby in it. It really makes me sad," Pauley Perrette said. That's something NCIS fans will probably agree with.
Perrette, an original cast member, is leaving NCIS after 15 seasons on the CBS drama. The actress wrapped her work on the series in early April and said she was "still grieving" the end of the character. "It feels differently every day…I usually cry in my car every single day as I drive to work and I usually cry on my way home at some point. Then I take a deep breath and I go, 'Alright,'" she said on CBS Sunday Morning.
Perrette is also taking time and looking back at her impact, noting Abby helped making science "cool and attainable for young women."
In the morning show interview, Perrette opened up her charity work about her struggles with fame, specifically "being a commodity."
"It's just very dehumanizing," she said. "So, I think–I hope I'm not wrong—but I think I've earned a little bit of time to myself, to just stay home, go to church."
Perrette announced her exit from the long-running series in October 2017.
"So, it is true that I am leaving NCIS after this season. There has been all kinds of false stories as to why (NO I DON'T HAVE A SKIN CARE LINE AND NO MY NETWORK AND SHOW ARE NOT MAD AT ME!)," she wrote in a note posted on Twitter. "It was a decision made last year. I hope everyone will love and enjoy EVERYTHING ABBY not only for the rest of this season but for everything she has given all of us for 16 years. All the love, all the laughter, all the inspiration…I love her as much as you do."
In a statement, CBS praised Perrette for her contributions.
"Pauley has been a valued member of both NCIS and the CBS family for over 15 years," CBS said in a statement. "While it's never easy saying goodbye to a beloved actress and character, we respect her decision to leave at the end of the season. We are grateful to Pauley for all her contributions to the series and making Abby one of the most unique characters on television."
NCIS executive producers George Schenck and Frank Cardea released a joint statement on Perrette's exit and said they had been working on an exit plan.
"We've known for some time this would be Pauley's final season on NCIS and have been working toward a special send-off," they said. "From day one, she has brought incredible passion and specificity to the role. Abby is a character that inspires millions of fans around the world, and all of us at NCIS are appreciative of Pauley for portraying her."
As for what's next, Perrette said there are plenty of offers and conversations happening.
"I'm being offered a lot. There's a lot of conversations going on, yeah," she said. "And there's me sittin' at home on the couch, drinkin' beer with my dogs. And I'm really good at it!"
NCIS was recently renewed for a season 16 with series star and executive producer Mark Harmon back on board.
Perrette's NCIS goodbye airs Tuesday, May 1 and May 8 at 8 p.m. on CBS.