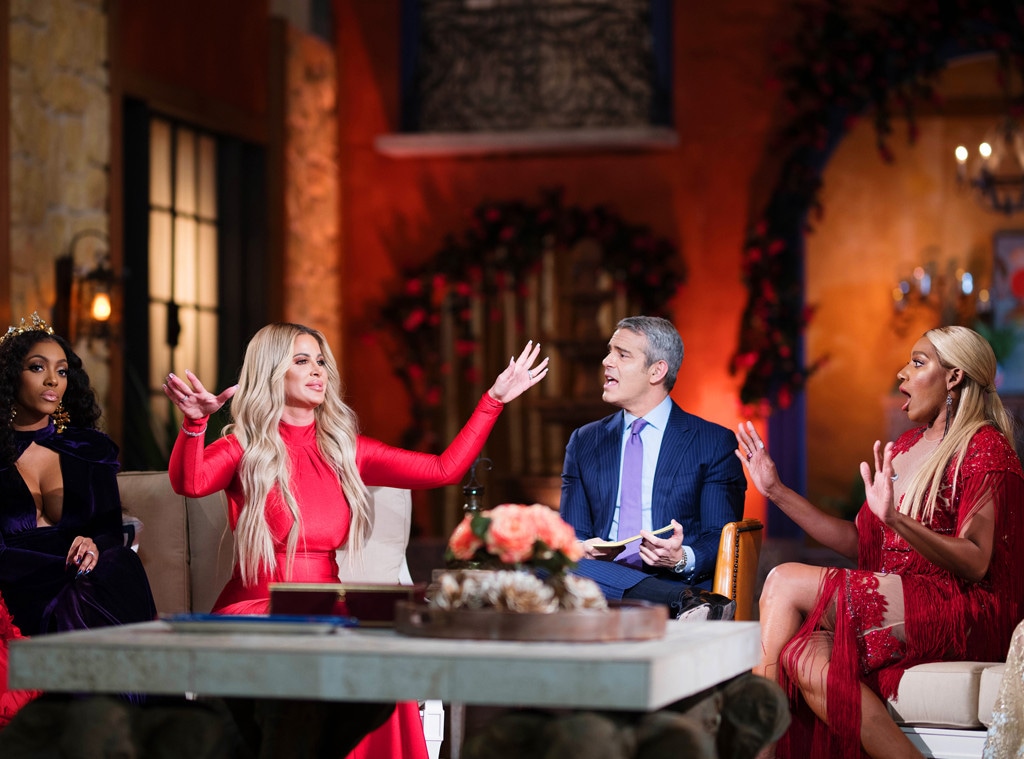 Bravo
The Real Housewives of Atlanta season 10 reunion ended just as it began: dramatic.
In part three of the Bravo show reunion, Kim Zolciak-Biermann faced off with many in the rest of the RHOA cast, which includes NeNe Leakes, Kenya Moore, Cynthia Bailey, Kandi Burruss, Porsha Williams and Shereé Whitfield, over charges of racism. You'll remember the feud that erupted between Kim and NeNe over that roach video and Kim's daughter Brielle Biermann. Some of the other ladies took issue with Kim calling NeNe's home a "roach nest," a term the other Housewives said was racist.
"You're reaching. Reaching," Kim said. "Don't try it. It has nothing to do with the projects or none of that s--t. A roach is a roach."
At the end of the reunion, Kim retreated to the bathroom and spoke with host and Housewives executive producer Andy Cohen.
"Andy, how much can a person take? There wasn't one positive question for me," Kim said. "It was hammered."
"You know why you haven't found another white woman to sit on that motherf—ker? 'Cause nobody's dumb enough to do that," Kim said.
In the bathroom, Kim told Shereé she was upset with her for not sticking up for her and said only Porsha did so.
"This whole racism thing in this day and age is bulls—t," Kim continued. "Everyone one of those motherf—kers on that couch owes this world a f—kin' apology for this racism s—t."
Kim said the ladies tried to play the racism card before, but nobody bought into it before social media. Kim and husband Kroy Biermann said Andy did not do enough during the reunion. What would they have liked him to do?
"There wasn't a positive question," Kim said. "Like, I have a very successful marriage. I have beautiful children. There was nothing positive."
"Well, guess what. I've got to tell you something: There was also—there was nothing positive, unfortunately, in your story from this season," Andy said. "It was all combative."
There was no friendship mending between Kim and Nene.
On Watch What Happens Live with Andy Cohen, guest and The Goldbergs star Wendi McLendon-Covey called out Kim for "gaslighting" and having "Gunvalson syndrome." The syndrome, which Wendi McLendon-Covey seems to have named after The Real Housewives of Orange County star Vicki Gunvalson, involves a Housewife denying having done or said something, only to be confronted with the footage.
"If you dish it out, you have to take it. It's called gaslighting if you don't," The Goldbergs star said.
(E! and Bravo are both part of the NBCUniversal family.)