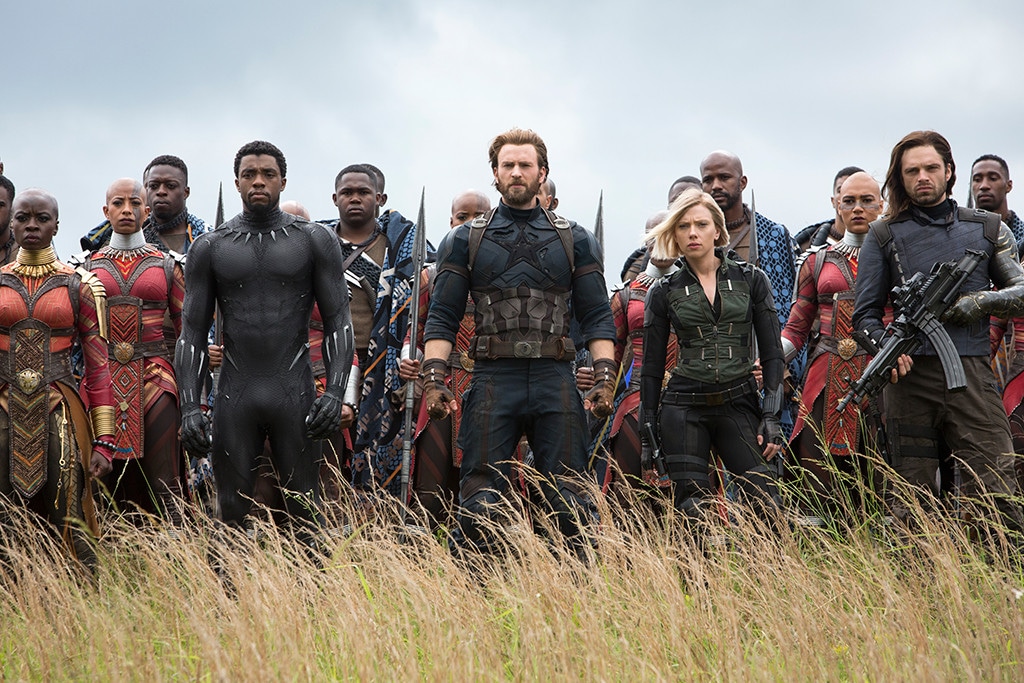 Chuck Zlotnick/Marvel Studios
Did Sebastian Stan just share a major spoiler before Avengers: Infinity War hits theaters?
In an interview with The Independent, Stan mentioned three actors whose characters had not yet been linked to the film. "There was one scene, I think, we had where everybody was there. I can't really talk about that scene, but I knew it took them three months in planning this scene to have everyone there," he teased. "You look around and you just saw everyone from Samuel L. Jackson to Michael Douglas to Michelle Pfeiffer. I mean, everybody was there. I kind of just stood to the corner and looked; I wanted to see how everybody would interact. It was surreal."
Jackson's character, Nick Fury, has not been seen since Avengers: Age of Ultron in 2015, while Douglas will return as Hank Pym in Ant-Man and the Wasp on July 6, 2018. Pfeiffer's character, Janet van Dyne, was lost in the quantum realm before the events of Ant-Man, released in 2016. Douglas, Jackson and Pfeiffer all appear in the MCU cast photo, which highlights 79 key players.
In June, Scarlett Johansson told The Late Show's Stephen Colbert there are over 60 characters in the movie—and one scene features about half of that number. "There's so many of us," the actress said. "I don't even know who's a Marvel character and who's a crew member, honestly."
Meanwhile, at Ace Comic-Con in January, Anthony Mackie estimated there are actually about 40 characters assembled in the scene. "There was one day we were on set and were doing this scene that's in the trailer where we're all running to battle. All of us are on set and it's like 40 superheroes. I look to my right and I see Tom Holland and Dave Bautista," he said. "I see them in the corner and Tom is literally the size of Dave's leg. I don't know what they're talking about, but Bautista jumps up and does a kick-punch move and I was like 'Yo, you're about to kill him!'" After the events of 2016's Captain America: Civil War, "Everybody's trying to find their footing again. Everybody's trying to figure out where they are and how they'll be accepted and looked upon—not only by the rest of the world, but by the other heroes since we've been separated."
Directed by Joe Russo and Anthony Russo, Avengers: Infinity War boasts an all-star cast that includes Angela Bassett, Jacob Batalon, Paul Bettany, Chadwick Boseman, Josh Brolin, Carrie Coon, Bradley Cooper, Benedict Cumberbatch, Benicio del Toro, Vin Diesel, Robert Downey Jr., Winston Duke, Idris Elba, Chris Evans, Jon Favreau, Karen Gillan, Danai Gurira, Chris Hemsworth, Tom Hiddleston, Samuel L. Jackson, Pom Klementieff, Elizabeth Olsen, Gwyneth Paltrow, Chris Pratt, Jeremy Renner, Paul Rudd, Mark Ruffalo, Zoe Saldana, Cobie Smulders, Tessa Thompson, Benedict Wong and Letitia Wright.
Co-writer Stephen McFeely previously told Entertainment Weekly fans will be "saying farewell" to some of their favorite heroes in Avengers: Infinity War and its sequel, set for release in 2019.
Downey—who's played Iron Man since 2008—is particularly excited about upping the stakes. "We're going to pull out the stops, and stop exploring conventions, and look to do stuff where we go, 'Oh, but if we do that, that's very, very definitive.' Well, great, let's get definitive for a change! We're like a family now. Ten years later, we're hanging out and having lunch, and kind of wondering when the draft is going to come in," he said. "Which one of us bites it and when?"
Avengers: Infinity War is in theaters Friday.