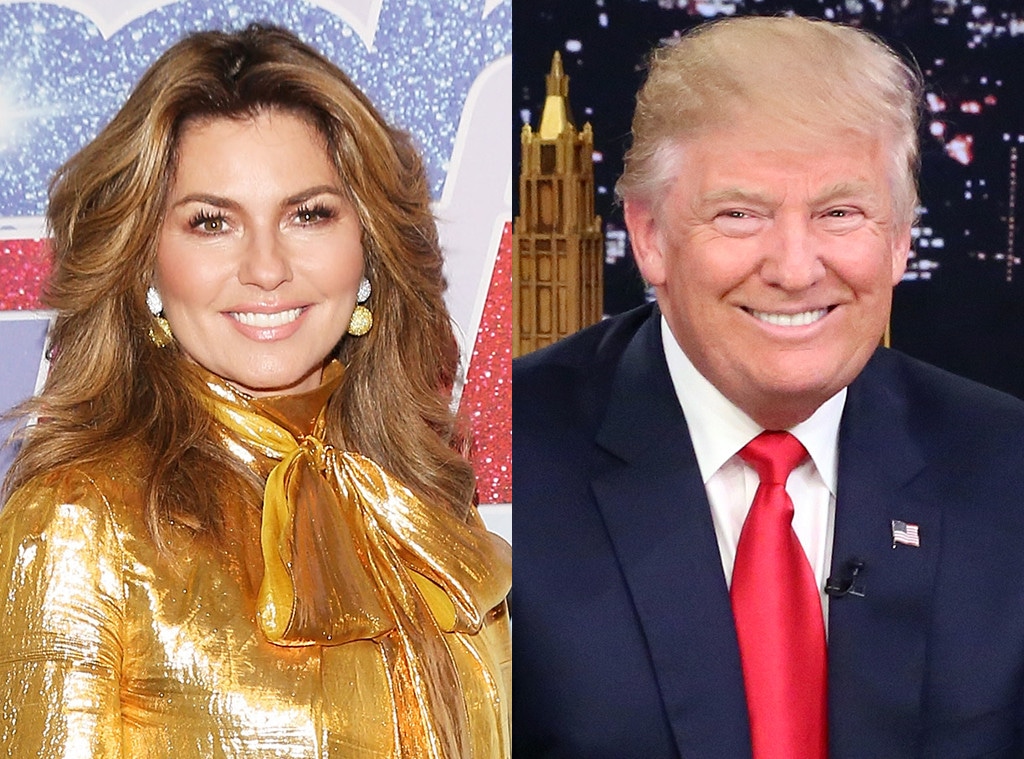 FilmMagic/NBCU Photo Bank via Getty Images
UPDATE: Upon receiving criticism for her comments, Shania Twain has issued a statement to E! News, apologizing for her remarks.
"I would like to apologize to anybody I have offended in a recent interview with the Guardian relating to the American President.  The question caught me off guard. As a Canadian, I regret answering this unexpected question without giving my response more context. I am passionately against discrimination of any kind and hope it's clear from the choices I have made, and the people I stand with, that I do not hold any common moral beliefs with the current President. I was trying to explain, in response to a question about the election, that my limited understanding was that the President talked to a portion of America like an accessible person they could relate to, as he was NOT a politician. My answer was awkward, but certainly should not be taken as representative of my values nor does it mean I endorse him.  I make music to bring people together. My path will always be one of inclusivity, as my history shows."
______
Let's go, girl!
In a revealing new interview, country rocker and comeback queen Shania Twain once again opened up about her 15-year break from recording, her failed marriage to Robert John "Mutt" Lange, her former best friend who had an affair with her now ex-husband and her "passionate" marriage with Frédéric Thiébaud. The Canadian also discussed her political beliefs in the candid new chat with The Guardian.
The conservative Canuck, who could not vote in the 2016 election, talked about her affinity for the controversial president, who is currently at the epicenter of several scandals (both political and sexual). 
"I would have voted for him because, even though he was offensive, he seemed honest," said the singer. "Do you want straight or polite? Not that you shouldn't be able to have both. If I were voting, I just don't want bullsh-t. I would have voted for a feeling that it was transparent. And politics has a reputation of not being that, right?"
Ron Asadorian/Splash News
She also spoke about her father whom she said abused her, physically, psychologically and sexually.
The 52-year-old revealed, "I'm not going to go into details about it. I don't mind saying it, because I do think it's important that people understand you can survive these things."
She said the abuse began at a young age.
"Around the age of 10. I feel the sexual abuse goes hand in hand with the physical and psychological abuse when it's somebody you know," admitted the superstar. "I learned to block it out. Abusers need to manipulate you, whether it's before or after, and what I said to myself is: 'OK, there's something wrong with this person and that person is not well.'"
 "I did feel sorry for myself a lot as a kid. It was either go to Children's Aid and get saved now or...I weighed it up and thought: 'If I go to Children's Aid, we'll all get separated,' and I just couldn't bear that, so we all stayed together for better or for worse," said the singer.
Of her own relationship with her husband since 2011, Shania said, "Yes, it's a passionate love on every level. I used to be very monotone in my relationships."
She said that's not how things are today. "Poor Freddy pays the price, because I'm like: If I'm ever getting married again, this is me. I don't think Mutt ever knew me. That's the difference."
Despite the fact that it's been eight years since she divorced Mutt, Shania admit she still has dreams about the woman who came between them, her current husband's ex-wife, who was also her best friend at the time.
 "I do really nasty things in my dreams to her," she said in the interview. "I'm always cutting her hair or shaving it off."
Twain also spoke about her break from the stage, which was a result of her Lyme Disease diagnosis and her voice loss. 
She says that after giving birth to son Eja Lange in 2011 she wanted some time off but didn't intend it to be as lengthy as the one she took.
"I did want a break. But, of course, I would have never stayed away 15 years." She said, "I was too embarrassed to tell anybody that I couldn't sing. For a long time, I didn't even know why I couldn't sing."
In the chat, Twain, who had laryngoplasty to reconstuct her vocal box six weeks since prior to it, admitted,  "I never thought I'd sing again."
But despite those major setbacks, Shania is back and better than ever. 
In 2017, Shania released Now, her first album in 15 years.