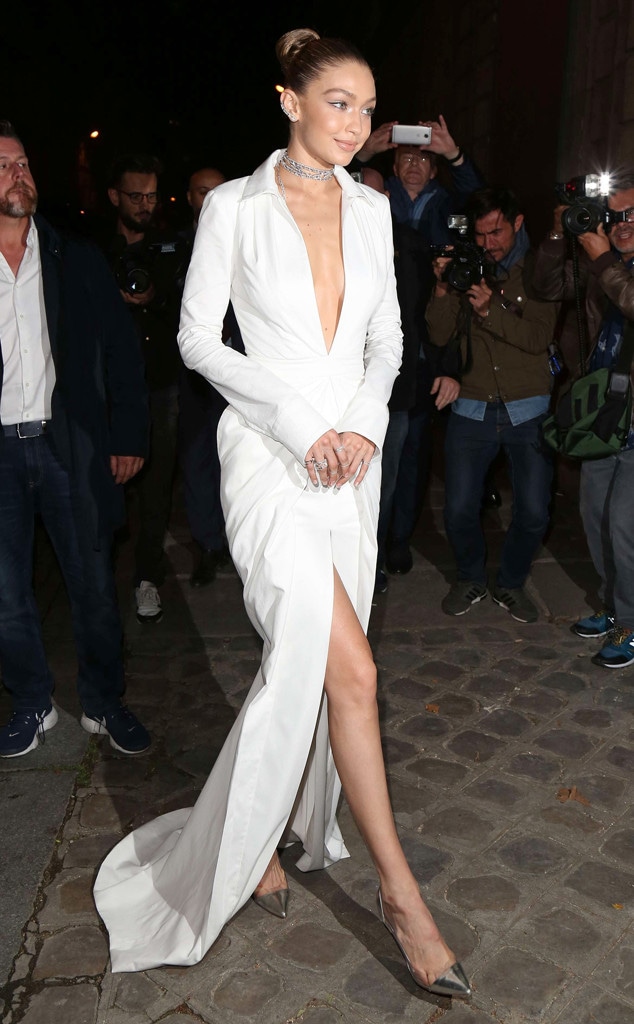 Sipa via AP Images
You'd be forgiven for thinking Gigi Hadid is older than 23.
Not because of any physical attribute, obviously, but because she's such an ingrained part of the fashion firmament, embedded in the fabric of the culture if you will.
Show us a supermodel from any era and we can probably shape a meteoric, seemingly overnight success story, but perhaps it's the 24/7, social-media-driven time that Gigi has come of age in—39.4 million Instagram followers and counting—that makes her road from Real Housewives daughter to street-style standout to globally in-demand cover girl feel like such a rocket trip to the moon.
And while the perks of money and fame are pretty undeniable, being in the public eye at such a young age also tends to result in a person growing up much faster than she might have otherwise. That can be both not so great (no one should be as seasoned as Gigi is at shutting down body-shamers), and pretty exciting, as it offers more opportunities for agency and autonomy—as well as money for a plane ticket when you need a change of scene or feel like dropping $1,780 on the newest BVLGARI bag.
Gigi is celebrating her 23rd birthday today having already had a jam-packed 2018, personally and professionally. Heck, her New York Fashion Week alone was mind-boggling.
She walked in half a dozen shows, scoring the closing spot at Bottega Veneta, and, as always, couldn't walk outside without inspiring a thousand imitators and admire-this-look headlines. She's been on the cover of British Vogue (Bella Hadid posed as well for the sisters' first-ever dual cover shoot), Harper's Bazaar and Vogue Japan. She's a face of Maybelline, Valentino, Stuart Weitzman and Reebok. She showed her fourth and final Tommy x Gigi capsule collection for Tommy Hilfiger at Milan Fashion Week in front of about 2,000 people and dropped her second Vogue Eyewear collection.
No need to tell her it was time for a break, though, because she was very busy unwinding at the Moschino-H&M party and rocking out watching Cardi B (and presumably Beyoncé because, if she didn't, was she even there?) during the first weekend of Coachella. She's back at work in New York now—maybe for the time being, at least until the Met Gala on May 7, which would be her fourth straight...?
But really, how does Gigi wind down in her spare time? Does she even reward herself with spare, non-scenester-party time?
Well, whenever possible she loves reuniting with Bella, 21, at her mother's farm, far away from the paparazzi that follow them around constantly in New York (and beyond).
At the farm "we can just walk out without wearing makeup and without getting dressed up, and go ride our horses or just hang out and watch the Food Network," Gigi told British Vogue in February. "That's when we feel the most normal, when it's not being stuck in the apartment in New York because we can't walk out the door without the media frenzy."
"I think that that's my job as a mother, is to make sure that I keep my girls grounded and provide an environment where that's possible," mom Yolanda Hadid told People in January. "That's why we got a farm. That's where they ride horses and feed the cows and go and get eggs from the chickens in the morning because that reminds them of who it really is that they are, the core of their being."
NEW YORK, NY - JANUARY 11: Yolanda Hadid (C) and her daughters Gigi Hadid and Bella Hadid celebrate her birthday and the premiere of her new Lifetime show, 'Making A Model With Yolanda Hadid,' with friends and family in New York on January 11, 2018 in New York City. (Photo by Bryan Bedder/Getty Images for Lifetime)
"We were good girls," Gigi recalled growing up with Bella, brother Anwar and their model mom. (Their parents divorced when Gigi was 5.) "Bella definitely was the more rebellious. We're different, but we're also the same in a lot of ways. We're both creative, we love riding horses, we love being outdoors and we're spiritual—we have the same values of kindness and passion. That's why I connect with her as an adult.
"I think the most we ever fought was like in middle school if she would steal my clothes out of my closet. You know, now she sleeps at my apartment during the week and she can wear whatever she wants. She's definitely stolen more out of my closet than me out of hers."
With both closets being interchangeably envy-inducing, it's a win-win.
Matthias Nareyek/Getty Images for IMG
In addition to her sister, Gigi's squad of nearest and dearest, as well as dear if not always near, girlfriends includes McCall Koenig (who inspired the pale nude "McCall" shade from Gigi's signature Maybelline collection, makeup artist Erin Parsons (a deep mauve) and artist Alana O'Herlihy, a fellow L.A. native and friend of both Hadid sisters who photographed the Gigi x Maybelline campaign (and is represented by "Lani," a reddish-pink).
Gigi, a former competitive equestrienne and a volleyball player in high school, is also into the live sports scene and when she has time to catch a game you can find her in a VIP suite or courtside seat at Madison Square Garden watching the Knicks, or rinkside for the Rangers. And along with her recent ventures into designing, she also got behind the camera to shoot a Versus campaign last year.
"I'm always interested in lots of different things and I've been lucky in the opportunities that have come to me when I'm feeling creative," she told the New York Times in September. "I do things that come naturally to me and try to build on it."
Since 2016 she's called NYC's NoHo neighborhood home, having paid a reported $4 million for a 2,085-square-foot, light-filled unit in an industrial-chic building on the very desirable Bond Street. When she's not in L.A. or Paris or Milan, or London, or Tokyo or Shanghai... she has lovely digs to come home to, with a master suite, chef's kitchen, high ceilings and a fitness center and concierge service downstairs.
While she has said that burgers and fries are her weakness, she balances that out with pressed juices and an otherwise pretty clean diet—and at least a few years ago, back when she was still a student at The New School studying criminal psychology, she cooked a lot herself. Traveling makes that difficult, so she just has to watch her energy level amid the flurry of fittings and photo shoots and runway shows. (Case in point, her mom was photographed giving her daughter B12 drops before her Tommy x Gigi show in London last fall.)
As for the skin care routine for a model who Forbes estimates earned $9.5 million last year? "I wash my face with the cheap stuff from CVS," Gigi told Into the Gloss in 2015.
That also may have changed a bit, considering her go-to makeup artist Patrick Ta's  favorite brand is La Mer, the exact opposite of the "cheap stuff," but if St. Ives and Eucerin were working just fine...why upend the bathroom sink?
And while she celebrated her last birthday and rang in 2018 in a relationship with Zayn Malik, Gigi is recently single, the duo having confirmed last month they had broken up. And while we wouldn't say the model was purposely busier than usual, she didn't slow down, either, and she was spotted leaving her NYC building just two days later, her street style perfectly on point.
"Breakup statements often seem impersonal because there is really no way to put into words what two people experience together over a few years..not only in a relationship but in life in general," she tweeted on March 13. "I'm forever grateful for the love, time and life lessons Z and I shared. I want nothing but the best for him and will continue to support him as a friend that I have immense respect and love for. As for the future, whatever's meant to be will always be."
But still, it doesn't hurt that boxing is one of her favorite workouts.