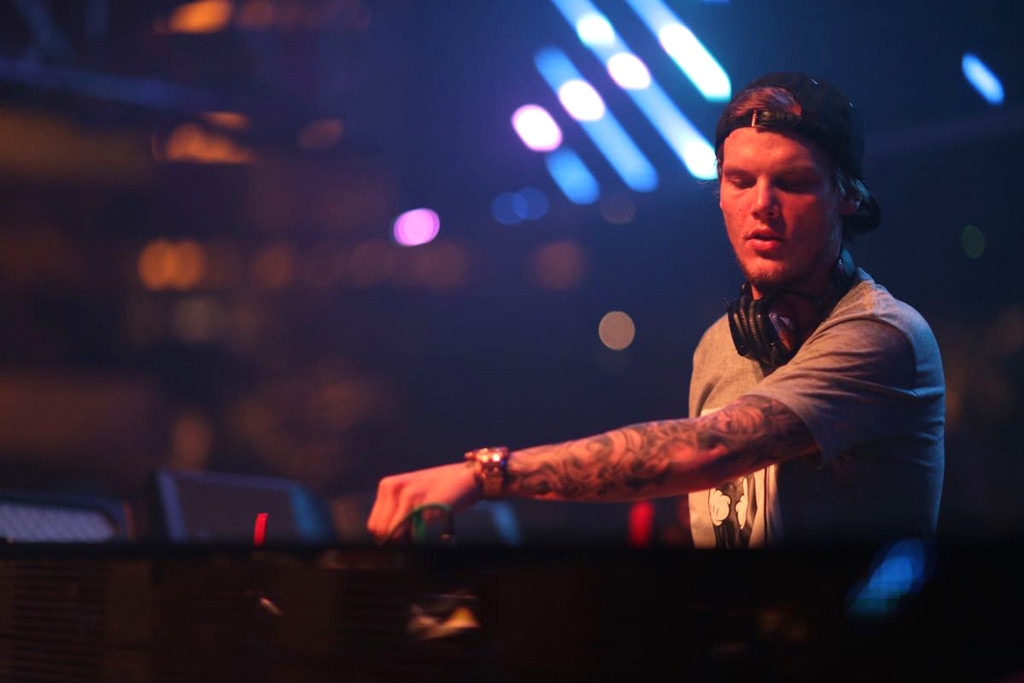 Danny Mahoney
Wherever the party is happening next, the lights will be flashing and the bass thumping in honor of Avicii.
The EDM world lost one of its biggest stars last year when the Swedish-born DJ and producer, born Tim Bergling, was found dead in Muscat, Oman, at the age of 28. Today would have been his 30th birthday.
His family has since launched the Tim Bergling Foundation in his honor. "We will focus on mental health and prevent suicide, that is the purpose of the foundation," dad Klas Bergling told CNN in July. "My wish is that it will be a change here, where young people can get help very early, when the problems are small." 
Several days after he died, the two-time Grammy nominee's family released a statement implying that he committed suicide, but Bergling said they had come to believe that he didn't plan to kill himself. "More that it was like a traffic accident," Avicii's father said. "Many things happened and came into the same station, so to say, and brought him out of his control."
While Avicii retired from touring in 2016, having suffered health setbacks and feeling the effects of what he deemed a "toxic" lifestyle, the young man was still making music. In fact, he had just been nominated for Top Dance/Electronic Album at the 2018 Billboard Music Awards and had tweeted his thanks three days before he died on April 20, 2018.
That night, at the Coachella Valley Music and Arts Festival, which Avicii headlined in 2012, Norwegian DJ Kygo closed his own set in the EDM-centric Sahara Tent—where sadness commingled with joy in the wake of the loss of one of their own—with Avicii's "Without You." 
Amy Sussman/Invision/AP, File
"Coachella, I think most of you guys have heard but today is a very sad day for music," Kygo told the crowd. "Earlier today I got the news that Avicii passed away only 28 years old. Avicii was my biggest musical inspiration and he was the reason I started making electronic music so I don't think I would've been on this stage tonight if it wasn't for him. I know he's inspired millions of other producers out there. So I want to end my set tonight with my favorite Avicii song."
At the time, the Bergling family's statement read: "Our beloved Tim was a seeker, a fragile artistic soul searching for answers to existential questions. An over-achieving perfectionist who travelled and worked hard at a pace that led to extreme stress. When he stopped touring, he wanted to find a balance in life to be happy and be able to do what he loved most—music.
"He really struggled with thoughts about Meaning, Life, Happiness. He could not go on any longer. He wanted to find peace. Tim was not made for the business machine he found himself in; he was a sensitive guy who loved his fans but shunned the spotlight."
"WE ALL REACH A POINT IN OUR LIVES AND CAREERS WHERE WE UNDERSTAND WHAT MATTERS THE MOST TO US," read the last statement posted on Avicii's website before he died.
"For me it's creating music. That is what I live for, what I feel I was born to do. Last year I quit performing live, and many of you thought that was it. But the end of live never meant the end of Avicii or my music. Instead, I went back to the place where it all made sense – the studio.
"The next stage will be all about my love of making music to you guys. It is the beginning of something new. Hope you'll enjoy it as much as I do."
At the 2018 Billboard Music Awards that May, The Chainsmokers' Drew Taggart said onstage, "His passing was a great loss for the music world and for us. He was an artist who inspired so many in so many ways. Simply put, he meant so much to us and everyone in the EDM community."
Avicii was most known among the Top 40 set for his hit pop collaborations, such as "Wake Me Up" with Aloe Blacc, Coldplay's "A Sky Full of Stars" and "Lonely Together" with Rita Ora. But he was a prolific songwriter and producer and, at one point, a tireless DJ whose output was vast—and, inevitably, more of it was discovered by the masses in the wake of his death.
He was a kid when he got started, signing his first contract when he was barely 18, and it was off to the races. He cited 2011's "Levels" (or "LE7ELS") as a game-changer as far as his level of recognition went. But while he barely had time to catch his breath as his name joined a select few from the EDM world to achieve mainstream, global stardom, the lifestyle soon caught up with him.
Dimitrios Kambouris/Getty Images
When he was 21 he suffered a bout of pancreatitis brought on by excessive drinking, prompting him to quit alcohol.
"I used to party a lot. Everyone does in the beginning when they're getting accustomed to this world. Every night is a party," Avicii told TIME magazine in 2013. "But I just realized that for me personally, my body or my mind couldn't handle that amount of—like I wasn't feeling good doing that to myself."
Asked how it was to be working in a historically substance-friendly environment while sober, he said, "No, I mean, I can still party. I just—I can be sober and party. It's all a learning experience. I've gone out partying sober and I've met my new girlfriend from day one sober, and I've done everything sober. And I see how drunk everyone else is and I feel like, I kind of like not being hungover tomorrow."
As he told GQ, "I just got into a habit, because you rely on that encouragement and self-confidence you get from alcohol, and then you get dependent on it."
But going to work clear-eyed and sober didn't change the pressure, the hectic schedule and the toll it took on Avicii's relationsihps. He admitted to Us Weekly it was hard to find time for a proper personal life. 
He did have one, however, with Canadian model Raquel Bettencourt, who for his 25th birthday captioned a collage of them on Instagram, "Happy Birthday My Love. Incredibly lucky to have such an amazing person in my life, who I can truly say is my best friend. Love Racqattack."
Noel Vasquez/Getty Images
The documentary Avicii: True Stories, directed by Levan Tsikurishvili, which was released in October 2017, traced his heady rise (he was the first DJ to headline at New York's Radio City Music Hall and was name-checked by President Barack Obama in a speech) and the issues that prompted him to announce in March 2016 that he planned to stop touring.
In March 2014, Avicii—just "Tim" to those close to him—had his gall bladder removed, the procedure following a series of abdominal troubles the young man had had, including a burst appendix. "It's a routine procedure and all going well, I expect to be fully recovered and back on my feet in time for my US True Tour," he promised via Twitter. 
That Sept. 8, his 25th birthday, he opted to cancel his remaining tour dates for the year, though new music continued to flow out in his stead. By the end of 2014 he and Bettencourt had broken up.
"He's the hardest working guy I've ever seen in my life. In the film, you see him working from literally his hospital bed," Tsikurishvili told Variety in September 2017 ahead of his film's release. "...But I think he didn't really know from the beginning [at 19 years-old] what it means to be that successful. No one knew that he could be that successful. It has been a weight for him. He's had to find himself, and I tried to explain how he felt."
In the open letter to fans that he released in March 2016 explaining what drove him to retire from touring at the end of the year, Avicii wrote, "I know I am blessed to be able to travel all around the world and perform, but I have too little left for the life of a real person behind the artist."
(Around the same time he put his Stockholm apartment on the market, with Million Dollar Listing New York's Fredrik Eklund, who also has an office in his native Sweden, handling the sale.)
Talking to the Hollywood Reporter a week later, Avicii said he felt "happier, more stress-free than I've been in a long time." He said his fans and fellow artists had been amazing in their show of support.
"To me it was something I had to do for my health," he continued. "The scene was not for me. It was not the shows and not the music. It was always the other stuff surrounding it that never came naturally to me. All the other parts of being an artist. I'm more of an introverted person in general. It was always very hard for me. I took on board too much negative energy, I think."
"It's been a very crazy journey," Avicii recalled. "I started producing when I was 16. I started touring when I was 18. From that point on, I just jumped into 100 percent. When I look back on my life, I think, 'Whoa, did I do that?' It was the best time of my life in a sense. It came with a price—a lot of stress a lot of anxiety for me—but it was the best journey of my life."
This coming from a 26-year-old, whose relief was palpable.
He finished up his tour with a new lease on the possibilities that lay ahead, and at the end of 2016 he signed up with Universal Music Sweden. 
Gustavo Caballero/Getty Images for SiriusXM
"EDM started getting oversaturated four, five, six years ago, when money became everything," Avicii told Rolling Stone in September 2017, admitting it was hard watching some of his past decisions re-unfolding in his documentary. "From that point, I started mentally not wanting to associate myself with EDM. Now that I have more time in the studio, I want to learn as much about other genres as possible."
For instance, he would be happy to work with Madonna again, he said, suggesting that she may not have been pleased with the finished Rebel Heart, which he co-wrote and -produced.
"A lot of things start suffering when you don't have the energy or time to do things properly," he reflected. "You think you can get away with it, but the quality suffers."
Asked about Mike Posner's homage to him on "I Took a Pill in Ibiza," a nod to EDM's drug-addled party culture, Avicii said, "Mike's a good friend, so I took it as an honor. And I agree— parties can be amazing, but it's very easy to become too attached to partying in places like Ibiza. You become lonely and get anxieties. It becomes toxic."
Andrew H. Walker/Getty Images
In April 2013, Avicii had taken issue with GQ's profile on him, snappily titled "The King of Oontz, Oontz, Oontz," which painted a vivid portrait of a world fueled by hedonism and how sour Avicii seemed to be both on his job and on his fellow DJs.
"I love DJing, I do," he's quoted in the story. "I love everything that comes with it; it's fun and it's kind of glamorous...It's just like when it's right in the moment and you have that stupid bright light on you. It feels so awkward."
In hindsight, the piece may have revealed more of Avicii's building concerns with the industry (which he would talk about later) than he was ready to expose at the time. But in the moment, Avicii thought the writer got it all wrong.
"The problem was that a journalist that knows nothing of electronic music was sent on the road with me for a couple of days and then tried piecing together what it's all about," he wrote afterward. "She failed miserably."
Avicii went on, stating, "A lot of work and thinking goes into my DJing. I want the entire night to progress seamlessly and when I have to adapt the energy on the fly for the crowd on any given night, I can do so with harmonic mixes that I've practiced over and over again. I am far from the only DJ that does this and it's something I take pride in being able to do."
GQ defended the article in a statement to Huffington Post, saying it was "not only fair and accurate, it pays considerable respect to Avicii and his talents. And the quotes have been quadruple-checked and verified, on tape. We'd also point out that it was Avicii himself who describes some of the incidents as 'douche-y.'"
In his own hindsight, Avicii would more eloquently explain the widening chasm between his love of music and his problems with the music business, the built-in game of balancing a "personality" and an image with the desire to just create.
Referring to the most recent book he had read, The Untethered Soul by Michael A. Singer, Avicii told Rolling Stone, "It's about consciousness. None of us today can f--king handle our emotions—most of us are running around being reactive. That's why I had to stop touring, because I couldn't read my emotions the right way."
In June, his family oversaw the posthumous release of the 12-track album Tim, with all profits going to the Tim Bergling Foundation.
(Previous versions of this story were published April 20, 2018, at 12:47 p.m. PT and April 26, 2018, at 9:42 a.m.)