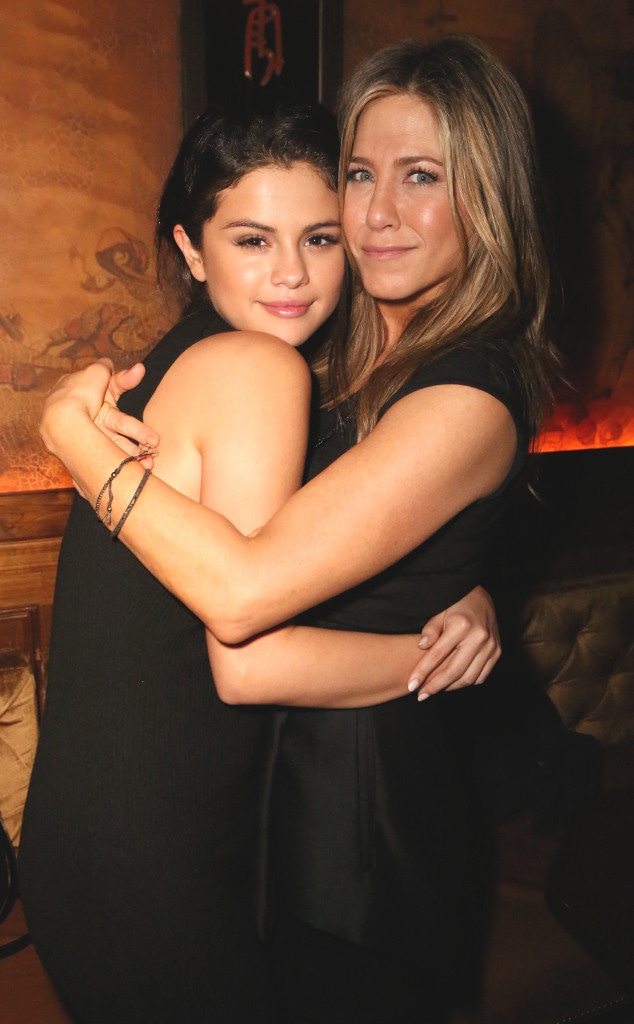 Courtesy Ari Perilstein/Getty Images for Cinelou
One good deed goes a long way.
That's a maxim you can take right to the bank in any case, but it also refers to the relationships that are formed when people are similarly engaged in doing good deeds for others.
That's something Selena Gomez and Jennifer Aniston's friendship thrives on, anyway!
The stars from seemingly opposite sides of the life-experience tracks have been friends for over three years now after being introduced in the quintessential Hollywood way, the way that so many celebrity love stories have begun.
Through their management teams, that is.
Gomez started off as an Aniston admirer, just like a regular person, the then-16-year-old Disney Channel star telling Just Jared Jr. after a Jen sighting at the Women in Film 2009 Crystal and Lucy Awards, "I was shaking! I ran into Jennifer in the bathroom and she goes, 'Hi!' My legs started to shake and I ran. I didn't know what to do because I freaked out.
"I always say that I worship Rachel McAdams as a movie actress but for comedy—the whole reason I started my show and mannerisms, they were after Jennifer Aniston. It was so funny, they were playing clip reels of the work she's done and I quoted the whole thing. Every single thing she'd say, I would say it. People were sitting there laughing at me and they're like, 'Wow, you're obsessed.'"
Imitation is, of course, the sincerest form of flattery and, happily for both, the stars were destined to align.
It's unclear whether they ever crossed paths this way, but otherwise coincidentally they both were among the celebrity narrators who contributed to the 2015 documentary Unity, which examines the myriad ways in which the human experience unites people in the face of all the man-made social constructs that mainly serve to divide.
"I have no only been following her career as a fan since I was 8 and now get to watch her completely transform in her new movie Cake, I have gotten to have real conversations with such a real heart, made my entire year. #cake #goseeit," Gomez captioned a photo of the two of them in December 2014, prompting all the questions about how they ended up finding each other.
"We have the same manager," Aniston told E! News a month later at the Cake premiere, a few days after they hung out at a Golden Globes after-party. "She's just like a little cherub that I feel like I wanna take care of. And we've just met through our manager. She's been extremely supportive and wonderful."
And she wasn't just saying that. (There was speculation, even, that a layered haircut Selena showed off in early January 2015 was, in fact, a "Rachel." And while that may have been a stretch, last summer she told InStyle that the piece of fashion that makes her feel the most confident is "surprisingly, like a nice, little black dress—just a simple, Jen Aniston-type of dress." The Friend inspires.)
Michael Buckner/Getty Images for InStyle
"Honestly, she's amazing," Gomez said in a radio interview with KTU that June, also explaining how their manager brought them together. She continued, "so it was kind of like a friendly meeting and instantly she's, like, inviting me to her house. She has a pizza oven. Like, we've made pizzas at her house."
While the initial common reaction (especially in June 2015, when Gomez was only 22) to the news that they were friends was for most people, "what could they possibly have in common?!," there are no real reasons to explain why they shouldn't be friends.
For starters, who wouldn't want to suck up as much advice from a fellow celebrity who's been in the game—the Hollywood game, the romance game, the life game, all the games!—for 23 more years than you have?
"She's very cool and very sweet," Gomez continued. "She kind of gives me a lot of, like, maternal advice."
The acknowledgement that Selena took to Jen in a mother-daughter kind of way could annoy some women—but Aniston's friends are family to her, and with our best girlfriends, at some point we all end up standing in for each other's mom.
Besides, Aniston indicated in the first place that she felt maternal toward Gomez, who was presumably exhausted from riding the Justin Bieber merry-go-round for three years when she met the older star and in dire need of some fresh eyes on the situation.
Fresh eyes from a woman who's been through some...things.
Meanwhile, a woman who's seen a lot could find helpful in return some perspective through the eyes of someone who's seen...a little less. It's amazing how quickly the answer may come to a pal who's new to your endlessly puzzling situation.
And ultimately, no matter what stage of life you're in, you find that the shared trials and tribulations of relationships—be they romantic, parental, fraternal or friendly—are an all-ages-welcome conversation.
Darin Pfeiffer Consulting
Aniston is also a proven dedicated Friend, no pun intended (not much, anyway), who has remained close with her co-ed inner circle for years, from Courteney Cox since their sitcom days to longtime pals Jimmy Kimmel and his wife Molly McNearney and Justin Bateman and wife Amanda Anka.
"She sets a great example for—she's obviously enormously famous and enormously successful, and you watch the way she handles that with incredible normalcy, and groundedness," Bateman told E! News about Aniston, who spoke at the ceremony when he received his star on the Hollywood Walk of Fame last year. "The little bit [of Hollywood madness] that I float into every couple of years, she's taught me a lot about how to handle that and enjoy it without leaning into it too much."
And then there are the other things Aniston and Gomez just happen to have in common—aside from pizza, the great unifier—such as their love for their pets (both have adopted dogs), their commitment to fitness and their cautious approach to fame, both ladies having witnessed the public perception of their lives run right off the rails.
In fact, Aniston has tossed the gloves aside in recent years in taking the paparazzi to task for their invasive ways, and the media at large for its often unfair, judgmental portrayals of women when it comes to their looks, their relationship status and their personal decisions, such as whether they're having kids or not. 
"If I am some kind of symbol to some people out there, then clearly I am an example of the lens through which we, as a society, view our mothers, daughters, sisters, wives, female friends and colleagues," Aniston, who eschews social media, wrote for the Huffington Post in 2016. "The objectification and scrutiny we put women through is absurd and disturbing. The way I am portrayed by the media is simply a reflection of how we see and portray women in general, measured against some warped standard of beauty. Sometimes cultural standards just need a different perspective so we can see them for what they really are—a collective acceptance... a subconscious agreement. We are in charge of our agreement."
Certainly a take on a deeply rooted problem in society that Gomez—who's experienced the gamut of fractured portrayals of herself in the media, plus the joy of hearing from social media trolls—could get behind. (In fact, she just wrote on Instagram a month ago, next to a video capturing a boating outing with friends: "The beauty myth—an obsession with physical perfection that traps modern woman in an endless cycle of hopelessness, self consciousness, and self-hatred as she tries to fulfill society's impossible definition of flawless beauty. I chose to take care of myself because I want to, not to prove anything to anyone. Wind in her sails.")
The more women lifting each other up, the merrier.
This year, Aniston is participating in a cause that has been close to Gomez's heart for awhile, WE Day California, an annual gathering honoring youth, families and educators who are making a difference, be it in their own communities or globally.
This year they joined a group that included Will Ferrell, Anthony Anderson, Morgan Freeman, Martin Sheen and new dad John Stamos, who hosted the event, as well as some of the high school-age leaders who've emerged in the wake of the school shooting in Parkland, Fla.
They also both chose to eschew the majority of the press line and stick to the matter at hand, which was raising awareness of what the day's young honorees are doing to make the world a better place (though Selena did stop to pose for selfies and sign autographs for some very excited-sounding fans).
"It's a joyful thing to celebrate, when people come together and want to help and make an impact on the world," Gomez said in a quick official interview on the way into the Unilever and Allstate Foundation-sponsored event. "To me I feel like that's so fun and exciting."
Last month Gomez attended the March for Our Lives rally in Los Angeles to support the call for gun law reform, captioning one of several pictures she posted that day, "I don't want this to just be an Instagram post anymore. PLEASE. ENOUGH. These people, families and CHILDREN have suffered enough. Today we march for our lives. I'm going to continue to trust god with the future and also play my part in bringing change. #marchforourlives #notjustahashtag."
Aniston, in introducing Jaclyn Corin and Cameron Kasky from Parkland to the stage yesterday, said, "Your generation is demanding change and I thank you for that. I want to thank all of you for your power and strength and perseverance. You all have a voice and your voices matter. Keep talking."
Even when life has sent Jen and Selena down divergent roads, with each having her own twists and scary turns to deal with, there are some things that can't help but unite two friends from however near or far.
The WE Day special will air Aug. 17, 2018 at 8 p.m./7c on ABC.