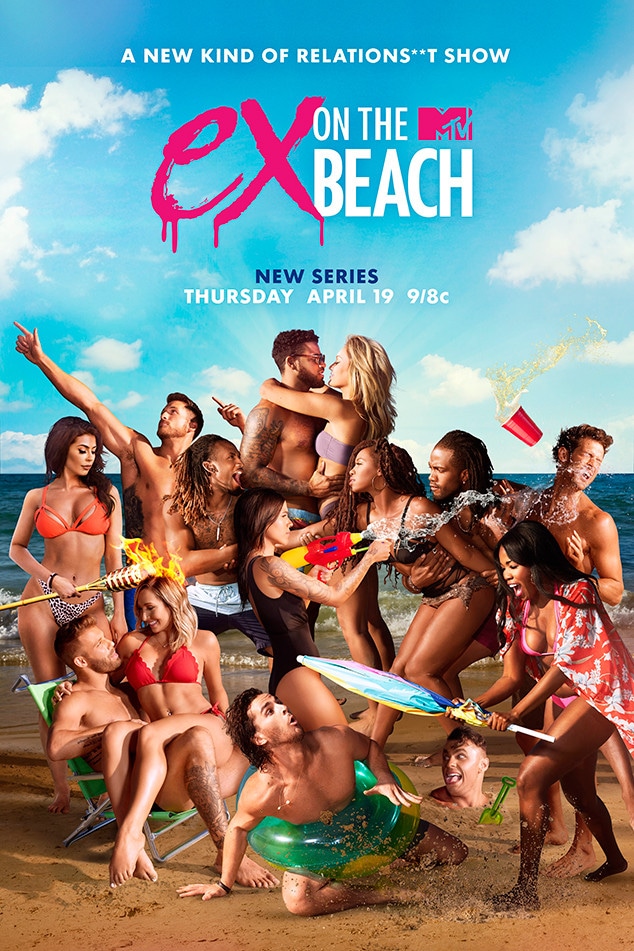 MTV
A reality TV orgy is going down tonight on MTV.
OK, not an actual orgy, but a bunch of reality TV shows your friends and family judge you for watching are coming together for Ex On the Beach, MTV's latest reality dating series that blindsides a bunch of horny (for romance and Instagram followers!) TV personalities by bringing their exes to the party. As you can probably imagine, highbrow entertainment this is not. And yet we will probably watch every episode because we sometimes treat our brains like a garbage disposal. Hey, nobody's perfect (aside from Beyonce). 
For each cast members' entrance, producers had the singles and exes pop up out of the ocean like literal moles from that Whac-A-Mole game you couldn't resist every time you went to an amusement park as a kid. Just see the tweet below for evidence.
To keep track of all the familiar(ish?) faces you'll be seeing emerge from the water during tonight's premiere, here's a rundown so you know exactly what you are signing up for when you inevitably decide you are too lazy to change the channel after tonight's episode of Jersey Shore Family Vacation: 
The Singles and Where You've Seen Them Pop Up Before
Angela Babicz: Bad Girls Club
Paul Calafiore: Big Brother (Noteworthy: He is now dating The Bachelor franchise's Danielle Maltby. Huh.)
Jasmine Goode: The Bachelor, Bachelor in Paradise (Noteworthy: She tried to choke Nick Viall as a seduction tactic. It did not end well.)
Chase McNary: The Bachelorette (Noteworthy: He was once in consideration to be the next Bachelor. Just let that sink in for a little.)
Taylor Selfridge: Are You the One? (Noteworthy: She also showed up on a later season as someone's bitter ex. So we guess karma is real as he is now showing up to ruin her fun on this one!)
Faith Stowers: Vanderpump Rules (Noteworthy: She is the SUR staffer Jax Taylor cheated on Brittany Cartwright with, sucking her toes in front of a sleeping elderly person she was taking care of. After saying she might be pregnant, she was never heard from again...until now.)
Cory Wharton: Real World: Ex-Plosion, five seasons of The Challenge (Noteworthy: He has zero wins but will go down as the cast member to hook up with the most people. So yeah, him being on the show totally tracks.)
Chris Pearson: International House DJ
Tor'i Brooks: Former college athlete
Victoria Alario: Social media influencer (Every reality show has to have a professional one, right?) 
The Exes and Where You've Seen Them Pop Up Before
Shanley McIntee: Are You the One?, Are You the One: Second Chances
Derrick Henry: Are You the One?, Are You the One: Second Chances, The Challenge: Dirty 30
Cameron Kolbo: Are You the One?, Are You the One: Second Chances
Joe Torgerson: Are You the One?
Alicia Wright: Are You the One?, The Challenge: Vendettas
Andre Siemers: Are You the One?

And Then Some Normies Who Also Serve as Exes/Are Looking to Launch Their Careers as Reality Stars on the Backs of Their Semi-Famous Exes: 
Marcus Rosenzweig
Marco Delvecchio
Skyler Mikkelson
Lexi Marsella
June Robinson
Luis Rivera
Haley Read
Chelsko Thompson
Ex on the Beach premieres Thursday at 9 p.m. on MTV.