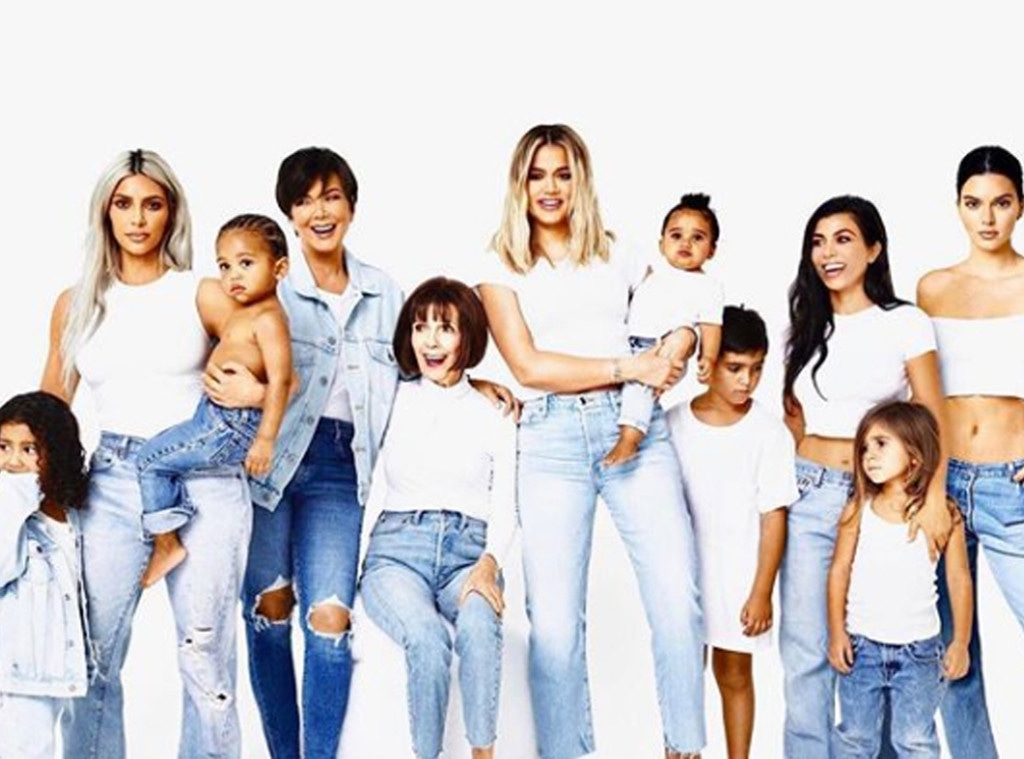 Eli Linnetz
Not long after Khloe Kardashian  gave birth, the well wishes started pouring in from every corner of the Internet.
Momager Kris Jenner retweeted a video W Magazine created of daughter Kendall Jenner repeating the word baby. Kylie Jenner crafted her own Snapchat filter. And Kourtney Kardashian posted an Instagram showing daughter Penelope flexing with cousin North, adding the caption: GIRL POWER.
Then there was Kim Kardashian's tweet. Praising Khloe for being "so strong" and making labor look easy, the mom of three, who just welcomed her third child, daughter Chicago, in January, added, "I can't wait for our baby girls to grow up as best friends the way we are!"
Because while much has been up in the air since 33-year-old Khloe gave birth amid allegations her boyfriend Tristan Thompson had cheated, the idea that her newborn will be tight with her cousins is pretty much a given. Week-old True Thompson is entering a family that's so notoriously close-knit they perform their own bikini waxes and treat holding each other's legs during delivery as a necessary rite of passage. And with Chicago and Kylie's 2-month-old Stormi so close in age to True, "Khloe can't wait for all the cousins to be together," a source told E! News. "She knows her baby will be surrounded by lots of love."
While Khloe has said she won't follow her sisters' lead in every aspect of parenting, she will abide by the top Kardashian commandment: Thou shall be close to your kin. When asked by E! News what trait she'd most like her daughter to inherit, her answer was easy: "Loyalty and family unity."
That's not to say she takes all the helpful tips being filtered her way. During a January appearance on Jimmy Kimmel Live!, Khloe bemoaned Kourtney's tendency to give "a lot of advice." While she said it was sweet that the mom to Mason, 8, Penelope, 5, and Reign, 3 (with ex Scott Disick) was weighing in, she admitted, "I don't want to do some of that stuff."
Among Kourtney's mandates? The mom who eschews food with coloring and artificial dyes also bans plastic toys and was trying to convince Khloe to do the same. But, insisted the reality star, "If someone buys blocks, I'm allowed to have blocks! Let me experience things. It's either her way or no way."
But she revealed their biggest fight was over Khloe's desire to hang a TV in her daughter's nursery so she could entertain herself during long nursing sessions. "She [said], 'I'm the worst person ever for wanting a TV,'" recalled the Good American designer. "She thinks she's better than I am because she doesn't watch TV, but I like TV shows."
Kourtney swears the sessions don't get heated, but she admits she does have different viewpoints from both Khloe and Kim. "It's not even bickering; we just have different ways of doing things," she's said of conversations with the latter Kim. "So even if it's things with our kids, we'll talk to each other about it. I'll say, 'I think I want to do this, this way,' and then she wants to do something that way."
But even if Khloe doesn't take all of their suggestions, she's said she's grateful to have her siblings as a resource. Posting on her app six days after True's arrival she wrote, "Even though I'm not big on taking advice—I don't believe there's only one-way-or-the-highway and we all have to adapt into our routines—it's so comforting to know that I have sisters whom I can ask about anything that may come up. Just by observing them as moms, I've already learned so much." 
Say, how to put together the perfect nursery for starters. As Khloe combed the racks of Petit Tresor, Couture Kids and Juvenile Shop in L.A. looking for neutral- and pink-hued clothing, stuffed animals and furniture, she worked with a team. "Kim, Kylie and Khloe are all using the same brands for their baby furniture and accessories, and had a lot of fun bonding over decorating their nurseries together," a source tells E! News. (On their lists: DockATot baby loungers, gear from Nuna and Bugaboo and a $4,200 Vetro Lucite crib.)
Of course Khloe, who jokes about her "Khlo-CD", has kept both the set ups in her L.A.-area spread and Thompson's lakeside Ohio home hyper organized, says the source, "Everything is labeled and has a place." That includes the haul of onesies she selected from Kickee Pants, a brand Justin Timberlake and Jessica Biel also use to dress 3-year-old son Silas, and True's other pink and lilac garb. 
Kevin Mazur/Getty Images for Kanye West Yeezy
While seemingly destined to be a style star, True will have some stiff competition from her cousins. Penelope's penchant for designer footwear—everything from Gucci ankle boots to Akid faux fur slides—has earned her accolades from the likes of Glamour and Vogue. Newborn Stormi tools around in a $12,500 Fendi stroller and already owns a collection of Adidas tracksuits. Kim's 2-year-old son Saint was collecting Ralph Lauren and Unravel jackets practically since birth and not only does her 4-year-old North dress herself in custom Balmain blazers and Givenchy styles, but she's already a front row veteran at fashion shows, often claiming the spot right next to Vogue editrix Anna Wintour.
Though for all the famous faces the toddler has hung with—and, remember, that list includes Beyonce and Jay-Z—her favorite companion is cousin Penelope.
"They're best friends," Kim told Interview magazine, "and they're together all the time."
The same could be said for pretty much all of the KarJenner offspring. With most of the siblings' homes situated in L.A.'s Hidden Hills and Calabasas neighborhoods (Khloe and Kourtney live just a few minutes apart and Kylie's mansion is just down the street from Kim and mom Kris), there's always someone on hand to babysit (Khloe has said she'd most likely tap Kourtney or Kim because "They already have so many kids. What's one more,") or handle carpool. (While partying with Kourtney at an Oscars bash, Kim revealed she "took one for the team and left early" so she could shuttle all of their kids to school the next morning.)
And with a more-or-less open door policy in place, the cousins are able to socialize on the regular. Newborns Chicago and Stormi have already spent time together and in October Rob Kardashian took 17-month-old daughter Dream and Reign to the zoo for some fall festivities.
But few pairings are as tight Penelope and North. Just 11 months apart, the besties have enjoyed breakfast at Tiffany's with Kourtney, got dolled up in princess dresses and tiaras for a trip to Disneyland, shared a Moana and Hawaii-themed birthday party last summer and even launched countless memes and more than a few Halloween costumes with their black and white ballet garb.
Because, of course, activities are another hallmark of Kardashian culture. Along with dance, North takes gymnastics, violin lessons and horseback riding classes and Kourtney's kids churn out artistic "masterpieces" that she says hang on the fridge upwards of a year. But if Khloe has her way, True will follow in Saint's footsteps by attending music class. Speaking to E! News pre-birth, Khloe said she thought "it would be cool" if her daughter was multi-lingual and had a secret talent for singing. Preferably with a classic flavor as she said the tunes she listens to now are "old-school" hits by Anita Baker, Marvin Gaye, Patti LaBelle and Michael Jackson.
And though she was born a celebrity with undeniable wealth, True will likely inherit the strong family work ethic. (Expect her cosmetics line to hit shelves in the next decade or so.) Kim has said that when she and her siblings were teens if there was any designer gear they coveted "we had to get a job" to pay for it. And she intends to stick to that rule as North gets older. Though for now she'll continue to spring for the Hermés handbags and Alexander Wang jackets. And the customized Yeezys are on the house.
"I was saying that earlier to my friends, 'I wonder what [North's] first job is gonna be,'" she recalled to the Evening Standard. "And they were like, 'What? She's gonna have a job?' and I was like, 'Are you kidding me? Of course she is'. She will have to work for what she wants."
Actually, North may already be eyeing her first gig—as beauty influencer. Noting that the toddler "watches so many YouTube tutorials," Kim told WWD that as she was unpacking a box of goodies from the My Little Pony Colourpop collection, "She did the makeup on the My Little Pony that they gave her and she said, 'Mom, I want to do a YouTube video.'"
For now she'll have to settle for guest appearances on her mom and aunts' Instagram feeds as Kim has said she's striving to teach her kids that there's plenty to experience offline. "One of the rules I have about being present with my kids is I don't have my phone when I'm with them," the KKW Beauty founder explained at February's Create & Cultivate event. "So, like story time at night, in the mornings getting ready, I just don't have my phone."
Her goal is to show them that not everything has to be done for the 'gram. "I can't imagine what it's like growing up in a world with social media as a young teenager," she said. "I want my kids to see the separation and to feel the difference and know that there is a time and a place for that. So I'm really cautious when I'm at home with my phones and just being super present."
Because even with the help of multiple nannies, involved parenting is a must for any KarJenner. Just two months in, Kylie is "obsessed" with taking videos and pictures of Stormi's ever move, a source told E! News. "She loves to dress her up in several outfits each day and is a very hands-on mom."
Same goes for the newest Kardashian parent. "Khloe is mesmerized and completely in love with the baby," an insider told E! News. "That's all she's thinking about is caring for the baby and being positive." Her past week has been a blur of diapers, visits from her mom and sisters and late night feedings, adds the source, "She is overcome with emotion and can't think about anything other than the baby right now."
Of course, in Kardashian land it's never too soon to start making plans for that ever-important first birthday bash. Kidchella-themed party anyone?