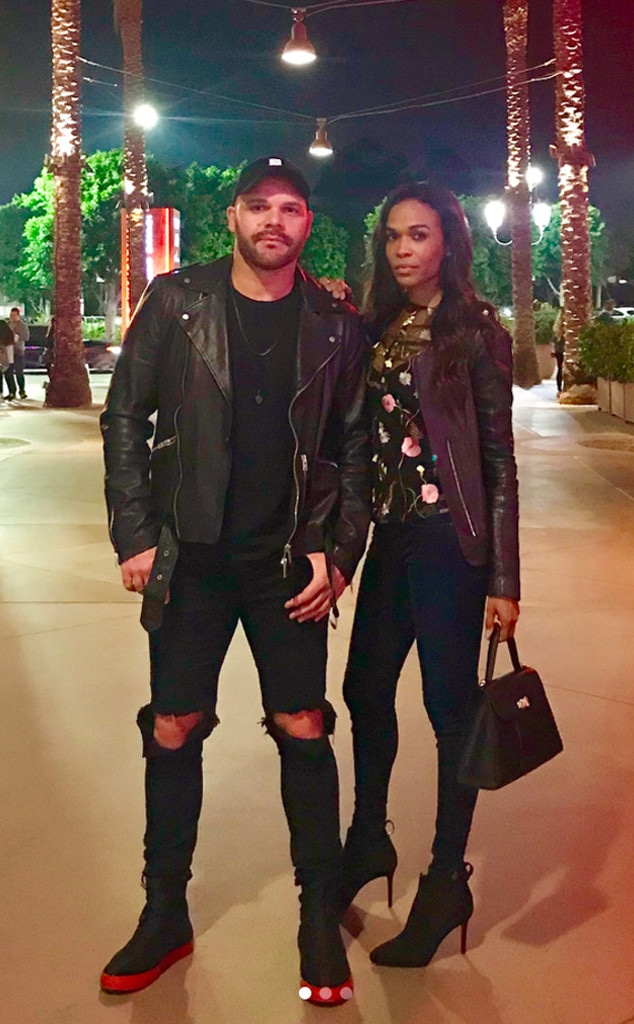 Instagram
Michelle Williams is engaged to Chad Johnson! 
The 37-year-old Destiny's Child star and her fiancé confirmed the news to People in an interview published Thursday. 
Johnson actually popped the question last month. According to the magazine, the 40-year-old pastor went to Williams' hometown of Rockford, Ill. to get her family's blessings and videotaped the trip. 
On Mar. 21—one year after Johnson first asked his bride-to-be out over text—he got down on one knee. Before proposing at a hotel in Pebble Beach, Calif., the two recreated their initial text exchange. Johnson then had a waiter bring out an iPad with the video of his visit with her family. 
"I started weeping and wailing when I see all these special people," Williams told the magazine. "Towards the end of the video, something in my head said, 'Pull yourself together! He's about to propose! Stop all this crying!'"
Sure enough, Johnson presented her with a five-carat engagement ring from the Los Angeles jeweler Denis Mahgerefteh.
It looks like the two want to walk down the aisle sooner rather than later. According to People, the couple plans to tie the knot this summer.
"It's gonna be … think James Bond-meets-Midsummer Night's Dream—with a little hood in it," Johnson said. "It's gonna be very traditional. We're doing black-tie. We want it to be small and intimate and very private." 
As for whether her former girl group members will be there, Williams said, "it's looking good."
Williams' road to happily ever after was a long one. According to the magazine, the singer met her future husband at a spiritual retreat in Arizona in March 2017. That same month, the artist appeared on The Real and told the hosts her ex-boyfriend of a "number of years" had cheated on her.
"I was in a horrible, dark place," Williams told People. "I just needed to go somewhere where I could get a message of hope and restoration, rejuvenation—get connected to God."
When she met Johnson, she thought he was cute but decided not to flirt with the retreat's pastor. However, the two kept in contact and Johnson eventually sent her a text message asking if she wanted to connect.
"And right away, she texted right back with one word and six question marks behind it: 'Connect??????'" he recalled. "I thought she had dissed me. So I was embarrassed, and I didn't reach back out to her because I thought I'd ruined the friendship."
Thankfully, he got another shot at love when Williams sent him a direct message via Instagram. Soon, the two were texting and building a friendship through FaceTime. However, it wasn't until July that the two went on their first date—a wedding in the Dominican Republic—and they shared their first kiss. Even though the two had to battle long-distance, they managed to form a deep love.
"What kept drawing me and drawing me at first was I felt like I could be myself," Williams said, adding that Johnson calls her by her first name. "My first name is Tenitra; my middle name is Michelle. I felt like I could be Tenitra: just ratchet, I didn't have to have on any makeup, if I had to have on my hair bonnet—he just made me feel very safe in being myself."
To read more of Williams and Johnson's interview, visit People.com.
Congratulations to the happy couple!