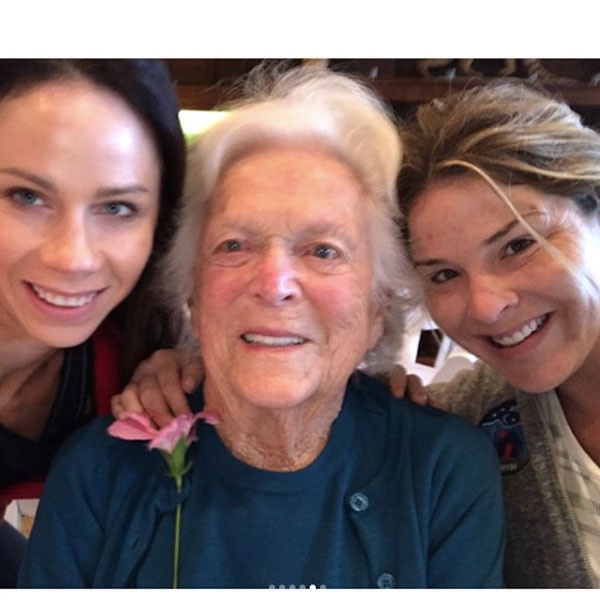 Instagram
While Jenna Bush Hager has lost her beloved "gammy" Barbara Bush, the late first lady is watching—she said so herself. 
In an emotional segment on Today Thursday morning, Hager reflected on her grandmother in a letter she wrote and read during the broadcast. "When we lost you, we lost one of the greats. You were our family's rock, the glue that held us together," she began in the emotional message. After declining further medical treatment, Bush died late Tuesday at the age of 92. 
"I hope you know in your final days how many people prayed for you, how many people told me they loved you," Hager continued. "It was like that my whole life. People stopped me everywhere—in airports, on the street—and declared their love for you. It always felt good. We didn't mind sharing you with the world."
While reminiscing about their summers together as a family or her time at the White House, Hager touched on the traits that made her grandmother one of the most revered women in history—her humility, grace, authenticity, humor and kindness. 
"We called you 'The Enforcer.' It was because you were a force and you wrote the rules. Your rules were simple: treat everyone equally. Don't look down on anyone. Use your voices for good. Read all the great books. Oh, how I'll miss sharing books with you," Hager said. 
While she's no longer with us, the late first lady will never be too far away, as she hinted to Hager in one of the last emails she sent her granddaughter in late February. It read, "I am watching you. I love you."
"Well, Ganny, we have spent our lives watching you—your words inspired us, your actions an example to follow," she said as she noted her grandmother's work in literary and holding babies living with HIV to dispel any stigmas. 
"I am filled with gratitude because you were ours," Hager concluded. "We are the lucky ones."
(E! and NBC are both part of the NBCUniversal family.)