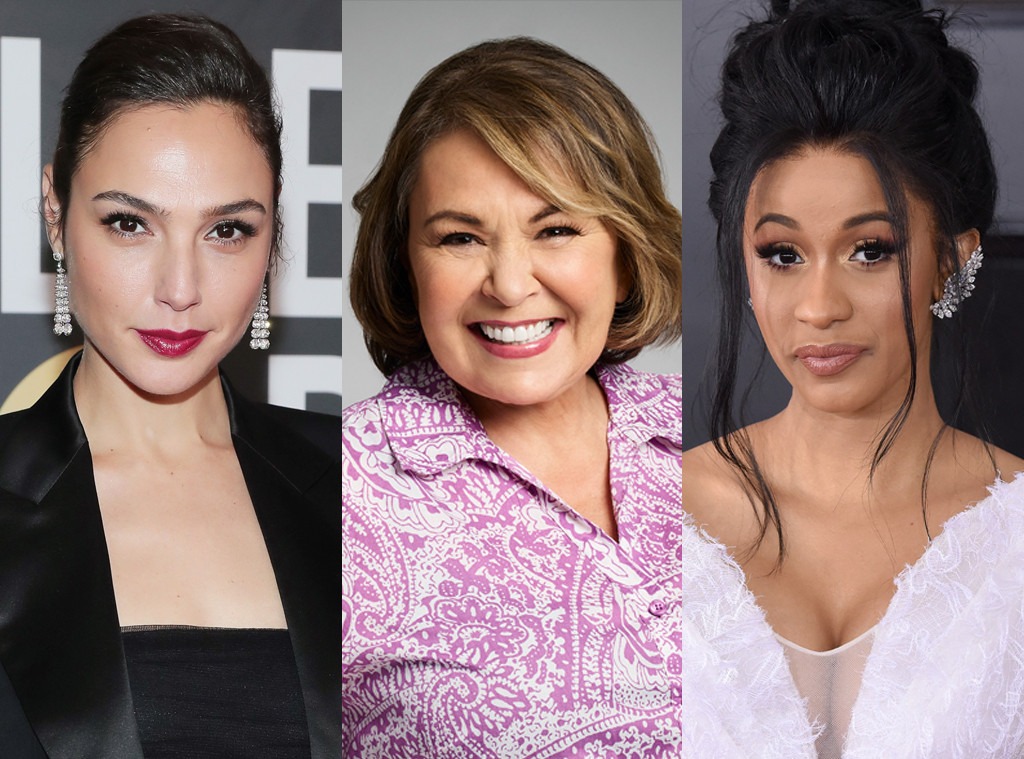 Getty Images
Can you hear her laughing gleefully already?
Roseanne Barr, who recently made a TV comeback with a rebooted, ratings-topping Roseanne, has made Time magazine's 2018 100 Most Influential People list, which was revealed on Thursday.
Joining her are the likes of fellow celebs such as Israeli actress and Wonder Woman star Gal Gadot, Cardi B, actress and comedienne Tiffany Haddish, talk show host Jimmy Kimmel, Jennifer Lopez, Nicole Kidman, Hugh Jackman, This Is Us' Sterling K. Brown and Stranger Things' Millie Bobby Brown.
Barr, aka simply Roseanne, is historically one of the most outspoken and controversial comediennes in the world. Recently, she has both delighted and alienated fans of her work by supporting President Donald Trump, who actually phoned her to congratulate her on her rebooted show's ratings. She defended her political opinions on Jimmy Kimmel Live! in March. Her namesake character on Roseanne is also a Trump supporter, although his name is not mentioned on the show. 
"She is using her art to address relevant social issues, just as she has always done," fellow actress and comedienne Rosie O'Donnell, a staunch liberal who opposes Trump, writes in TIME. "There has been much said about her love of the current President. Although I don't understand it in any way, I love her still. I have seen the indefensible tweets from her macadamia-nut farm—and I forgive her."
"I know what it's like to be like Roseanne," she continues. "She is the big sister I never had. And she has grown and shrunk right before our eyes with a courage that astounds me. She has been criticized by a President for singing the national anthem. She has openly struggled with mental illness. She travels the breadth of extremities, and that frightens most. But we feel her heart. We have watched her survive it all for three decades. And we love her for it."
Clay Enos/ TM & © DC Comics
Gadot won praise last year for her portrayal of Wonder Woman in the first big screen adaptation of the DC Comics classic, which marked her biggest acting role.
"She is a wife and mother; she has served her country, traveled the world, and is hardworking, loving, wise, goofy and full of humanity," Lynda Carter, who played Wonder Woman in a '70s TV series, writes in TIME. "Wonder Woman has helped transform how women and girls see themselves since she emerged on a TV show in 1975. She represents what we know is inside every one of us: fierce strength, a kind heart and incredible valor. Gal understood and captured the spirit of this complex, independent, fully feminine persona. I applaud her for all of her success."
Hip-hop star and mom-to-be Cardi is popular not only for her music, but for her personality.
"I identify with Cardi B, because she knows that too," actress Taraji P. Henson writes in TIME. "The first time I went on her Instagram page, she was so raw, coming at you, like, whoa! She used words like 'shmoney' and 'shmoves,' and she talked openly about being a former stripper. And she was proud of it—like, So what, I was on the pole, look what I parlayed that into? When she showed her soul like that, I hit the Follow button. I felt like she had the voice of the people, you know what I mean?"