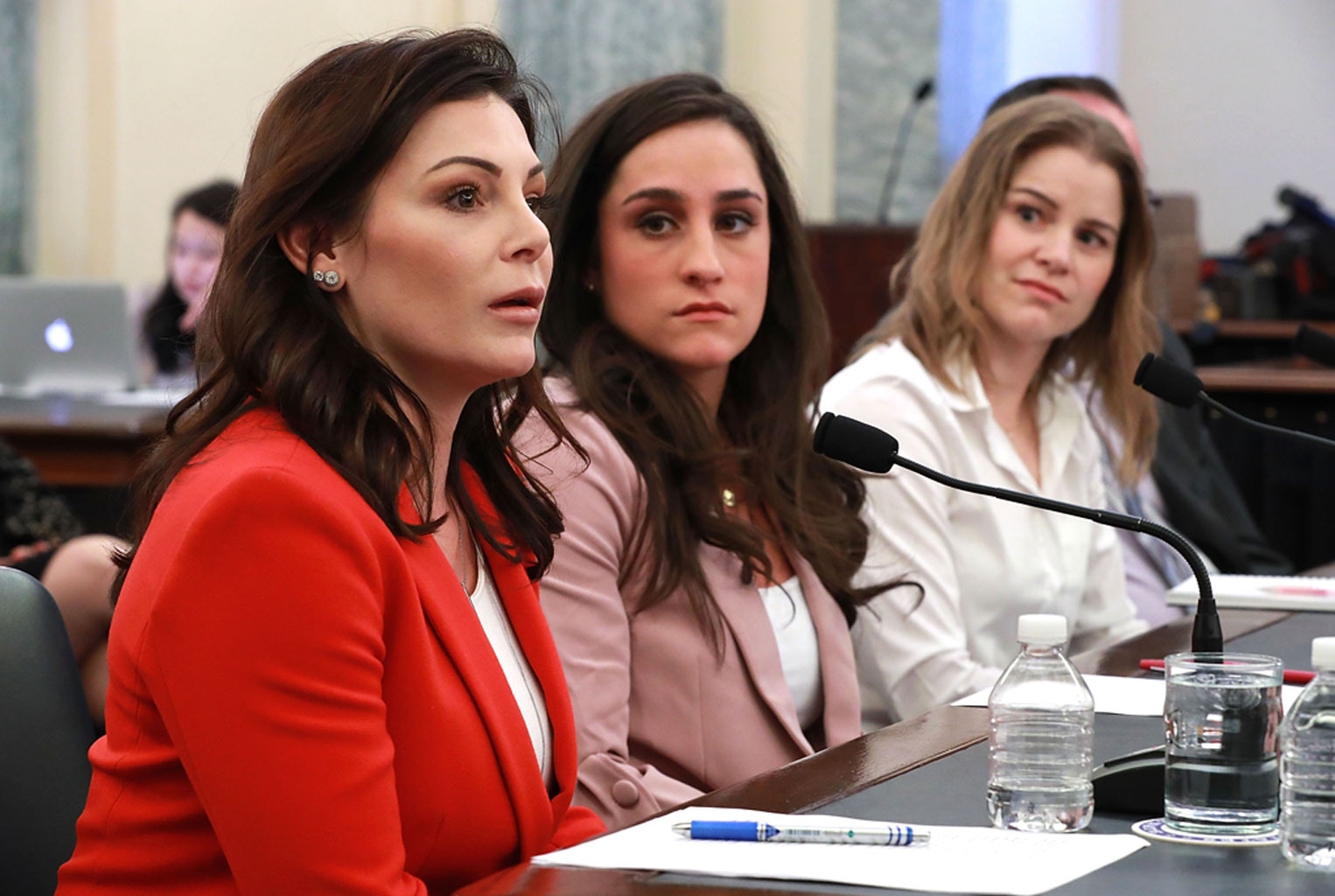 Chip Somodevilla/Getty Images
Jordyn Wieber and other Olympians testified before members of Congress about the systematic problems in gymnastics they say did not protect them from the abuse of Larry Nassar. 
Wieber, who won a gold medal at the 2012 London Games, and Olympic bronze medalist Jamie Dantzcher shared their stories with a U.S. Senate Committee on Wednesday in Washington D.C. Weiber and Dantzcher were two of more than 250 survivors who shared victim impact statements during Nassar's sentencing hearing. In January, the former doctor was sentenced to 40 to 175 years in prison for sexually abusing girls under the guise of medical treatment.  
Speedskater Bridie Farrell and figure skater Craig Maurizi also shared their own accounts of alleged abuse by a mentor or coach. 
The athletes pleaded with the committee to hold governing organizations like the U.S. Olympic Committee, USA Gymnastics and Michigan State University, where Nassar worked, accountable for their actions in the midst of the allegations. 
Wieber, 22, said, "I thought training for the Olympics would be the hardest thing I would ever do. But in fact, the hardest thing I've had to do was process that I am a victim of Larry Nassar. It's caused me to feel shame and confusion."
"I spent months trying to think back in my experience and wonder how I didn't know what was happening to me and how I was betrayed by Larry Nassar and everyone at USA Gymnastics and the U.S. Olympic Committee, organizations sanctioned by the federal government who I trusted to be on my side," she continued. 
Dale G.Young/Detroit News via AP
She alleged in her testimony that Nassar's victims were "silenced and ignored" by the organizations, and just yesterday filed a lawsuit against USA Gymnastics and Michigan State University in connection to the sexual abuse case.
Other gymnasts that have filed lawsuits include Aly Raisman and McKayla Maroney, who alleges the organizations used a settlement with her to conceal Nassar's abuse. This, in addition to the more than 150 federal and state lawsuits that have been filed against Nassar and the organizations he was associated with following his conviction. 
In January, Congress passed legislation creating an organization to investigate abuse against amateur athletes and requiring officials to report suspected incidents.