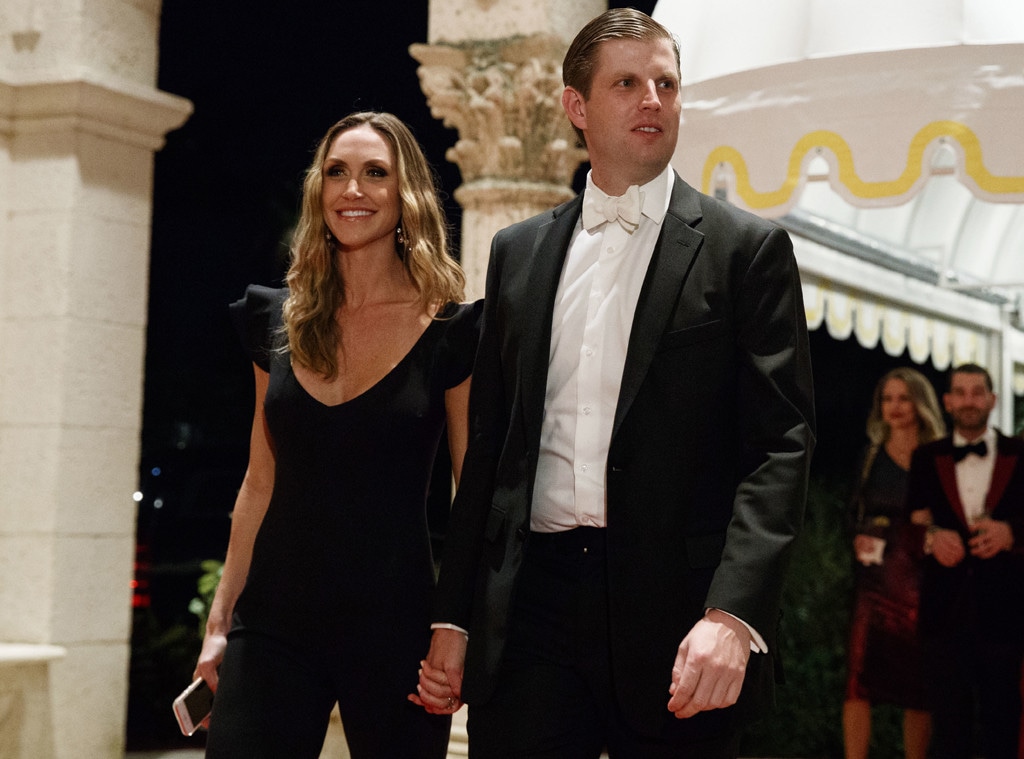 Evan Vucci/AP/REX/Shutterstock
Eric Trump may be the butt of a lot of late-night TV jokes, but in reality he appears to be doing something right.
While his father and older siblings are mired in controversy, the 34-year-old Trump Organization executive has largely avoided the more serious speculation plaguing the family, about possible collusion with Russia or money laundering, or obstruction of justice. Even if you specifically Google "Eric Trump prison" or "Trump sons prison," all you see are stories about Donald Trump Jr. and their brother-in-law Jared Kushner.
"I'd like to apologize to Eric Trump," Stephen Colbert said on The Late Show one night after a particularly fraught news day for Don Jr. "We always thought you were the dumb one. We were wrong."
"Unfortunately it is the price one pays for being in a political family," Eric wrote to the Washington Post last month in response to Saturday Night Live's portrayal of him, by Alex Moffatt, as an imbecile next to Mikey Day's Don Jr., who's smug but more on the ball.
"They got it wrong, they detest us," Eric continued, "and they will do anything to try and undermine our credibility." 
Maybe a little defensive, considering the topic—an unflattering SNL parody—but the family's reaction level to all perceived antagonism tends to remain on high, no matter the offense.
Eric has made his own unfortunate headlines, to be sure, but with Donald Trump's presidency now 16 months old, he's been lapped a hundred times in the scandal department. And in the long run, no matter what transpires from all of it, that's a good thing—for Eric and his own young family.
Ron Sachs/REX/Shutterstock
He and his wife of three years, Lara Trump (née Yunaska), just became parents last September to son Luke. So their Instagram pages are mainly devoted to their baby and their dogs, along with public appearances and trips to the White House and Mar-a-Lago (and Lara throws in the occasional workout video).
Normal, right?
They've been together for just over a decade, having met, as Lara once put it, because they "just happened to be out in the same place at the same time in New York."
The story's gotten cuter since, with Lara telling Fox & Friends in 2016 that they were both out with friends and "being probably the two tallest people in the room was really helpful" in bringing them together. (Eric towers over his siblings at 6'5"; Lara has said she's 5'11" in bare feet.) "I think we spotted each other across the room. I was immediately intrigued and hopefully Eric felt the same way. It took us about three months to go on a date."
"I was sort of expecting it to be a bad date," Lara told Wilmington, N.C.'s StarNews in 2015. "I was like, 'This guy must be sort of what you would expect from a rich guy's son. I'll just go out with him to say I did.' But it ended up being the best date I've ever been on."
Mediapunch/REX/Shutterstock
They got engaged on July 4, 2013, during a walk in the woods, five years and two days after that first date.
"Eric wanted to be sure," Lara explained on Fox & Friends. "Very sure, obviously," he added with a smile.
"She didn't put too much pressure on me," Eric said. "I think she cared more about the dog than she did about the ring." 
About two years into their relationship, they adopted their first beagle together, Charlie, and nowadays he and his fellow rescue, Ben, rival Luke for real estate on their parents' Instagram accounts.
Eric said that he fell for Lara's "southern charm." Hailing originally from Wrightsville Beach, N.C., Lara graduated from North Carolina State with a communications degree and then moved to New York to attend the French Culinary Institute. She ran her own cake business for awhile, Lara Lea Confections, before getting into TV production. (Every year, Eric still gets a fancy homemade dessert on his birthday.)
Lara recalled meeting The Donald for the first time at the 2008 U.S. Open in New York—not knowing ahead of time that she and Eric would be watching tennis with his father and stepmother, Melania Trump. She was nervous but the elder Trump quickly put her at ease by offering her an ice cream.
"I kind of loved it," Lara told the StarNews. "This was normal. This is what people do. There was no grilling, not a ton of questions. Just nice hellos and ice cream."
Looking back, Lara said, "I'm a girl from North Carolina who really has no business even being involved with this family. But I just so happened to fall in love with a guy, we clicked and it worked." She added, "I feel totally at home with Eric's family, which is more than some people can say about their in-laws."
Mike Coppola/Getty Images
Eric and Lara got married at Mar-a-Lago on Nov. 8, 2014. The bride wore Vera Wang, Ivanka Trump's daughter, Arabella, was the flower girl and Jared Kushner officiated. Charlie the beagle, who also witnessed the proposal in the woods, served as their ring bearer.
"It was the first dress that I tried on and actually felt like a bride," Lara told People about her strapless ballgown-style dress with a statement skirt. "I knew that I needed a dress that would be seen from even the farthest guest's viewpoint!"
Around 450 guests, including radio host Elvis Duran and The Real Housewives of New York City's Jill Zarin, partied afterward in a ballroom bathed in gold. For the reception Lara changed into a lacy mermaid gown by Inbal Dror by Mark Ingram Atelier.
Lara's most memorable accessories, however, were the bejeweled white fingerless gloves she wore because she had just broken her wrists two weeks beforehand in a horseback riding accident. "I had to get creative with a way to make casts look bridal," she told People.
Reflecting later to Fox & Friends, she said, "I gave myself about three or four hours of a full pity party the day that [the accident] happened, and then I said, 'You know what, I still get to marry the love of my life. I still get to marry my best friend. The show will go on.'"
Richard Drew/AP/REX/Shutterstock
Eric and Lara had been married for barely six months when Donald Trump announced his presidential candidacy in June 2015. And just as was the case for Ivanka and Jared, Don Jr. and his wife Vanessa Trump, and for future first lady Melania Trump, life would never be the same for the newlyweds.
Like Don Jr., Eric became one of his father's defenders-in-chief from day one ("he doesn't have a bad bone in his body," he told the Washington Post), but while every questionable move Eric ever made was also duly re-questioned as the campaign heated up, and many of Eric's tweets and comments became their own headlines, Don Jr. was the more explosive of the two. And simply, due to more appearances on Apprentice and his earlier entrance into the Trump family business, Don Jr. was already the more famous of the brothers. (Ivanka, the most famous of them all, was a staunch defender, too, but her style could only be described as the polar opposite of her brothers. "The princess" and the "brutes" as Eric himself has characterized the three of them.)
Another big difference between the brothers was that Eric's wife, who had media experience as a former producer for Inside Edition, was unequivocally on board with the bigger spotlight.
"I'm happy to do whatever I can to be there and support him," she told the StarNews in December 2015. "So far, that has only meant being there physically."
Matt Baron/REX/Shutterstock
Unlike Vanessa Trump, who was voluntarily busy with five children at home while Don Jr. stumped for his dad, Lara Trump was free to do more campaign work, which she relished, becoming a favorite among Trump supporters along the way. Also unlike her sister-in-law, Lara took on a more visible albeit undefined role once Trump was elected, with a source telling The Daily Beast last summer that Eric's wife was "running the show" at the online venture Trump TV. In February, she was announced as a senior advisor on Trump's reelection committee. (All of which, like Ivanka and Jared's roles in the White House, has raised eyebrows among critics while winning hearts among the Trump faithful.)
Evan Vucci/AP/REX/Shutterstock
"I never knew her to say no a single time," Counselor to the President and 2016 campaign manager Kellyanne Conway told McClatchy News about Lara last June. "'Can you work the phones for fundraising?' 'Can we send you and your colleagues in Women for Trump to the four following states?' 'Will you sit on a bus for hours?' Lara never said no."
"She seems relatively normal," an unnamed Republican strategist added.
Meanwhile, Vanessa filed for divorce from Don Jr. last month after 12 years of marriage; so followed the reports that the eldest Trump kid had cheated on his wife with Aubrey O'Day back when she was a contestant on The Celebrity Apprentice in 2011. People close to the couple, who characterized their split as amicable, said the breakup had been a long time coming.
Andrew Harrer/Bloomberg via Getty Images
"Maybe when this crazy political race is over, we'll start working on the kid thing," Eric told Fox & Friends in August 2016. Asked how many children they wanted, he replied, "Wow. Don has five, Ivanka has three, so we have I think a basketball team right there, so we can probably get away with a few less. But honestly," Eric smiled, "we love kids, and it's a special thing about our family. You know, my brother's kids, Ivanka's kids will come spend the weekend at my house and we'll be watching Frozen—I think I've seen, I think I'm the only guy that doesn't have any kids who's seen Frozen about 400 times." He even warbled a little "Let It Go."
He might have been expecting a different outcome come that November, but he and Lara did indeed start working on the kid thing.
They welcomed Luke on Sept. 12, 2017, and it was the most normal, blessed thing that could have happened.
Life for the Trump family has only continued to grow less recognizable from what it used to be before Donald Trump became president, and Eric—in addition to becoming more of a lightning rod for controversy than he could've ever hoped to be—has also taken on more responsibility in the family business (the 17 golf courses are all under his purview, for starters, and he's president of Trump Winery), which is supposed to now be solely in his and his big brother's hands.
Eric was 6 when parents Donald and Ivana Trump separated and proceeded to messily divorce for all the world to see. He and his siblings lived primarily with his mother after the split and then he and Don Jr. went to the Hill School in Pennsylvania. According to Vanity Fair, while 12-year-old Don Jr. was the one who accused his father of only loving his money and not them, little Eric asked his mom, "Is it true you are going away and not coming back?" Subsequently, the brothers became extremely close, and Eric saw Don Jr. as a mentor growing up.
"In a way, he raised me," Eric told the New York Times in 2006. "My father, I love and I appreciate, but he always worked 24 hours a day."
Madison McGaw/BFA/REX/Shutterstock
Unlike his brother and Ivanka, who followed in their dad's footsteps at Penn's Wharton School, Eric graduated from Georgetown University. "Eric has Trump genes, but he doesn't have the Trump brand," friend and Georgetown classmate Claire Fieselr told the Washington Post about the third-eldest Trump child in 2016. "I've always admired that he is uniquely his own in that way. Less bombastic, more thoughtful. Less self-aggrandizing, more humble. 
"Less Trump. More Eric." 
Needless to say it's a good thing that Lara Trump appears to have wholeheartedly embraced her husband's Trump factor, however measurable it is at any given moment.
Pablo Martinez Monsivais/AP/REX/Shutterstock
Eric didn't take a detour before joining the family business as Don Jr. did. Nor did he, by any accounts, stop talking to their dad for a year, as Don did in the wake of their parents' divorce. After graduating from Georgetown in 2006, he traveled for a few months and then went to work for the Trump Organization.
The Washington Post reported in May 2016 that the brothers would have breakfast together nearly every day at Trump Tower before work. Eric surmised at the time that, if their dad didn't win the election, "we'll do what our family has always done and that's build the greatest projects in the world."
But his father did win, election day coinciding with Eric's second wedding anniversary no less. And while it's now April 2018 and no one knows what tomorrow will bring, everything that Eric Trump built for himself is still standing.
"Eric is extremely warm and friendly, a big wide-open smile, handshake," 60 Minutes' Lesley Stahl told Vanity Fair following her post-election interview with Eric and Don Jr. "He comes across as a teddy bear and Donald seems more retiring. It's almost opposites."
He may be newer to marriage and fatherhood (i.e. has more energy), but Eric also seems to be the most romantic Trump. On March 17, he and his wife celebrated their 10th anniversary as a couple while skiing in Colorado, all smiles on the mountain, the valley stretched out below them, still looking like they're on top of the world.