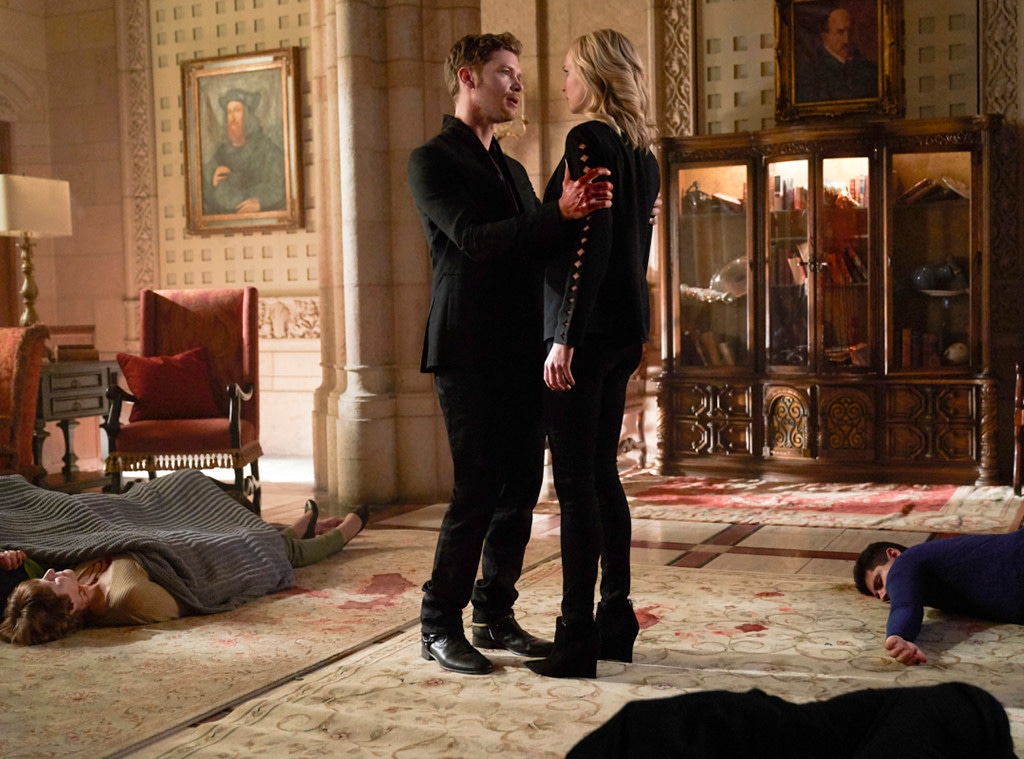 The CW
TV's oldest and most dysfunctional family is about to return for their last hurrah. 
The final season of The Originals premieres tonight, featuring a major time jump (more on that later) and a whole bunch of problems brewing in the French Quarter (what's new?) as the Mikaelsons have been forced apart for the past eight years due to some seriously dark magic. We've seen the first three episodes and we can tell you that they might be the show's three best episodes ever, but we thought it might be more helpful to get on the phone with someone who's seen every episode and knows exactly how all of this is about to end. 
Executive producer Julie Plec has shepherded the Mikaelson family throughout their time on The Vampire Diaries and now all the way through The Originals, and she says it "actually wasn't hard" to find an ending to this epic, five-season/thousand-year-long story. 
"Ultimately, I'm a big believer in happy endings and closure, so it was really just about bringing each character to its completion and understanding how they would live the rest of their lives or what their ultimate life closure could and would be," Plec tells E! News...but there's a but. 
"That being said, a happy ending for me isn't necessarily happy." 
The Vampire Diaries said goodbye after eight seasons with the death of Stefan (Paul Wesley), and then found everyone reuniting with their (many, many) lost loved ones in the afterlife. A happy ending, but also a rather sad one.
"It's more fulfilled, powerful, and satisfying I guess would be the best words, more so than anybody's going to be walking out the door with a smile on their face," Plec says. "But when you're thinking like that, it's really just about finding the end to your story, and when you've been telling a constant story all the way through, it's actually not that hard to find." 
While The Originals will likely not end in the same way The Vampire Diaries did, Plec says that final question, the conversation of the existence of peace, "carries over into The Originals for sure." 
"The idea that there is something out there, even if it's just inside our characters' heads, it's something that they can hold onto," she says.
Of course, The Originals has always been more about its central family and their rather unusual love for each other. 
"I think one of the reasons I loved the show so much is because of the opportunity to tell a sweeping saga about a truly dysfunctional family, raised in the shadow of physical and emotional abuse, bonded together by trauma and codependency, eternally in love and in hate with each other, and yet always bounded by the ties of blood and family," Plec, ever the writer, explains. 
She goes on to describe how much she loved being able to explore characters "who want to get better and want to be redeemed and want to heal from the scars that have made them who they are and really grow and change, in spite of having been locked in the same behavior for a thousand years," but ultimately it all comes down to "these two brothers, the ultimate codependent relationship." 
"That's my bread and butter," Plec says when we point out her penchant for codependent vampire brothers. "Love love love codependency." 
That relationship between Klaus (Joseph Morgan) and his brother Elijah (Daniel Gillies) is one of the most heartbreaking aspects of the beginning of the season, since as it starts, Elijah has no idea who his brother even is. He was compelled in the season four finale to forget about his vow to his family and to forget about who he was entirely, and we last saw him happily playing piano in a bar in Europe. 
Elijah's story will be told in full in one of the most beautiful episodes the show has ever done, taking a small break from some of the madness of the rest of the story, the war brewing back in the French Quarter. 
"What we really enjoyed this season was telling a story about New Orleans and the French Quarter and the 'identity politics' of its inhabitants across the board, from the werewolves, the vampires, the witches and the humans, Plec says. "We got very excited telling a story about the danger of hate and intolerance inside such a small community, so the villain of the season isn't just the fear of the dark magic that the Mikaelson family holds, it's in the people within the French Quarter who decided that they no longer want to live amongst people that are different from them." 
But even that story will take a bit of a turn. 
"Something happens at the end of the second episode that launches a mystery that runs the first half of the season," she explains, saying that we'll be getting more Mikaelson history from the 1930s, specifically, "which definitely turns our whole family on its head in terms of what they have to do and how they have to work together in spite of their restrictions to solve a problem." 
While Plec says that the show will be welcoming back a lot of familiar faces in its final season, there's one face in particular that many fans are dying to see. Luckily, she first appears in tonight's premiere episode. 
"It felt like now that Klaus is a parent and his daughter is a student at that school, it was a perfect opportunity to re-explore that dynamic between Klaus and Caroline [Candice King] that began when she was just a teenager and see how it could shift and change now that she's an 'adult' with kids of her own," Plec says of the highly anticipated appearance of Caroline Forbes. "So I got excited about one, being able to bring Candice into the universe and work with Candice past the end of Vampire Diaries because she's so wonderful, and two, play more with the chemistry between Klaus and Caroline, whether it's a good thing or a bad thing. It feels like there was still untapped story to be told there." 
Speaking of untapped story, there's still another spinoff currently living in Julie's brain...and maybe a bit on the screen. 
There have been rumors of a Hope-starring show about the magical school that was opened in the Vampire Diaries finale, run by Caroline and Alaric (Matt Davis). Plec says that show is very much still a possibility if you ask her. 
"That's something that's so lovingly packaged inside my brain that as soon as it's the right time and people are ready, I'm excited to be able to do it," she says. "So it's really just a matter of when." 
The Originals airs Wednesdays at 9 p.m. on the CW.