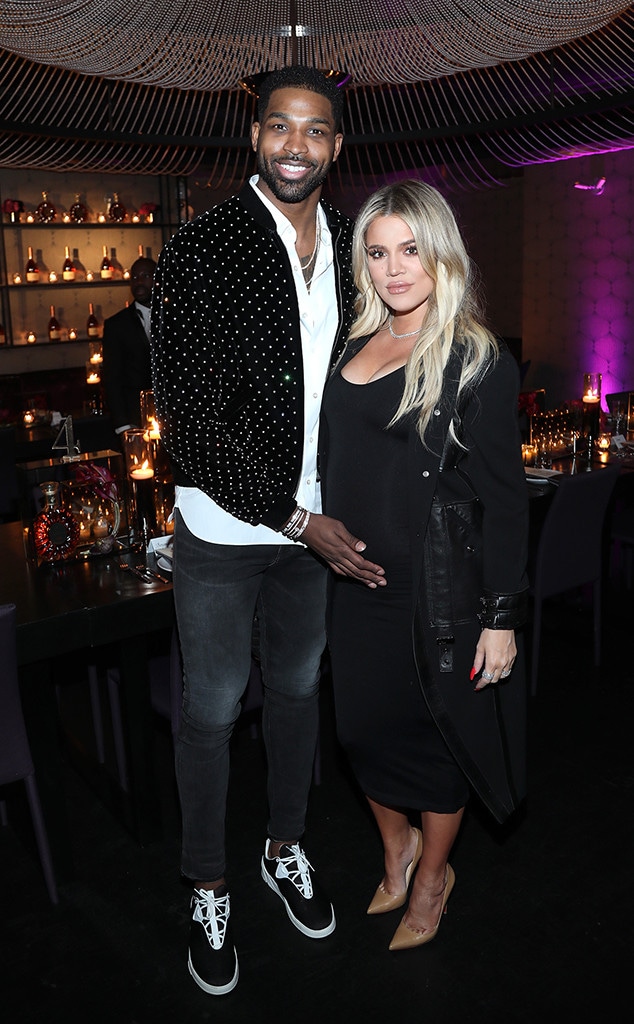 Jerritt Clark/Getty Images for Klutch Sports Group
It's been just about a week since Khloe Kardashian and Tristan Thompson welcomed their first child together, True Thompson.
Khloe gave birth to their baby girl on Thursday, April 12 at a Cleveland hospital with Kris Jenner, Kim Kardashian, Kourtney Kardashian and BFF Malika Haqq by her side.
The baby's arrival followed shortly after an alleged cheating scandal involving Tristan was reported. Amid all of the cheating reports, Tristan returned to the basketball court for the Cleveland Cavaliers' last season game on April 11. After the game, Tristan made it to the hospital for the baby's birth.
So what's the status of Khloe and Tristan's relationship today?
"Khloe has been in a daze since True was born. Everything happened really quickly, from the scandal to her water breaking shortly after, then to giving birth. She is a bit traumatized by the situation with Tristan, and is quite embarrassed, but is focused on the baby now and not the negativity surrounding her relationship," a source tells E! News exclusively.
The insider adds, "Her and Tristan are very much still up in the air. He has been staying with her and the baby at the house, but also has been gone a lot due to his schedule. They are both head over heels and obsessed with their baby, and they haven't had time to focus on what the next move is."
Khloe is still currently in Cleveland with baby True, who hasn't been cleared to travel yet.
"True has not been cleared for travel and Khloe doesn't want to risk anything," the source tells us. "She is fine staying put in Cleveland for now and is focused on adjusting to having a newborn baby. Khloe has been talking about how she wants to get back to L.A. as soon as possible, but it's a process and is not happening for a while."
As for what will happen between Khloe and Tristan, the insider shares, "Khloe wants True to have a father and very much still loves Tristan. Tristan wants Khloe to forgive him and wants to assure her that they can have their fairytale family. Khloe really wants to try and forgive him, and make it work, but doesn't know how she will be able to do that."
Getty Images for Rémy Martin // Jerritt Clark
Another source tells E! News that Khloe is "very angry" with Tristan right now.
"Khloe and Tristan don't have much to do with each other. She's very angry with him and rightfully so," the insider shares. "At the same time she does want her daughter to spend time with her dad. So she isn't denying him that chance. But she is cold with Tristan and keeping contact to a minimum. Tristan doesn't think Khloe will ever forgive him, but that's yet to be determined."
In addition to having Kris by her side the past week, Khloe's sisters recently took a trip to Cleveland to meet baby True and check in on Khloe.
"Khloe is relying on her family and friends right now for support," the source tells us. "She still has a few close friends with her in Cleveland and she has an amazing baby nurse who is helping out. She plans to leave for L.A. as soon as she's cleared."
As for how Khloe's family feels about the allegations, a source told E! News, "The Kardashian family has been very cold towards Tristan since the scandal broke. They aren't pleased with him at all and are heartbroken for Khloe."
The insider added, "Everyone has remained civil this past week for the sake of the baby, but deep down they are all furious. They feel Tristan was deceitful and are ashamed that he was lying to all of them. Loyalty is huge in their family, and once the trust is lost, it's hard to get everyone on board again. The family has Khloe's back and are only worried about making sure True is taken care of on all fronts. They are urging her to do what's best for True."