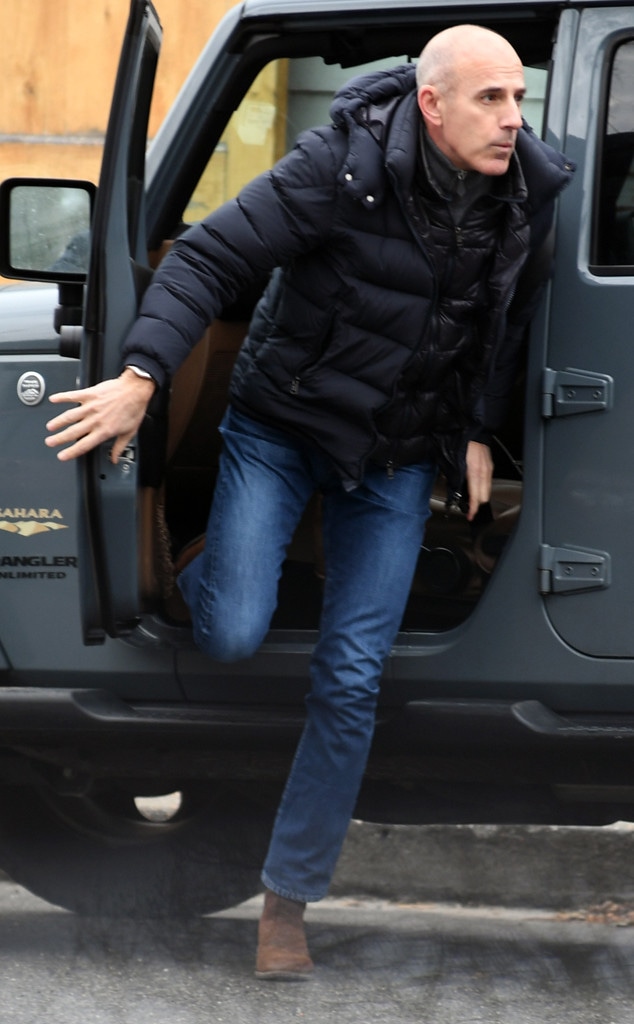 Elder Ordonez / Splash News
Four and a half months in the Hamptons may sound like a vacation, but for Matt Lauer it's been more like penance.
The former Today anchor, toppled from his mighty perch at NBC News after 20 years in the wake of sexual misconduct allegations, hasn't been heard from since his parting apology. In the statement released Nov. 30, the married father of three who was making a reported $20 million a year said that he was "truly sorry" for any hurt that he'd caused.
"Some of what is being said about me is untrue or mischaracterized," he continued, "but there is enough truth in these stories to make me feel embarrassed and ashamed."
Lauer added, "Repairing the damage will take a lot of time and soul searching and I am committed to beginning that effort. It is now my full-time job."
And with that, Lauer retreated to the bed he made and proceeded to lie in it. Lucky for him, he had multiple beds to choose from, between his pied-à-terre in Manhattan, a sprawling estate in North Haven that he bought from Richard Gere for roughly $36.5 million, the family's 40-acre horse farm in Water Mill and another, smaller house in Sag Harbor that's been on the market since 2016 and after a recent price slash is available for $12.75 million.
But even the walls of a 19,000-square-foot mansion may start to close in on a person eventually...
While it didn't take long for a stunned Today audience to get over Lauer's exit, with even more viewers tuning in to watch the new pairing of Savannah Guthrie and Hoda Kotb, people don't actually disappear off the face of the earth when they retreat to Long Island for soul-searching.
Lauer's first few weeks of ignominy were spent close to home, the veteran broadcaster spotted leaving his estate and driving into town to rendezvous with his lawyer, who was handling the business of being fired for him. According to multiple reports, Lauer's already shaky 19-year marriage to wife Annette Roque was hanging by a rapidly unraveling thread, he was fighting to save it but she was consulting lawyers, and a divorce was imminent. Even Lauer's father-in-law said so.
But as 2017 limped to a close, the hard news tapered off. There was no paper trail as far as any legal moves on Annette's part went; and Lauer—who turned 60 with zero fanfare on Dec. 30—was at last left alone with his thoughts.
Elder Ordonez / Splash News
To gauge how the disgraced TV star is doing now, however, more than four months after he was evicted from his former life, again depends on who you ask.
According to Page Six, Roque kicked Lauer out of the family's main Hamptons residence in January, though he only retreated to a house nearby to remain close to their three kids, Jack, 16, Romy, 14, and Thijs, 11. According to Us Weekly, he only just moved out. Roque, who is Dutch, was spotted in Amsterdam lunching with a girlfriend and not wearing a wedding ring in February. In Touch just quoted a source saying he looks like "the loneliest man in the world"—although, really, anyone sitting on the porch of a huge house by himself while not smiling could give off that impression. (The Hollywood Reporter just ran a story suggesting that a similar thing is happening with Charlie Rose, who's also been largely exiled to Long Island.) 
At the same time, he's rumored to be mulling his next move. As in, weighing his comeback options. This is a guy who reportedly was still sending notes to former Today colleagues a month after he was fired, weighing in on production choices.
The reality is that Lauer's public life has done a 180. After spending two decades as one of television's most famous faces, he's persona non grata, scrubbed from the NBC website and his caricature taken down from the wall at The Palm. His only Today appearances since his firing have been on film, in retro snippets used in the 1992-set I, Tonya and 2002-set Lady Bird.
A source told Us Weekly recently that Roque hasn't limited his access to the kids in any way, but Lauer's communication with his estranged wife is "minimal on good days, but mostly nonexistent."
But he hasn't lost everything in the personal department, with friends—many in high places—still checking in.
"I've texted with him just on a personal level," Sunday Today host Willie Geist told Entertainment Tonight in January. At the time Lauer was "as good as he can be. He's sort of reconnecting with his family and figuring everything out."
Hoda Kotb, meanwhile, told E! News that she received a congratulations from Lauer when she was promoted to the co-anchor chair at Today—and they're still in touch.
"We keep in touch with him," Kotb told The Hollywood Reporter, when she, Guthrie and Megyn Kelly made its new list of the "35 Most Powerful NYC Media Figures." "I mean, look, this is one of those complex situations. I've known him since I started working at NBC. When I was sick with breast cancer, he was the first to call. He helps and helped in ways that...you know, he was incredible in that way. There is that Matt and then there's the Matt that the accusers speak of—and those accusers' voices matter, and that story matters."
Katie Couric, who co-anchored Today with Lauer for nine years and admitted the stories about him were "very painful" for her to hear, said this week that she too has had trouble reconciling the two Matt Lauers—the one she's known for decades and...the other one.
"I don't think I have reconciled it, honestly, because it's very upsetting and disappointing," she said Tuesday in a Q&A at BuzzFeed's New York office while promoting her National Geographic show America Inside Out. I also really don't know the details of these incidents still. And I think a lot of people who worked on the show when I was there, and when Matt and I did the Today show, don't really understand the extent of these incidents or what exactly happened and, you know, separating truth from fiction."
Two weeks after he reportedly put the Manhattan apartment he's owned since 2004 on the market for $7.35 million, Page Six just reported that he was eating dinner on Friday the 13th with a pal at Omar at Vaucluse on the Upper East Side, a tough reservation for just anybody.
So Matt Lauer still has allies in his private life. Whether they are allies who would publicly support him if he tries to get back into the rest of the world's good graces remains to be seen.
(E! and NBC are both members of the NBCUniversal family.)