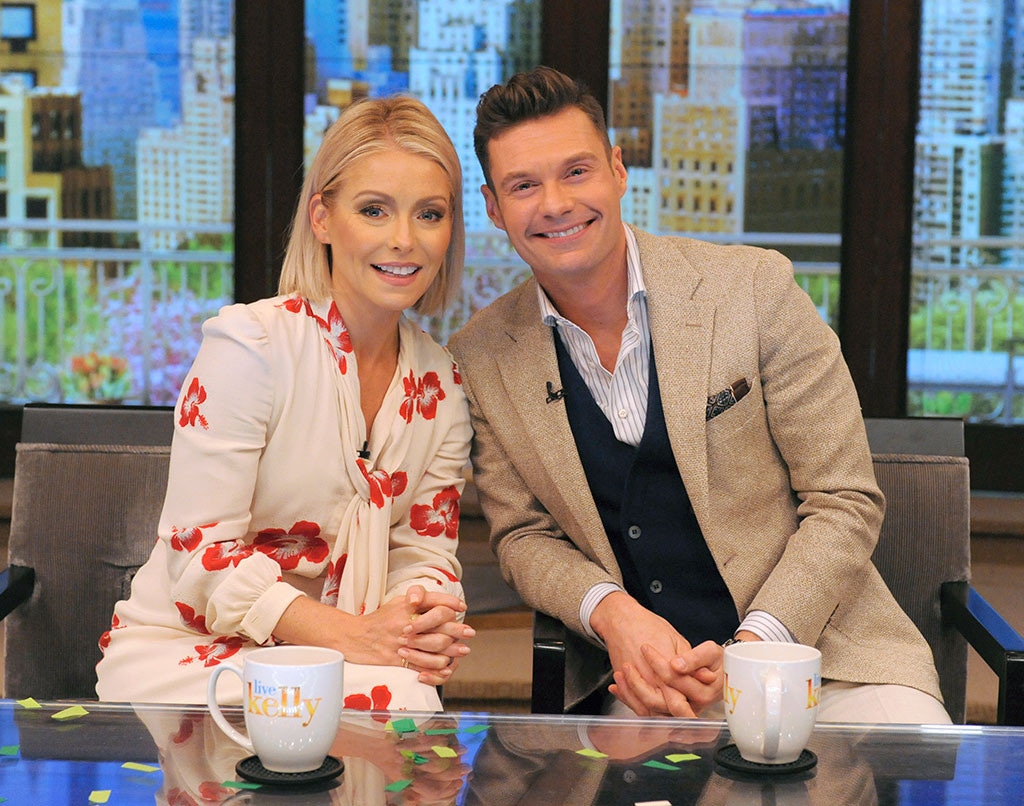 Disney/ABC Home Entertainment and TV Distribution/Pawel Kaminski
Some days Kelly Ripa goes online looking for a fight.
"I love a clapback," the LIVE! With Kelly and Ryan co-host revealed in a Mar. 16 appearance on The Wendy Williams Show. As she scrolls through her Instagram comments and spots a disparaging remark, she simply can't help herself from responding in kind.
Take the time one of her 1.7 million followers pointed out that "her head looks to big for her tiny body," giving Ripa the chance to respond with a classic: "To is spelled too FYI." She doles out similar grammar assistance to those who say she appears too skinny, too fit or too much whatever.
"We all know that if people are telling you you are too anything on social media, they universally spell the word 'too' incorrectly," she explained, "making it a very easy clapback, almost like a snapback."
And getting the chance to school such keyboard warriors takes the sting out of any insults. "I love trolling a troll," she explained in an Instagram video. "It is my favorite thing to do."
It's an activity that goes hand-in-hand with another Ripa skill: the ability to bounce back when she's knocked down. It's been two years since Michael Strahan announced he was abandoning his LIVE! stool for a spot on Good Morning America. That's 24 months since Ripa was painted as ungrateful, bratty and other b-words for her reaction, which was to inform producers she'd be taking the next day off and then leaving for her planned 20th anniversary vacation with husband Mark Consuelos.
Detractors labeled her a poor sport, assuming she was bitter that the 46-year-old former NFL standout had accepted a new, highly coveted position. But really, she explained after days of heightened speculation, she was just kind of irked that she'd learned of the vacancy at the same time fans were reading about it online. A feeling that seems pretty legit when you consider she'd been cohosting the venerable morning hit for 15 years—five of those as the headliner.
Lamenting the fact that she was completely cut out of discussions, she told People, "I think that all people are deserving of fair treatment in the work place. People deserve respect. People should be treated equally and with dignity." Besides, it's not like she ghosted on producers. Rather, she told them she needed a breath to collect her thoughts before she'd would be expected to share them on camera.
Ever the professional, the 47-year-old media veteran returned from her time off to literally kiss Strahan goodbye and launch into another search for her permanent plus-one. Two years—and a handful of Daytime Emmy nods later—she's found a keeper in Ryan Seacrest. "They get along famously," a source tells E! News of the pair, who will mark their first cohosting anniversary May 1. "Ryan and Kelly have the same work ethic and values. That's why it works so well."
When Ripa reclaimed her stool post-break on Apr. 26, 2016, some viewers expected she'd brush off the dustup with a quick joke and move it along to talking about her trip or how she recently slipped into the same wedding dress she's worn in her early twenties. After all, they reasoned, she's paid handsomely for her work—reports peg her annual income at $15 million—and that should be more than enough for her to handle any disrespect with a smile.
But this is the same woman whose marriage advice to Good Housekeeping was, "Don't be a bottler; you'll explode." As she explained to the mag in a 2010 interview, "If something bothers me, I just say it, no harm, no foul."
So, she just said it. Launching into a monologue at the top of the show, she told the audience, "I first want to honestly, sincerely thank you for welcoming me back to this show. The love, the show of support to this bizarre time has been really overwhelming. I really needed a couple of days to gather my thoughts. After 26 years with this company, I earned the right—and let's be honest, I know half of you called in sick to be here [to watch the drama unfold], so we get each other. In that time, I gained some perspective. I always speak from the heart. I didn't want to come out here and just, like, say something I might regret."
Choosing her words with the greatest of care, she added, "What transpired, though, over the course of a few days has been extraordinary in the sense that it started a much greater conversation about communication and consideration and, most importantly, respect in the workplace. Since we're being honest, I don't consider this just a workplace. This is my second home. This is a place that I've devoted myself to, not just because of you, our loyal viewers, but because of all of the producers and the crew who work on this show. We have an incredible team. We are incredibly devoted to one another. We are family. Apologies have been made and the best thing to come out of all of this, you guys, is that our parent company has assured me that LIVE! is a priority."
And that was that.
For the next 14 shows, the All My Children alum and former New York Giants defensive end walked out every morning hand-in-hand and exchanged the same comfortable banter. And when Strahan signed off May 13, he left with a hug and a kiss from Ripa and her very best wishes.
Maybe there was an extra serving of snark during those few weeks and a couple of jokes at Strahan's expense (like the time she awkwardly brought up his divorces on-air), but that also could have been the product of eagle-eyed fans looking for signs of a feud.
Ripa swore that discord just wasn't there. Speaking to People days before Strahan's final show, the mom to Michael, 20, Lola, 16, and Joaquin, 15, insisted she bore no ill will toward him and his decision leave after four years. "We're excited for Michael," she said. "He wanted that job, and it's great for him. I think it is a perfect match, I really do."
It was just hard not to feel slighted at being left out of the conversation. Particularly when former cohost Regis Philbin did basically the same thing when he signed off in 2011. Except that Ripa learned of his exit roughly 20 minute before he informed viewers on air.
"When you're dealing with big business, it's easy to forget that you're dealing with people and that people have feelings," she noted. "It's easy to just look at it like a business unit, a unit, a unit." And while she didn't believe producers were being intentionally malicious—"I don't think of anybody as a monster or out to get me," she said—they may have just assumed she could roll with the proverbial punches.  
"Sometimes stability and dependability can be misinterpreted as passive," she added. "Like, 'Oh, we don't have to worry about her, she's fine. She's fine.'" 
Eugene Gologursky/Getty Images
But, frankly, it wasn't fine. And she wasn't the only one who thought so.
"You know, when I look at this whole situation, it's worth noting, the two of them, Kelly and Michael, they had such great chemistry," Ripa's good friend Andy Cohen mused on his SiriusXM radio show shortly after Strahan's announcement. "And I'm just looking at this and it just seems like a premature end to a great relationship that ended way too prematurely. So much has been written about this situation and how it was handled. I've been a TV executive or producer for 25 years, so I'm always fascinated to see how TV things go down. I can't say this went down the greatest way."
Katie Couric, no stranger to the shuffles that can occur on morning television, agreed, telling reporters, "Clearly feelings were hurt and clearly she wasn't included in the process."
Even Philbin weighed in, telling the photographers who approached him on the streets of New York City, "The should've told her in the beginning."
For his part, Strahan admitted to People that he "wasn't surprised" by Ripa's reaction. Still, he stressed, he wasn't the bad guy here: "I don't want people to see me as, 'Oh, he just ran out, just left them there.' That's not true."
Really it was a joint decision to have Strahan trim down his original five-month notice to just a few weeks. The move allowed GMA to start incorporating him into segments before he started full-time that fall and it gave Ripa the chance to get a jump on her co-host search before the show went dark for summer break.
"What we've explained to them is, well, if you had asked us, we would have told you, 'Guys, we need to start looking before we have summer hiatus, we have vacation time. We need to find people. If we're going to have this list narrowed down at least to a manageable size by the fall, we need to start now,'" she told People.
Because Ripa had a slew of interested suitors. While her pal Cohen immediately begged off claiming he was too busy with his "10 jobs" and frontrunner Anderson Cooper resigned his contract with CNN, causing her to lament, "He's the one that got away and keeps getting away and gets away all the time," Ripa spent months rotating through an all-star panel that featured the likes of Jimmy Kimmel, Joel McHale, Josh Groban, Common, Octavia Spencer, Taye Diggs and Alex Rodriguez.  
"What we didn't anticipate was that we would have such an outpouring of interest, so our list got very long very quickly," Ripa explained on Watch What Happens Live. "We've been trying to keep it as narrow as possible, but then people pop up."
David M. Russell, Disney/ABC Home Entertainment and TV Distribution
Take Christian Slater. During an appearance on The Ellen DeGeneres show, the Golden Globe winner cited he lived just six blocks from the studio, gushing, "It's one of the greatest jobs ever, so yeah, Kelly, I'm available!" And then there was frequent fill-in Jerry O'Connell. A source told E! News the actor "really wants the job. He's made no secret that he would love to do it."
But naming Strahan's successor couldn't be a snap decision, insisted Ripa. While she was eager to have a replacement, telling People, "I like having a partner, I don't think it works otherwise," she stressed, "Our show is one based on chemistry and camaraderie and trust. All those things don't just happen; it doesn't fall out of the sky. It takes a lot of work, and it takes a group discussion."
David M. Russell, Disney/ABC Home Entertainment and TV Distribution
Besides, execs weren't in a great hurry to fill the slot with Ripa killing things all on her own. As ratings reached record highs, an insider told E! News, "There's no timeline, but there is also no rush. Kelly loves having a rotating co-host. She's really enjoying herself."
Finally, as the hunt crept past the one-year mark and Ripa had all but perfected ways to brush off the inevitable cohost questions (when Stephen Colbert  inquired when she was going to "put a ring on it", she quipped back, "Are you proposing?") the announcement came. 
David M. Russell, Disney/ABC Home Entertainment and TV Distribution
The gig would be handed over to television's most ubiquitous host: Ryan Seacrest.
His May 1 debut was greeted with flowers (carried out by the duo's first guest, Chris Pratt), champagne (popped by longtime producer Michael Gelman) and explanations about how he would juggle his new gig with his radio show and a potential return to American Idol.
And after an exhaustive search, Ripa was thrilled with what her efforts yielded. Not only did she give Seacrest a "100 out of 10" on his first day out, labeling him "a seamless broadcaster," but her bond with the show business vet quickly evolved past a working relationship.
Pawel Kaminski, Disney/ABC Home Entertainment and TV Distribution
Breaking from the previous rule she held with both Philbin and Strahan, she and Seacrest don't reserve their banter solely for the audience.
"Regis had a mandate: Absolutely no talking off-camera," she explained to The New York Times in December. "He had almost a superstition about it. You save it for the show. I'd be like, 'Good morning,' and he'd say, 'Save it for the air!'"
But now she and Seacrest exchange texts in the evening and socialize together on the weekends.
After everything she's been through such communication is crucial for Ripa. "Kelly and Ryan have open and transparent conversations. There will be no surprises," one source tells E! News. "They are partners."
No matter what, vows Seacrest, he's got Ripa's back, fancying himself her knight in well-tailored armor. "If it were raining outside and there was a puddle, I'd want to stand in front of Kelly so she wouldn't get wet," he told The New York Times. "There's that protection thing."
Which is nice and all, but when it comes to defending herself, Ripa doesn't require any assistance.