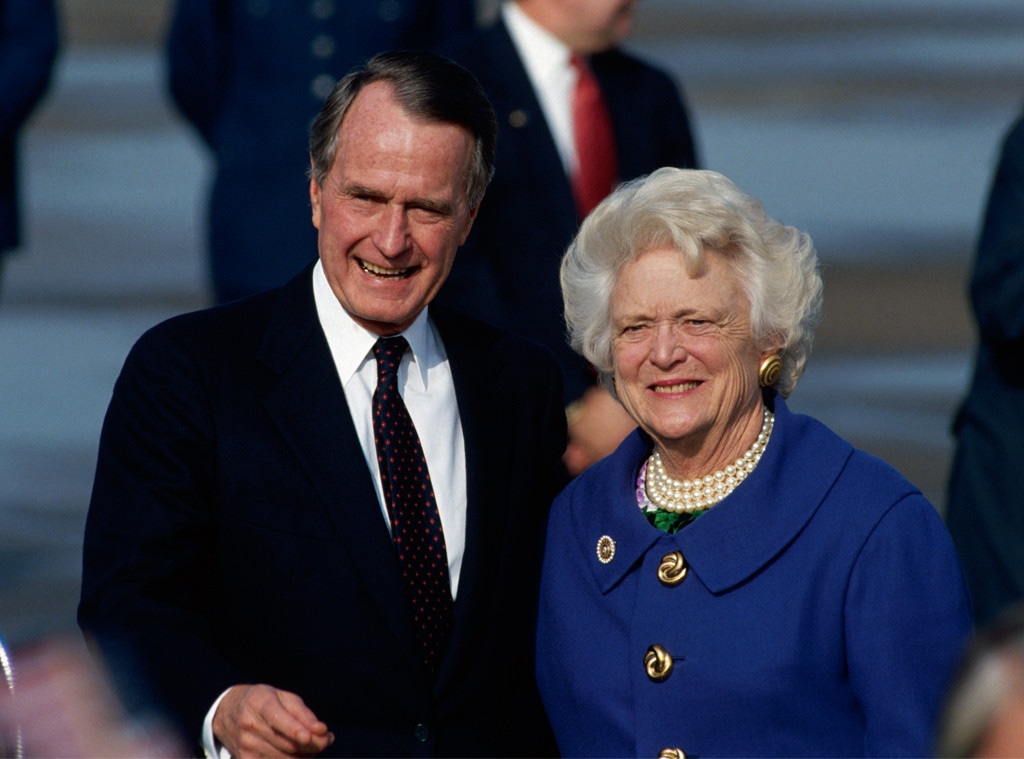 Greg Smith/CORBIS/Corbis via Getty Images
In 2012, former President George H.W. Bush called wife Barbara Bush "the number-one person" in his life.
Marriage has "been a challenge and a reward," he told his granddaughter Jenna Bush Hager in an interview for Today. "In the family she calls all the shots. She's a wonder."
Bush, the 41st president of the United States, died Friday at the age of 94—eight months after Barbara, the stoic matriarch of a sprawling political dynasty that included two presidencies, two governorships and a host of local, state and national influence, died at 92. 
When she passed in April, Barbara had been in failing health for some time and had declined any further hospital treatment, preferring to be home in Texas, surrounded by loved ones. "The fact that they're together in this, and he still says, 'I love you, Barbie,' every night is pretty remarkable," Jenna said in April on Today.
Both of the Bushes were hospitalized at the beginning of 2017, and under a doctor's orders were forced to skip the presidential inauguration, but both recovered in time for the Super Bowl, which was in Houston last year. The former commander in chief, who had Parkinson's disease and had been mainly confined to a wheelchair to get around in recent years, made the official coin toss. Barbara was by his side, as always.
Michael Loccisano/Getty Images for HBO
George was well enough in October to attend granddaughter Barbara Pierce Bush's wedding at the family compound in Kennebunkport, Maine, where generations of the Bush family summered every year at Walker's Point.
George and Barbara Bush's 73-year marriage was about as enduring as it gets, in the political world or any world. Married longer than any other first couple, they suffered their share of personal heartbreak, as well as the trials and tribulations that came with spending half a century in public life, let alone four years in the White House. Barbara Bush, never without at least one string of her signature pearls, remained a quietly confident, unapologetic and fiercely protective presence through it all, choosing family over everything else, every time.
And the American people respected that.
In fact, by the end of Bush's presidency in 1992, when he lost to Bill Clinton after just one term in office, the first lady was easily the most popular person living at 1600 Pennsylvania Avenue. 
Both hailed from privileged families. George, the second-eldest of five children born to Wall Street executive and U.S. Sen. Prescott Sheldon Bush and Dorothy Walker, grew up in Greenwich, Conn., before attending the esteemed Philips Academy in Andover, Mass. He was known to his family and schoolmates, and later his wife, by the nickname "Poppy Bush."
Barbara Pierce was born and raised in New York, the third-youngest of four children born to publishing executive Marvin Pierce and Pauline Robinson. On her holiday break from boarding school in South Carolina, she was 16 when she met 17-year-old Poppy Bush at the Greenwich Country Club's annual Christmas dance. 
A mutual friend introduced them and they started dancing. When the music changed to a waltz, they sat down to talk, and both were smitten after 15 minutes. Poppy asked what Barbara was doing the next night, but she had plans for another dance in her hometown of Rye, N.Y. Later that night, according to Jon Meacham's Pulitzer Prize-winning 2015 book Destiny and Power: The American Odyssey of George Herbert Walker Bush, Barbara told her mother about meeting "the nicest, cutest boy," and Bush told his mother he'd met "the niftiest girl at the dance."
Poppy finagled a group outing, including his sister Nancy, to the dance in Rye the next night, where he both danced with Barbara and accepted an invitation from her brother Jim Pierce to play basketball the next day, visiting prep school kids vs. the Rye High School team. The Rye guys won, but Poppy took Barbara out on their first date afterward. 
"For years he has teased me that there was no silence that night and I haven't stopped talking since," Barbara told Meacham.
The teen sweethearts went back to their respective schools and kept up their romance in letters, reuniting for exactly one day during their spring breaks—they went on a double date to see Citizen Kane—before Bush asked her to his senior prom. After the dance that spring, he walked her back to where she was staying and kissed her on the cheek.
"I floated into my room and kept the poor girl I was rooming with awake all night while I made her listen to how Poppy Bush was the greatest living human on the face of the earth," Barbara recalled.
Poppy wrote to his mother that he and Barbara had many things in common and, better yet, shared so many of the same values—including the decision to not have sex before marriage. Bush, meanwhile, had dated other girls and had his crushes over the years—and he certainly noticed women's looks—but to him Barbara was his first real girlfriend.
The couple had met, meanwhile, just weeks after Pearl Harbor was bombed, presaging the United States' entry into World War II. After he graduated from Andover and turned 18 on June 12, 1942, Poppy Bush joined the Navy. Before he left for basic training, he gave Barbara a watch—and they shared their first real kiss.
She got to visit him once during training at Chapel Hill, N.C., and when she left Bush fretted that she'd call it all off while he was at war. For Christmas, the Pierces sent him a care package of food and Barbara knitted him something that slightly resembled a pair of socks.
Barbara graduated from high school in 1943 and reunited with George at his family's summer place in Kennebunkport. She recalled being terrified to spent so much time surrounded by all those members of both sides of his family, and some of the teasing of the young couple was merciless, but she ultimately fit right in. Bush proposed during the trip during a moonlit walk by the ocean.
Barbara enrolled that fall at Smith University in Northampton, Mass. Their engagement was publicly announced in the newspaper on Dec. 12, 1943, almost two years after their first meeting at the Christmas dance and days later Bush was due to ship out. When Barbara came to see him off, he gave her a sapphire ring that had belonged to his mother's sister Nancy Walker.
George, who became a decorated pilot and survived being shot down over the Pacific in 1944, ended up naming three of his bombers after his sweetheart back home, the Barbara, Barbara II and Barbara III.
The couple reunited on Christmas Eve, 1944, at the Pierce family's home in Rye. On Jan. 6, 1945, George Bush married Barbara Pierce at First Presbyterian Church in Rye, the ceremony followed by a big reception ("a party of women," Barbara reflected, considering so many men were still at war) at the Apawamis Club. The bride wore an ivory satin gown embroidered with pearls and the lace veil previously worn by her mother-in-law when she married in 1921.
After the party, the newlyweds caught a showing of Meet Me in St. Louis in New York City and then hopped a train to Cloisters at Sea Island, Ga., for a low-key honeymoon. From there, George dashed off a telegram to his sister: "Married life exceeds all expectations. Barbara is a fine wife!"
Soon after they moved to Michigan, where Bush was training with a new squadron for his next deployment—which, scheduled to begin in September 1945, he never had to make.
"We were still young, life lay ahead of us and the world was at peace," Bush remembered himself thinking at the time.
Frances McLaughlin-Gill/Condé Nast via Getty Images)
George enrolled at Yale in the fall of 1945, Barbara dropped out of Smith and the couple moved to New Haven, Conn. By that winter she was pregnant with the future 43rd president of the United States; George Walker Bush was born on July 6, 1946.
The elder Bush was more enamored with baseball than academics, playing in the College World Series in 1947 and 1948, but he was unsure of what to do next after graduation. The Bushes considered farming in the Midwest, George interviewed with Procter & Gamble for a job he didn't get and turned down an advertising position he was offered with a fabric company. Then, a friend of George's father encouraged him to go into the oil business in Texas. 
And so the family of three ended up in Odessa, Texas. Early on they lived in half of a duplex, sharing a bathroom with a mother-daughter pair of prostitutes renting the room next door.
Barbara suffered a miscarriage that summer but had little Georgie to lift her spirits. While George Sr. worked all day, she busied herself with their son and spent her spare time reading, having always been an avid reader. On weekends the couple had dinner or went to local football games with friends, or went to the movies. By their first Christmas in Texas, at least, they had an apartment with their own bathroom. 
Barbara was pregnant again in September 1949 when her mother, Pauline, was killed in a car accident in Rye. The Bushes ended up naming their daughter, born Dec. 20, Pauline Robinson Bush, or Robin for short.
Bush was on his way up in the oil industry and they moved into a new 1,500-square-foot house. Their third child, son Jeb Bush, was born on Feb. 11, 1953. But soon after, tragedy struck when Robin was diagnosed with leukemia. Within 24 hours, her parents took her to New York and checked her into Memorial Sloan Kettering for treatment.
Robin had good days and bad. Barbara warned visitors not to cry in front of the 3-year-old, to remain upbeat in her presence. She also never really told 6-year-old George W. how sick his sister was, not wanting to worry him. Robin died on Oct. 11, 1953, and, while they had a funeral for her in Greenwich, the Bushes donated her body to science in hopes that further research would help prevent other families from suffering.
Losing their daughter changed their lives forever but also cemented George and Barbara together.
"For one who allowed no tears before her death, I fell apart," Barbara told Meacham, "and time after time during the next six months, George would put me together again."
In an era when grief was dealt with behind closed doors and no one really talked about how to process loss and depression, and in turn no one knew what to say to the Bushes, Barbara recalled George being an extraordinary partner. He would get her talking when she fell like silently collapsing into her grief and she didn't even realize at the time that he was slowly pulling her out of the abyss. 
For his part, Bush said that Robin's death "taught me that life is unpredictable and fragile," and "the importance of close family and friends." While his "meaning of life" questions went unanswered, he said, that there wasn't anything they ultimately could do besides "keep going, charging ahead." He would keep a photo of Robin in his desk in the Oval Office throughout his presidency.
White House via CNP /MediaPunch/IPX
Son Neil Mallon Bush was born in 1955, Marvin Pierce Bush arrived in 1956 and their youngest, daughter Dorothy Walker Bush, followed in 1959.
The rest of George H.W. Bush's career is literal history, as he got involved in local, then state, then national politics.
He joined Ronald Reagan's presidential ticket in 1979 and served as vice president from 1981 until 1989, when he became the 41st president of the United States.
Barbara—who would cook spaghetti dinners at receptions for potential voters in Texas when her husband ran for senator and sit in the audience during his speeches with her needlepoint—became the first lady.
AP Photo/Bob Daugherty, File
"I'm not a competitive person," Barbara once said, according to Vanity Fair, "and I think women like me because they don't think I'm competitive, just nice."
A champion for children's literacy and AIDS and cancer research, the first lady was no shrinking violet either, and while she relished her role in the White House as her husband's chief supporter, secure in her job as the real "enforcer" of the family, she encouraged young women—including her own granddaughters—to reach for the stars.
AP Photo/Scott Applewhite
Giving the commencement speech at Wellesley University in 1990, Barbara said, "Who knows? Somewhere out in this audience may even be someone who will one day follow in my footsteps and preside over the White House as the president's spouse. And I wish him well."
By the time her husband was running against Bill Clinton, Barbara's approval rating was reportedly as much as 40 to 50 points higher than her increasingly out-of-touch-seeming husband's as the country became mired in a recession, and between the two wives, she polled far higher. Meanwhile, White House insiders considered her tougher than Nancy Reagan when it came to managing her image and keeping her staff on their toes, and she had a way with a well-aimed barb.
Perhaps that was why so many women related to her—they too knew what it was like to be the missus in public but, behind closed doors, the master.
Diana Walker//Time Life Pictures/Getty Images
Yet at the same time, Barbara Bush was very much a woman of her era, and the oft-used term "long-suffering" wouldn't be out of place. Years later she recalled suffering a debilitating bout of depression in the mid-'70s, when Dorothy was close to leaving for college and her was husband busier than ever and away for long stretches at a time. In the 1980s, there were rumors that George Bush had been unfaithful to his wife, but Barbara was going to be the last woman to appear fazed in any way.
After Bush's crushing defeat in 1992, however, the couple at least had each other—and they almost literally rode off into the sunset. They returned to Texas, summered in Maine, golfed and fished in Florida, and doted on their 13 (and eventually 17) grandchildren—"the grands," as Barbara called them. All in all, they looked to be enjoying early retirement. At the time, the former POTUS was said to be commanding speaking fees from $70,000 to $100,000, while the former FLOTUS was getting $40,000 to $60,000.
Consolidated White House/picture-alliance/dpa/AP Images
"Barbara and I are trying to be good citizens in Houston and Kennebunkport—trying to support a number of charity and volunteer and other worthwhile organizations," George Bush wrote to the Los Angeles Times in 1995 from a banker friend's yacht in the Greek isles while on a cruise with his wife, sending his answers over via fax machine.
"But after 27 years in government service to our country, I don't know how public that role needs to be. I had my turn and gave it my best shot, and now Barbara and I take great pride in seeing our kids giving their all to help make their communities better places to live."
About his now modest-seeming speaking fees, Bush joked to the Times, "When you get to be 71 years old, speaking is about the only thing you can do without serious risk of injury. Besides, Barbara gets tired of hearing me yell at the TV every night—so I'm fortunate some people out there are interested in what I have to say."
Asked if any of his children had presidential ambitions, he replied, "If one of them became President, Barbara and I would be very proud, like any two parents would be."
Jamie Squire/Getty Images
"There is a myth in the United States—you've heard it many times," Barbara, who unlike her husband penned several books about White House and post-White House life, wrote in her 2003 memoir Reflections. "It says that all American mothers hope that their child will grow up to be President of the United States. In my case that certainly is a myth. I never dreamed that any of ours would; there were days when I hoped they'd just grow up!"
The Bushes were only the second president and first lady in U.S. history to have one of their children also become president—and Barbara was the only first lady to see it happen, John Adams' wife, Abigail, having died eight years before their son, John Quincy Adams, became the sixth POTUS.
In 2012 the couple returned to the White House for the unveiling of President George W. Bush's official portrait. Even in recent months, George and Barbara would still make it out for date nights in Texas when possible, making it to the fifth game of the World Series to watch the eventual winning Houston Astros last fall.
They usually celebrated wedding anniversaries quietly at home with family, and they marked their 73rd on Jan. 6.
Reflecting on his mother's death, the younger President Bush called her "a fabulous First Lady and a woman unlike any other who brought levity, love and literacy to millions. 
"To us, she was so much more," read a statement on behalf of him, wife Laura Bush and their twins, Jenna and Barbara (named after the family matriarch, of course). "Mom kept us on our toes and kept us laughing until the end. I'm a lucky man that Barbara Bush was my mother."
In response to his father's death, George W. said in a statement, "Jeb, Neil, Marvin, Doro, and I are saddened to announce that after 94 remarkable years, our dear Dad has died. George H. W. Bush was a man of the highest character and the best dad a son or daughter could ask for. The entire Bush family is deeply grateful for 41's life and love, for the compassion of those who have cared and prayed for Dad, and for the condolences of our friends and fellow citizens."
Asked by his granddaughter in 2012 who he'd like to see in heaven first when his time comes, the first President Bush said, "It depends. If Barbara predeceases me, [I'll] probably go with her."
(Originally published April 17, 2018, at 6:30 p.m. PT)