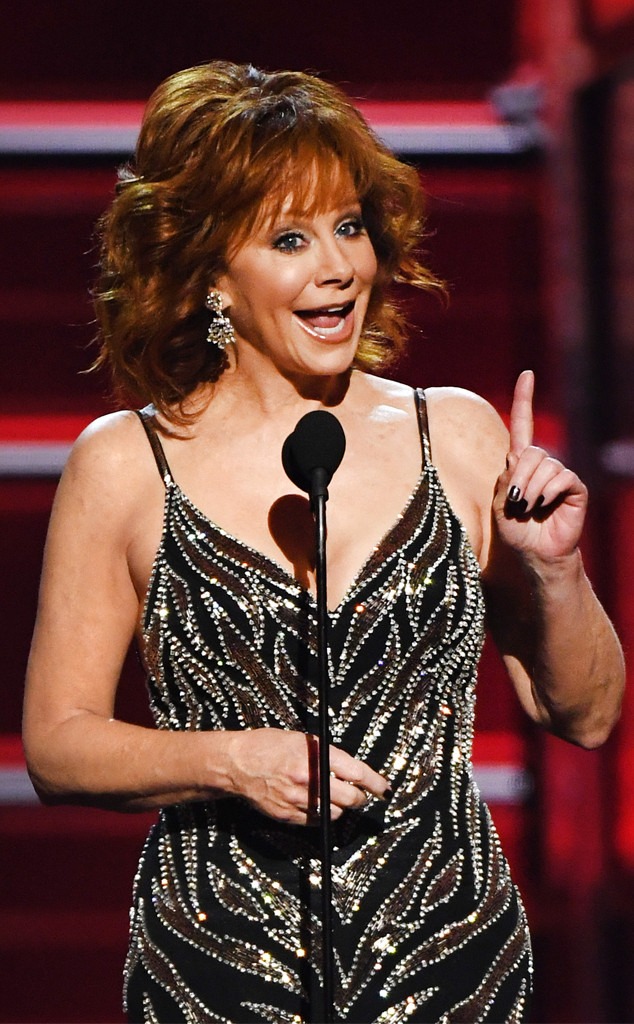 Ethan Miller/Getty Images
Lights, camera, 2018 ACM Awards!
Country music lovers had an extra reason to celebrate this Sunday evening, as the MGM Grand Garden Arena in Las Vegas welcomed every cowboy boot-wearing, red Solo-cup slinging recording artist in to party the night away.
From Carrie Underwood's comeback to Hillary Scott's performance just two months after giving birth to twins to the heartfelt tribute to the Las Vegas shooting victims, the show was jam-packed with big winners and memorable moments. Lucky for you, E! News has a plus-one to the highly-anticipated evening and we're taking you along for the ride.
Check out 10 things that the cameras didn't catch at the 2018 Academy of Country Music Awards! Buckle up, it's going to be a wild one!
John Shearer/ACMA2018/Getty Images for ACM
1. Fan Fun: On the way in from the red carpet into the MGM Grand Garden Arena, Keith Urban and Nicole Kidman made sure to stop and say hello to some excited fans on their way to their seats
2. Host with the Most: When host Reba McEntire mentioned Carrie Underwood by name in her opening monologue, the audience went crazy.
At one point when Reba was out on stage by herself waiting to come back from commercial break, the audience stared cheering for her. In reaction, Reba broke out into a little jig and the audience went wild. Of course!
Chris Pizzello/Invision/AP
3. Avoid, Avoid, Avoid: When Miranda Lambert won Songwriter of the Year award, ex-husband Blake Shelton and girlfriend Gwen Stefani, who were seated in the front, had already gone backstage and were not in their seats  Miranda noticeably did not look down in to the front rows during her acceptance speech.
4. Team Blake: Maren Morris sat directly behind Gwen Stefani and after Blake's performance, "The Middle" singer tapped Gwen on the shoulder to tell her how good she thought Blake sounded. 
During Blake's performance, Gwen sat in her seat in the front row and sung every word and rocked back and forth to the beat. She was also the first to jump out of her seat for a standing ovation when the song ended.
5. What a Gentleman!: After Dierks Bentley performed, he got off the stage and embraced his wife. He then very sweetly hugged the sit-filler next to her who was in his seat as she made her way out. She was visibly very flattered by the gesture from the country superstar.
Ethan Miller/Getty Images
6. Facing It: Blake and Gwen were seated 20 feet from Miranda Lambert as she performed "Keeper of the Flame." Gwen was visibly rocking back and forth in her seat during the first few notes, but then stopped. Both, Blake and Gwen looked forward at Miranda throughout the entire duration of her performance and did not speak to each other until it was done. Once the song was over the two of them carried on a conversation on their own and no one else approached them.
7. Wife Life: Nicole Kidman was standing up and dancing the entire time while husband Keith Urban was performing.
8. We're With Carrie: The entire audience was standing silently and stoically as Carrie Underwood performed "Cry Pretty." During the performance, no one clapped, cheered or shouted. Everyone was just taking it all in, but as soon as she finished the audience erupted in an uproarious applause. Carrie stood on stage for a few moments after she finished performing and was visibly overwhelmed to the point of tearing up as the audience continued to applaud, giving her by far the biggest audience reaction of the night.
9. Good Sports: When Miranda won Female Vocalist of the Year, Blake and Gwen both stood up for a standing ovation. A Camera was pointed straight in their faces the entire time Miranda was giving her speech.
10. Taking the Stage: After finishing her duet with Reba, Kelly Clarkson tried to step away in an act of respect and homage to allow her to have the moment on stage on her own, but Reba refused to allow Kelly to slip away, grabbed for her wrist and made her stand side by side during their collective applause.