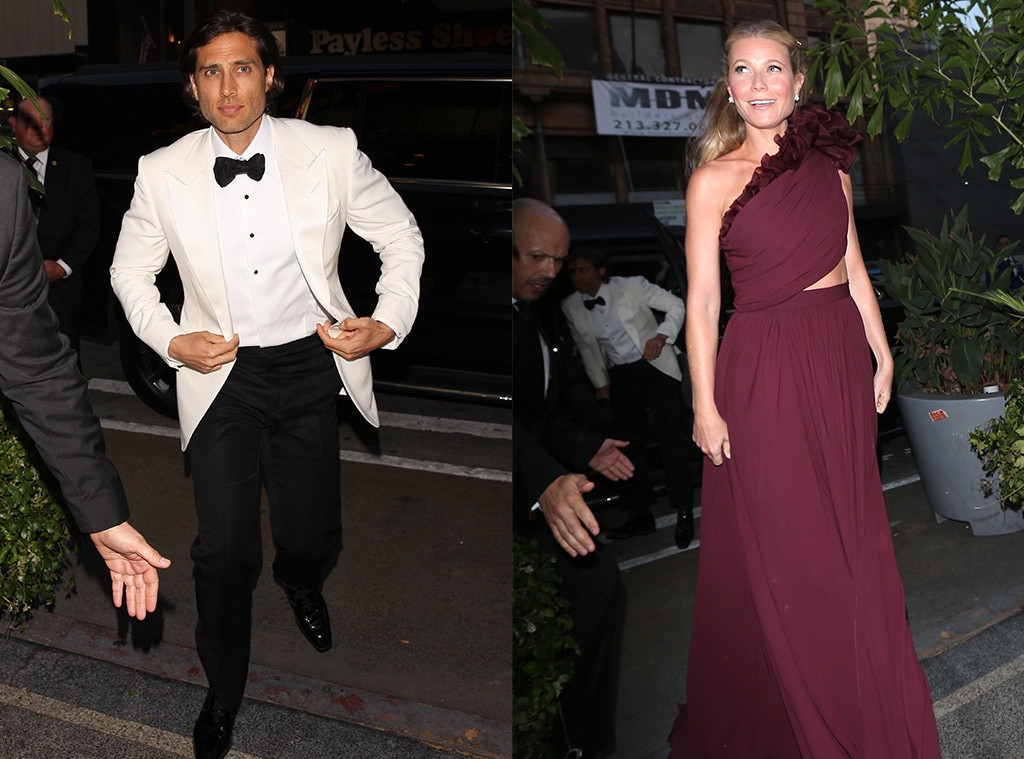 Photographer Group / Splash News
Three months after announcing their engagement in Goop's "Sex & Love" issue, Gwyneth Paltrow, 45, and Brad Falchuk, 47, celebrated their love at a secret, star-studded party in downtown L.A. Saturday.
The bride-to-be wore a one-shoulder maroon-colored dress at the bash, which was held the Los Angeles Theatre in downtown Los Angeles. The venue's marquee read, "BF Loves GP."
Celebs such as Jennifer Aniston—who sported a black strapless dress and matching wrist brace, Cameron Diaz and husband Benji Madden, Demi Moore, Lake Bell, James Corden, Julia Roberts, her husband Danny Moder, Liv Tyler, Reese Witherspoon, Steven Spielberg, Chelsea Handler and a pregnant Kate Hudson—who showcased her baby bump in a yellow ruffled dress, and Paltrow's mom actress' mother Blythe Danner were among the guests.
The bash which was earlier speculated to be the actual wedding. People reported it was an engagement party. Danner was photographed exiting the theater while carrying a dress bag bearing the name of bridal designer Monique Lhuillier.
"Headed to celebrate my friend's engagement," Handler wrote on Instagram.
"These two beauties inside and out get engaged tomorrow!!!" Valentino Partner Giancarlo Giammetti wrote on Friday. "All my best wishes my dear @gwynethpaltrow and @bradfalchuk love you and miss not to be there with you!!!"
This will be the second trip down the aisle for the Avengers: Infinity War actress, who has two kids from her 10-year marriage to her "brother" Chris Martin; the exes "consciously uncoupled" in 2014. Falchuk has two kids from his 10-year marriage to Suzanne Bukinik, which ended in 2013.
Paltrow was first romantically linked to Falchuk in 2014, after her split with Martin; they didn't take their romance public until they attended Robert Downey Jr.'s 50th birthday party in 2015.
The actress' engagement ring is estimated to be between 10 to 13 carats. The sparkler, worth an estimated $500,000, includes a blue sapphire and claw prongs at its compass points. When the couple announced their engagement in January, they did not reveal how Falchuk proposed.
"We feel incredibly lucky to have come together at this juncture in our lives when our collective successes and failures can serve as building blocks for a healthy and happy relationship," they said.
But, in Goop's "Sex & Love" issue, Paltrow said, "Personally, at midlife, I have tried to accept how complex romantic love can be. I have decided to give it a go again, not only because I believe I have found the man I was meant to be with, but because I have accepted the soul-stretching, pattern-breaking opportunities that (terrifyingly) are made possible by intimacy."
Before Falchuk, "I had two typical types of relationships: One where I was constantly chasing and trying to win someone over, and one where I was put off by the person's capacity for the relationship—and those relationships were very short-lived," Paltrow said.
With the producer, "I feel like I'm in an adult relationship that is sometimes very uncomfortable—because he sort of demands a certain level of intimacy and communication that I haven't been held to before."