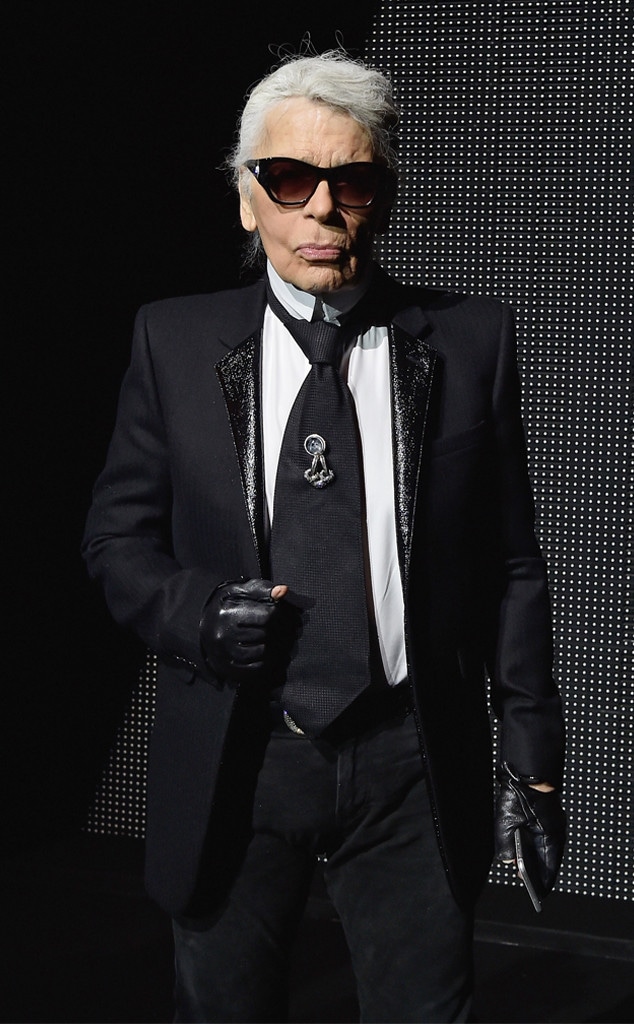 Pascal Le Segretain/Getty Images
The fashion world's most famous face is not your ordinary man; he's not your ordinary designer and therefore, he's not going to give an ordinary answer to your questions...
In a post-Harvey Weinstein-scandal world, many men are worried about what they say, how they say it, and who they say it too, but not Karl Lagerfeld, who just slammed models who have come forward to complain about groping in a new article.
The design superstar, who juggles Karl Lagerfeld, Fendi and Chanel, had a somewhat bizarre chat with Philip Utz of Numero and the interview is raising more than a few well-manicured eyebrows.
In the conversation, the 84-year-old icon, who has never been averse to controversial opinions, talked about his body hair (or lack thereof), his beloved cat Choupette and how much he's "fed up" with the #MeToo Movement.
Here are 8 of Lagerfeld's most controversial statements from his latest sit-down...
1. He Was on a Diet for 15 Years.
When asked if he was in good shape, Lagerfeld said the following: "Yes, as long as it's not in the plural. That said I don't get fat anymore. I was on a diet for 15 years, but now I can eat all I want without ever gaining a gram. It's very strange."
THOMAS PETER/Reuters /Landov
2. He's not all about the #MeToo Movement or Harvey Weinstein
When asked about his thoughts on the sea-change, pro-woman movement, Lagerfeld had this to say: 
"I'm fed up with it. I don't even eat pig [in France the movement's known as #BalanceTonPorc] What shocks me most in all of this are the starlets who have taken 20 years to remember what happened. Not to mention the fact there are no prosecution witnesses. That said I cannot stand Mr Weinstein. I had a problem with him at amfAR."
3. He's Got Nothing Good to Say About Weinstein
When asked about Weinstein, Lagerfeld said, "I'll spare you the details, but he isn't exactly what you might call a man of his word."
4. He's Thinks Models Who Complain Should Get Themselves to a Nunnery
When asked if #MeToo and #Time'sUp has affected his work, he said, "Absolutely not."
The German added, "I read somewhere that now you must ask a model if she is comfortable with posing. It's simply too much, from now on, as a designer, you can't do anything. As for the accusations against the poor Karl Templar [creative director at Interview magazine], I don't believe a single word of it. A girl complained he tried to pull her pants down and he is instantly excommunicated from a profession that up until then had venerated him. It's unbelievable. If you don't want your pants pulled about, don't become a model! Join a nunnery, there'll always be a place for you in the convent. They're recruiting even!"
5. He's Pretty Into Looking Like His Famous Cat, Whom He Once Said He'd Marry If It Were Legal
When asked about his new goatee, Karl said, "I had one in the famous portrait of me taken by Helmut Newton 40 years ago, and I wanted to rediscover the feeling of having one again, to see if after all these years, it was still just as bothersome. What is funny is that with all these whiskers I look a lot like Choupette… we're really like an old couple. In fact, she maintains it for me, we sleep on the same pillow and she spends her life licking it."
6. He Isn't Above Hairy Situations
When asked if he was hair free, Lagerfeld said this: "Well let's just say I have it where it should be. But I don't have a hairy chest for example, or a hairy back – thank God! – or hairy thighs…"
7. Choupette Is His Heir
As for who gets his vast fortune when he dies it turns out it's the cat that's his heir. 
"Among others, yes," said Lagerfeld. "Don't worry, there is enough for everyone."
8. Every Day is Women's Day When You're Karl Lagerfeld
When asked about International Women's Day, the fashion plate said, "For me Women's Day is every day of the year. Men's fashion does little for me. I buy it of course, and I'm delighted that Hedi [Slimane] is going to Céline but drawing a men's collection and having to put up with all those stupid models, no thanks. Not to mention the fact with all their accusations of harassment they have become quite toxic. No, no, no, don't leave me alone with one of those sordid creatures."
You do you, Karl!