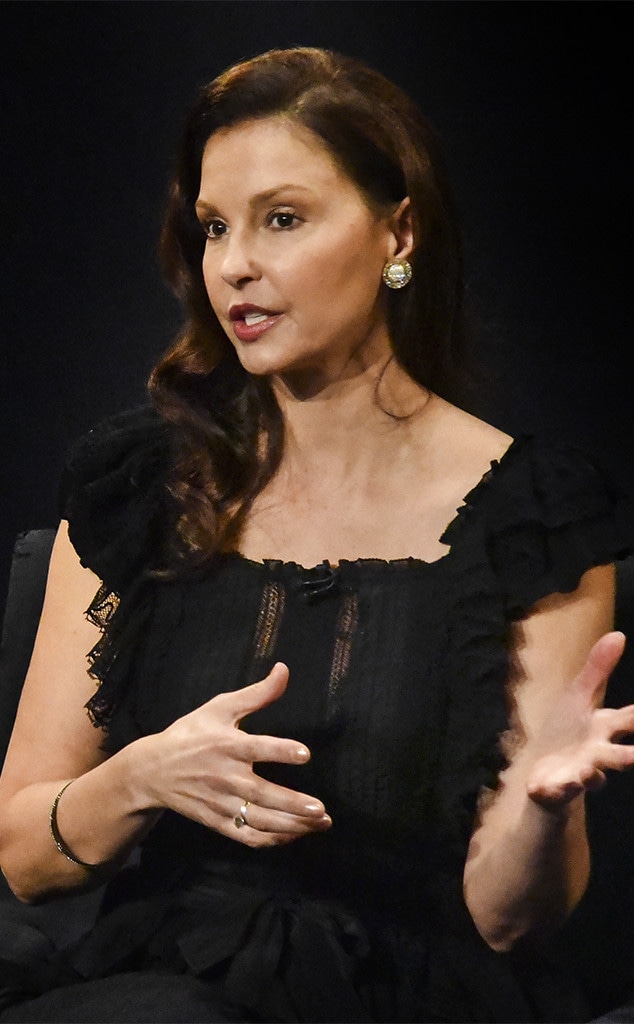 Rodin Eckenroth/Getty Images
"Women have been talking about Harvey amongst ourselves for a long time, and it's simply beyond time to have the conversation publicly."
When Ashley Judd said those words to the New York Times in October 2017, the actress wasn't only putting herself back in the Hollywood spotlight for people to judge, critique and talk. She also was about to begin a very important discussion on sexual misconduct in and out of the work place.
In the Times initial investigation where several women came forward and shared sexual misconduct allegations against Harvey Weinstein, Ashley specifically detailed an account from nearly 20 years ago.
The actress claimed that she was asked to meet Harvey for a breakfast meeting at the Peninsula Beverly Hills Hotel. She said the meeting turned into him inviting her up to his hotel room where he allegedly asked to give her a massage and watch him shower. "How do I get out of the room as fast as possible without alienating Harvey Weinstein," Ashley recalled to the publication when detailing the incident. 
Harvey has denied allegations of non-consensual sex and has apologized for his past behavior with colleagues. He also has not been charged with a crime and maintains he "never laid a glove" on Ashley.
Watch:
Ashley Judd Feels "Supported" After Telling Her Story
But with Ashley being one of the first familiar faces to share her story, she slowly became a prominent face in a movement that continues to be an important discussion in 2018.
At the 2018 Golden Globes, Ashley followed the evening's trend by wearing all black. She also walked the red carpet alongside Salma Hayek who shared her own experiences with Harvey.
Soon after, Ashley took to the stage at the 2018 Oscars to reflect on the #MeToo and #TimesUp movement alongside Salma and Annabella Sciorra.
"The changes we are witnessing are being driven by the powerful sound of new voices, of different voices, of our voices, joining together the mighty chorus that is finally saying, time's up," she shared in front of millions of viewers around the world. "We work together to make sure that the next 90 years empower these limitless possibilities of equality, diversity, inclusion, intersectionality...that's what this year has promised us."
Charles Sykes/Invision/AP
And if you still have doubts that Ashley's story in the New York Times truly made an impact in the discussion, we present you one magazine cover that could silence the critics.
In December 2017, Ashley joined Taylor Swift and other "silence breakers" by being crowned TIME's Person of the Year.
"I started talking about Harvey the minute that it happened. Literally, I exited that hotel room at the Peninsula Hotel in 1997 and came straight downstairs to the lobby, where my dad was waiting for me, because he happened to be in Los Angeles from Kentucky, visiting me on the set and he could tell by my face—to use his words—that something devastating had happened to me," Ashley recalled to the magazine. "I told him. I told everyone."
David Cannon/Getty Images
As Ashley celebrates her 50th birthday today, the actress and advocate continues working on her third degree at UC Berkeley. According to The Cut, Ashley was accepted into a rigorous PhD program for public policy at the Northern California university.
She hopes to "do some good thinking, some rigorous research and fill it with my typical heart and soul and see how I can continue to do my little part to make the world a better place."
Since coming forward with her Harvey experiences, Ashley has forgiven the producer for his alleged behavior. "I do it for myself...it's the easier way to live," she shared with Town & Country. "I have to forgive myself for being young and vulnerable, for being in the room."
At the same time, the Golden Globe nominee has hopes that she can be given more opportunities to follow her passions in and out of Hollywood.
"It would feel exceedingly nice at this particular juncture to be offered more work," Ashley explained to  Town & Country. "I'm going to be doing a show on Broadway this fall. I was offered a romantic comedy. And that is the greatest amends that Hollywood can make to me for having maliciously blacklisted me for something that was patently false."