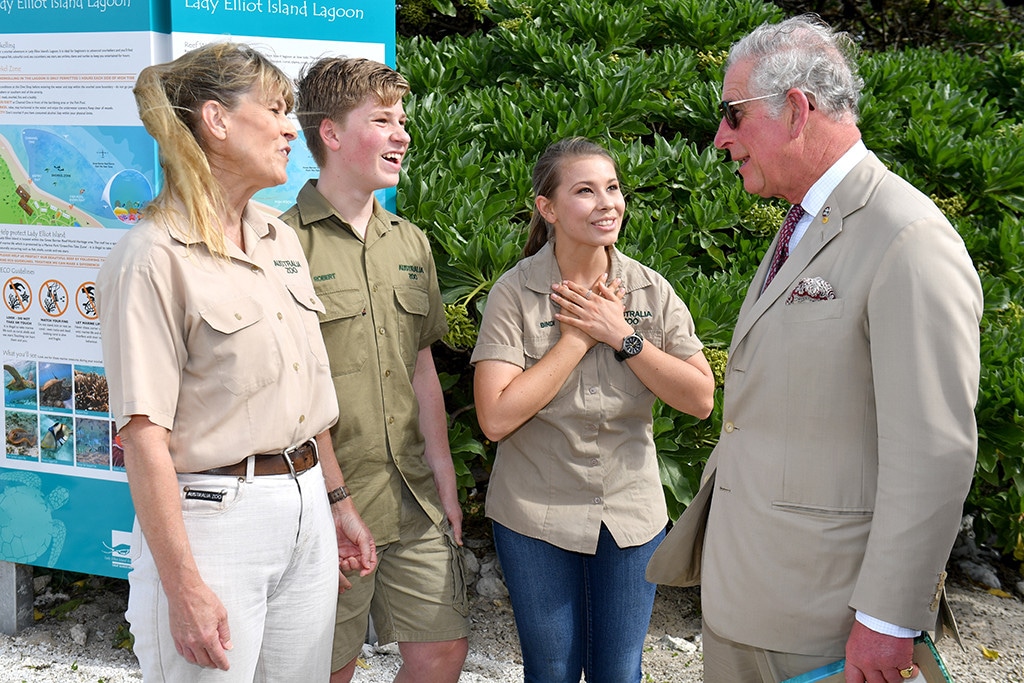 Mick Tsikas - Pool/Getty Images
Prince Charles met with the Irwin family during his visit to Australia on Friday.
On the third day of his royal tour of Australia, the Prince of Wales was photographed meeting Bindi Irwin, Terri Irwin and Robert Irwin on Lady Elliot Island. After meeting the royal, the 19-year-old daughter of the late Steve Irwin took to Instagram to tell her social media followers about the experience and her conversation with Prince Charles about conservation efforts in Australia.
"Our family feels extremely privileged to have had the opportunity to meet with His Royal Highness The Prince of Wales and other dignitaries today at Lady Elliot Island," Bindi wrote.
"We joined together to discuss important methods to protect the largest living structure on Earth, The Great Barrier Reef," she continued. "We must work together to make a difference and protect these sensitive ecosystems for the generations to come. #RoyalVisitAustralia."
Bindi's brother Robert also shared details on Instagram about their meeting with Prince Charles.
"Truly honoured to meet His Royal Highness The Prince of Wales today @ladyelliotislandecoresort on the #GreatBarrierReef," Robert wrote. "It was great to speak about the conservation of this Wonder of the World with such a passionate and influential person."
Andrew Matthews/PA Images via Getty Images
While Prince Charles is currently visiting Australia, his youngest son Prince Harry and future daughter-in-law Meghan Markle were spotted back in England at the Invictus Games U.K. trials on Friday.
The Invictus Games will actually be taking place in Sydney, Australia in October and Meghan revealed that she'd be in attendance at the event in the fall.
"She told me that she had never been to Australia, but was going to this year's event and was really looking forward to being there with Harry," volleyball, basketball and rugby competitor Michael Mellon shared Friday.
The couple is currently gearing up for their wedding, which is just over a month away. The duo will tie the knot at St. George's Chapel at Windsor Castle on May 19.