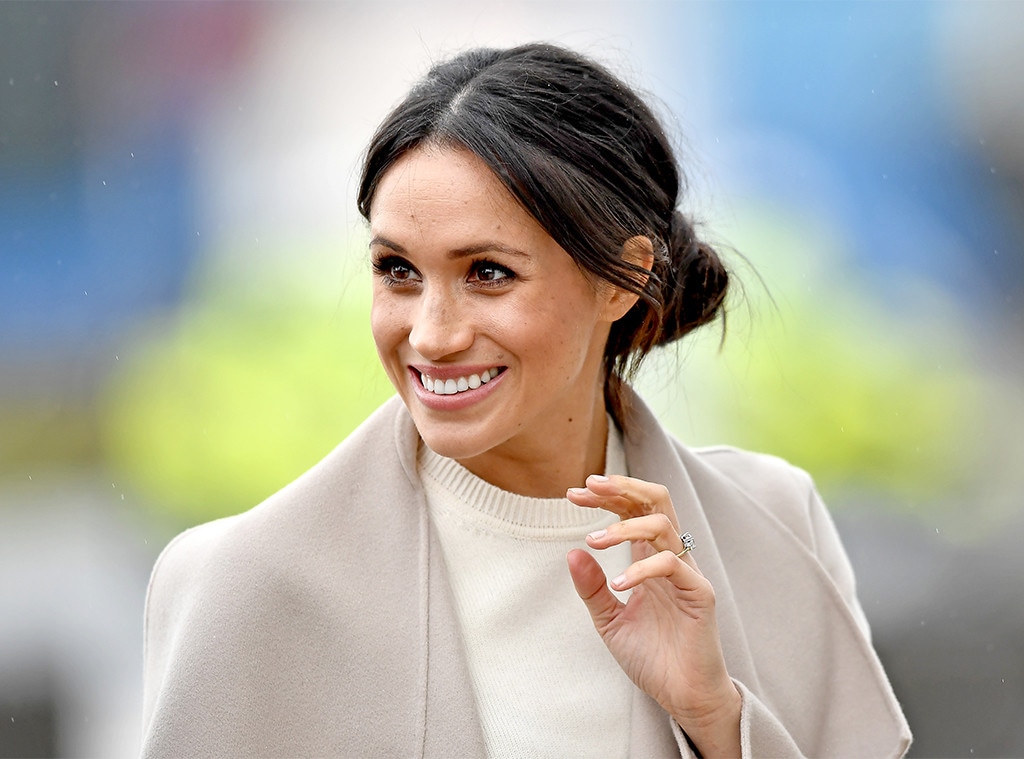 Charles McQuillan/Getty Images
With just six weeks to go until the wedding of the year, Prince Harry's future bride is busy enough as it is. Whether it's last-minute dress fittings, etiquette lessons, or seating arrangements, it's full steam ahead for the royal couple.
But there are other top-secret, less discussed preparations taking place behind the scenes involving the reinvention of Brand Meghan Markle. Preparing the future duchess for her new life as a member of the House of Windsor has been an enormous task, considering she spent years in front of the camera before dating Prince Harry.
Ever since news broke that Harry had fallen for an American girl, royal watchers have been eager to find out everything they can about the woman who managed to capture the heart of the fifth-in-line to the throne. It's an inevitable intrusion that comes with the territory of dating a royal and puts any potential girlfriends under the kind of pressure that, in the past, has been a deal breaker for Harry's former lovers.
For the social-media-savvy Meghan, at first it seemed to be business as usual despite the new attention. She continued to communicate directly with her fans by posting pictures of an English teapot in the shape of an elephant (one of Harry's favorite animals and causes), smiling bananas spooning one another and her dog dressed in a Union flag coat. With every clue came a flurry of excitement from giddy royal watchers who were eager to see Harry finally settle down. But less than six months after that first blind date, the gap between Meghan's messages became wider until her social media activity ceased entirely.
It was only natural that Meghan's accounts, which were chock-full of sexy selfies and endorsements for her favorite products, would eventually become a sensitive topic as she worked her way deeper into the inner sanctum to become a member of the Fab Four.
Chris Jackson - WPA Pool/Getty Images
Prince William, Kate Middleton, and Prince Harry all share the same handle, @KensingtonRoyal, giving the trio a way to stay current while also maintaining their own very unique brand. Unlike Hollywood celebrities, their posts are strictly business: you'll never see videos of Kate talking to her chicken, a la Jennifer Garner, or Prince George and Princess Charlotte's faces covered by cute animal photo filters, like the Kardashian kids. (Princess Eugenie recently took the unusual step of starting her own account on Instagram, but she is not considered a full-time royal.)
Meghan's love of social media was a new quandary for the palace and indicative of the very different world from which she had emerged. Although William and Kate married long after Facebook had become a third wheel in our lives, they had dated for close to 10 years before she officially joined the firm, and so discretion had always been top in her mind.
Right on cue, this past January, Meghan's Instagram, Twitter and Facebook were deleted; Years of travel adventures, personal memories and behind the scenes moments from her celebrity lifestyle were erased in seconds—as was her beloved lifestyle website, The Tig. It was an inevitable sign that it was time for Meghan to fall in line with royal protocol.
Then there was her royal makeover. After her engagement was announced last November, Meghan started to make official appearances by Harry's side. Gone were the short skirts and low necklines from her red-carpet days, replaced by more demure outfits of pants, skirts with longer hemlines, tailored coats and even a fashion-forward beret. Meghan 2.0 now looks every inch a style-conscious-yet-sensibly attired member of the regal elite.
Niall Carson - WPA Pool/Getty Images
From the outside, it might seem like the battle to turn Meghan Markle, former Deal or No Deal girl, into a duchess is complete. But there are some things the palace hasn't been able to fully control, such as Meghan's rogue relatives—the loudest of which is her half-sister, Samantha, who has claimed Meghan is a social climber who always had ambitions to be a princess but hasn't actually seen the actress since 2008. (Samantha plans to release a memoir called The Diary of Princess Pushy's Sister and said last year that she's working on a reality show.)
But while Samantha's disgruntled attitude provided lots of headline fodder in the beginning, as time goes on, her scorn is getting less attention. (In January she denied being an opportunist out to make a buck.) Plus, controversial family members are something the Palace has experience in dealing with. Who can forget Kate Middleton's party-loving Uncle Gary who owned a mansion in Ibiza called La Maison de Bang Bang?
But now, with just weeks to go until she walks down the aisle, even more ghosts from Meghan's past are coming back to haunt her.
Most notably there's her former best friend, Ninaki Priddy, someone who's been described as being like a sister to the actress for three decades. From their shared childhood to being maid of honor at Meghan's first marriage to Hollywood producer Trevor Engleson, Ninaki knows Meghan's innermost thoughts and fears. Together they shared the kind of secrets you only discuss with a lifelong best friend.
So when Ninaki started to spill stories of their intimate conversations it was a betrayal that must have feel like a stab in the heart to Meghan. Ninaki seems to want to prove to the world that Meghan isn't who we think she is. Rather than being a woman who barely knew who Prince Harry was before she was set up on a blind date with him (as Meghan contends), that she is a calculating manipulator who was so obsessed with Princess Diana she made it her aim in to marry Di's son. From the photograph of Meghan and Ninaki posing outside Buckingham Palace as teens to having a Diana biography on her bookshelf, to being an 8-year-old dressed as a Queen at a childhood birthday party (a role that, while unlikely, is not entirely out of reach considering she is about to marry the fifth-in-line to the throne), the shots fired were endless.
Those revelations are just the beginning of the onslaught of "secrets" being dug up right now, at a time when the most a royal bride should be worried about is whether the unreliable British weather will hold up during her open carriage ride through the streets of Windsor.
Samir Hussein/Samir Hussein/WireImage
This month, Andrew Morton, a biographer whose name is a dirty word around the Palace halls thanks to his 1992 book Diana: Her True Story, is releasing his take on the future (most likely titled) Duchess of Sussex. From the excerpts released via the Times newspaper so far, he's giving Meghan his customary warts-and-all treatment, painting a picture of an overly ambitious girl determined to infiltrate one of the most exclusive families in the world.
He writes, "According to family friends, she was intrigued by Diana, not just for her style, but for her independent humanitarian mission, seeing her as a role model." He then quotes Ninaki as telling him, "She was always fascinated by the royal family. She wants to be Princess Diana 2.0."
Morton's book is one of many hitting the shelves between now and May 19. The couple will also be getting a Lifetime movie based on their romance and Meghan's ex-husband is apparently working on a TV show about a former married couple with kids who divorce, only for the wife to then marry a member of a royal family.
There's no doubt that while there are a lot of people excited about the upcoming wedding, there are a few who seem hell-bent on trying to ruin the big day.
The torment Meghan must be going through, thanks to a best friend from hell, jealous family members and a former spouse is unimaginable. But as Harry has highlighted in the past, this comes with the territory of being by his side.
"If or when I do find a girlfriend, I will do my utmost to ensure we get to the point where we are actually comfortable with each other before the massive invasion into her privacy," he vowed in May 2016, not long before he met the woman of his dreams.
Ultimately, everyone has a past. And if there's anyone who understands the ups and downs of the process that is reinventing one's self, it's Prince Harry.
For more on the reinvention of Meghan Markle, watch E! News tonight at 7 p.m. & 11 p.m.