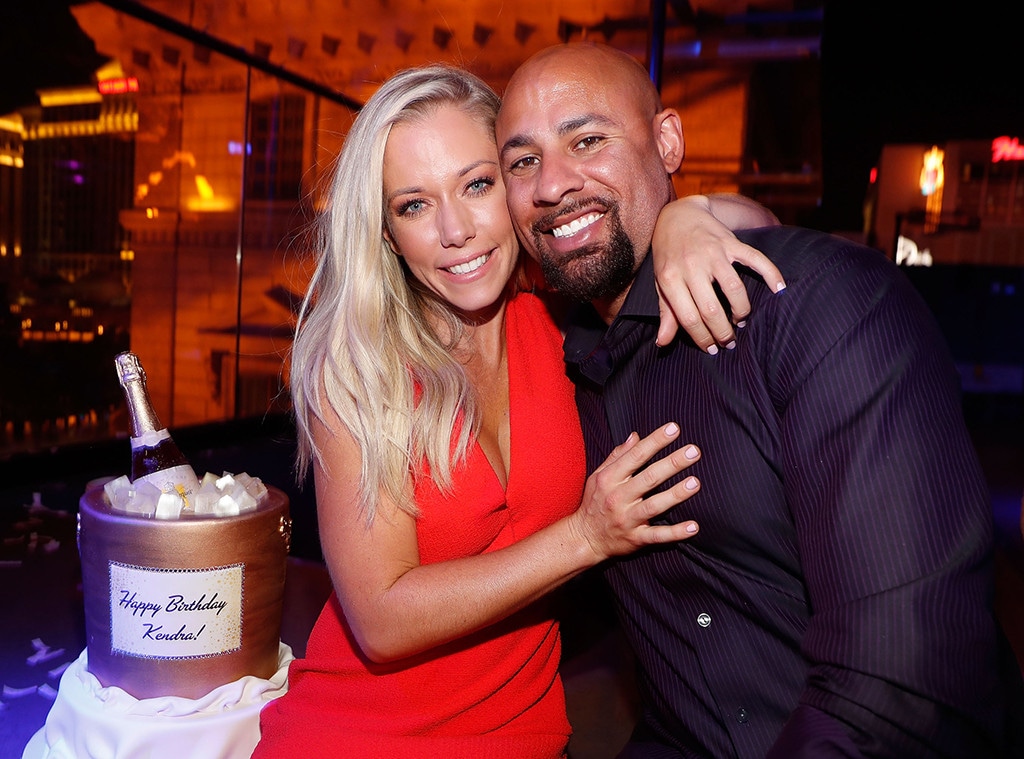 Isaac Brekken/Getty Images for WE tv
She was done with veiled innuendos. Just a week earlier, Kendra Wilkinson culled together an Instagram story that painted the picture of a woman in crisis. Over a series of selfies, the normally light-hearted reality star typed out captions that could only be perceived as a cry for help. "Pray for Kdub lmao. Life isn't making any sense to me right now. Sorry I've been MIA," she wrote on one. "Sometimes a hug is all I need but I guess I'm covered in thorns," she captioned another. But when the Kendra on Top star took to Instagram April 2, her message was straightforward—and equally as sad. "10 years. I did everything I could," she choked out in reference to her decade-long romance with husband Hank Baskett. As tears ran down her face, she continued with her impromptu split announcement. "It wasn't good enough," she surmised. "I will always love him. My heart will always remain open for him. I believed in forever I really did. Guess it's just not meant to be."
Now she's choosing to believe in herself. After what one insider calls "years" of struggles in her marriage to the former pro football player, the 32-year-old reality star is ready for a clean break. For the sake of their kids, Hank IV, 8, and Alijah, 3, "She wants things to be very amicable and graceful," a source tells E! News, "but also wants things to happen very quickly."
After all this was a decision some four years in the making. The source tells E! News that Wilkinson simply couldn't move Baskett's 2014 sex scandal—a bizarre encounter during which he claims a transgender model fondled him through his basketball shorts. "Ultimately all trust was lost," explains the source. "Their relationship could not be repaired and Kendra made the decision that filing for divorce would be the only solution."
While it would be easy to pin all of the pair's issues on Baskett's indiscretion, insiders says they had a litany of problems. For awhile, 35-year-old Baskett thought giving his wife space would have an absence makes the heart grow fonder affect. So when she asked to uproot to Las Vegas and star in the six-day-a-week comedy Sex Tips for Straight Women From a Gay Guy, Baskett gave his blessing. "He thought letting Kendra do the Las Vegas gig would make her happy and help her realize how much she misses her kids and her family," an insider tells E! News, "but ultimately it drew them further apart."
Even after she completed her 8-month run in January and returned to their 6,700-square-foot Mediterranean spread in Calabasas, California, they were at odds. With the fate of their WEtv show, Kendra on Top in limbo—season six wrapped last year—Wilkinson has been mulling over new projects, says the insider, "and she and Hank just aren't seeing eye-to-eye on her next move."
Jonathan Leibson/Getty Images for WE tv
Or anything, really. Noting the parents of two have been having problems "for years," a third insider says even therapy hasn't been enough to solve their problems. "Her and Hank have been having many arguments lately and they haven't been able to compromise on their disagreements," the insider tells E! News. Ultimately, says the friend, Wilkinson feels splitting up "is the only solution. She wants her kids to be in a happier environment."
When Wilkinson first met then-Philadelphia Eagles wide receiver Baskett in March 2008, she couldn't have envisioned a happier ending. Still living in the Playboy Mansion as one of Hugh Hefner's three main gals—and The Girls Next Door's resident comedian—Wilkinson crossed paths with the shy, 6-foot-4 athlete at the annual Playboy golf tournament and was instantly transfixed. "We met that day out on the golf course," she reflected in a 2017 Instagram, "and knew he was mine."
The following June she made it official, marrying her prince in a $20,000 duchesse-silk ball gown that covered her growing baby bump. To Grandma Mary Wilkinson the summer affair—on the grounds of the Playboy Mansion—was a "fairy-tale wedding."
Reality set in for the newlyweds after they returned from their St. Lucia honeymoon and were forced to move 2,000 miles east to Indianapolis, where Baskett landed after he was cut by the Eagles. It was inside their new Carmel, Indiana home that the pair welcomed their first son, Hank IV on Dec. 10, 2009. But instead of feeling joyous, San Diego native Wilkinson just felt off. Unbeknownst to her, she was in the midst of a nearly two-year postpartum depression she attributed to a mix of uprooting to the Midwest, adjusting to life as a mom and allowing TV cameras—filming for the pair's reality spinoff Kendra—to capture it all.
"I felt devastated, helpless—like I was in a black hole," she recalled in her 2011 memoir, Being Kendra: Cribs, Cocktails and Getting My Sexy Back. At her lowest, she would hide in a closet to scream and cry, "I even thought of harming myself."
Instead, she inadvertently damaged her marriage. Wilkinson admitted she'd often lash out at Baskett. And the former Playboy model—who's proclaimed "sex makes everything better!"—even started sleeping in a separate bedroom. "There was no way I could talk about what I was feeling because I didn't know what it was," she admitted. "So we just had to stay apart."
Meanwhile, Baskett was enduring struggles of his own. Re-signed by the Eagles in March 2010, he was released that September. And while he was picked up by the Minnesota Vikings and scored playing time in eight games, he was let go at the end of the season.
Facing the end of his NFL career, launched the athlete into "a huge identity crisis," Wilkinson revealed on the 2014 special, Beyond Candid With Giuliana: Kendra Wilkinson Baskett. The University of New Mexico standout, "played football his whole life," she explained. "I've only know Hank as a football player and I loved that about him, he was so sexy." When his days on the field ended, "the roles reversed. I became the breadwinner, he became more at home with little Hank, and I think that put a lot of stress on him."
The pressure only intensified when she became pregnant with their daughter. Whenever Baskett would try to bring up his issues, "I'd go, 'Oh get over it, you're a guy, you're a man. Do you see this pregnant ass? Do you see what I'm going through?" she recalled. "So it was always a competition." Things got so tough, she said, "There was one night where he literally came to bed shaking 'cause he was going through such anxiety. He was in such a bad place."
To cope with what he labeled as "stress and depression," he told People in 2015, "I was drinking like I had never drank before. And I was buying weed here and there. It wasn't to get high or baked out of my mind. It was to calm my stress."
In the end, it only compounded his problems. A hunt for weed led to the scandal that ultimately doomed their marriage. As he told People, he spotted a couple smoking in a grocery store parking lot and decided to approach. When he inquired about getting pot, they gave him a phone number that led him to an address. The situation unraveled when he went to use the restroom. As he exited, he says, that's when he was grabbed. "I didn't engage in anything," he told the mag. "It was like a bank robbery. You never know when you'll freeze."
Naturally, news of the encounter dropped just weeks after Wilkinson gave birth to Alijah. And the outspoken reality star wasn't stunned into inaction. Calling her response "ballistic," Wilkinson flushed her bling and kicked her husband out. "I couldn't control my emotions," she explained. 
Jerod Harris/Getty Images for Knott's Berry Farm
In the weeks that followed her rage dimmed, but it never completely disappeared. It's not that she believed Baskett was unfaithful, she explained, it's that he went to great lengths to cover it up, meaning she learned of the scandal through the news, not from her husband. "I can say he was not loyal to me," she told People. "I don't care about the act. I care about how he reacted to it and how I was told by the media what happened. That scarred me."
And while she decided to move forward with the man she's labeled "the love of my life," telling E! News, "I'm willing to spend the rest of my life trying to figure this out than spend one night single," sources say the trust issues lingered.
Online, she touted the power of amnesty, writing in one 2016 post, "Our kids will believe in love and forgiveness because of us showing them it's possible." And in interviews she made light of any arguments, telling E! News she broke up one fight by saying she wanted to get busy. But privately, she was still struggling. "It has been an uphill battle these past few years with Hank," explains an insider. "Kendra hasn't been able to repair the trust and their relationship has continued to crumble."
Now all that's left is to take legal action, with sources telling E! News Wilkinson intends to file for divorce imminently. "She is heartbroken and a wreck," says the insider, noting Wilkinson feels like she's being publicly humiliated again, "but she knows this is the best decision for her kids."
And for herself. "I'm so scared, but I have to get strong for my kids," the tearful star told her 2.6 million Instagram followers, collecting herself with a pause before adding, "I will."