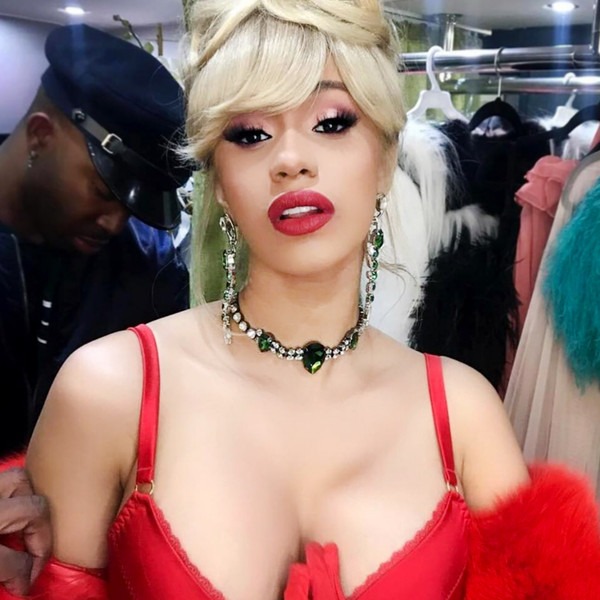 Instagram
Like the tell-it-like-it-is star, Cardi B's makeup is relatable AF.
You can catch the star wearing colorful furs, diamonds all over her body and designer wears, but when it comes down to it, she's a normal person with the same beauty concerns as everyone else. 
The only difference: She has celebrity makeup artist Erika La'Pearl at her side to keep her looking flawless.
"I'm not saying this is bad, but she does have bags," the makeup pro told E! News. "She works 24/7, so she doesn't get much sleep."
Considering the star has maintained a presence on the charts for weeks on end, she must be working hard. But, that doesn't mean she has to look like it.
To give her porcelain-like skin that glows when hit by light, the beauty expert prepped her skin with Tarte Poreless Mattifying Primer.
"I love this primer, because it fills in the lines and pores and gives you a smooth surface," Erika shared.
Then, she places L.A. Girl HD Pro Concealer in Orange, which retails from $3-$5, under her eyes to cover any darkness. The pro calls this product "the best" and "amazing," although it's one of the cheaper products in her kit. The beauty store must-have is also a favorite of rapper Saweetie, who claims to have found the product in her neighborhood beauty store a long time ago. For its price, it has great reputation.
After applying the affordable corrector, Erika applies the Sisley Paris Instant Eclat, a $90 investment, to blur any fine lines.
"When you apply that all over the face, it covers the darkness, so when the light hits her, you can't see any bags," she shared. "When that ring light hits it, you just look like a doll."