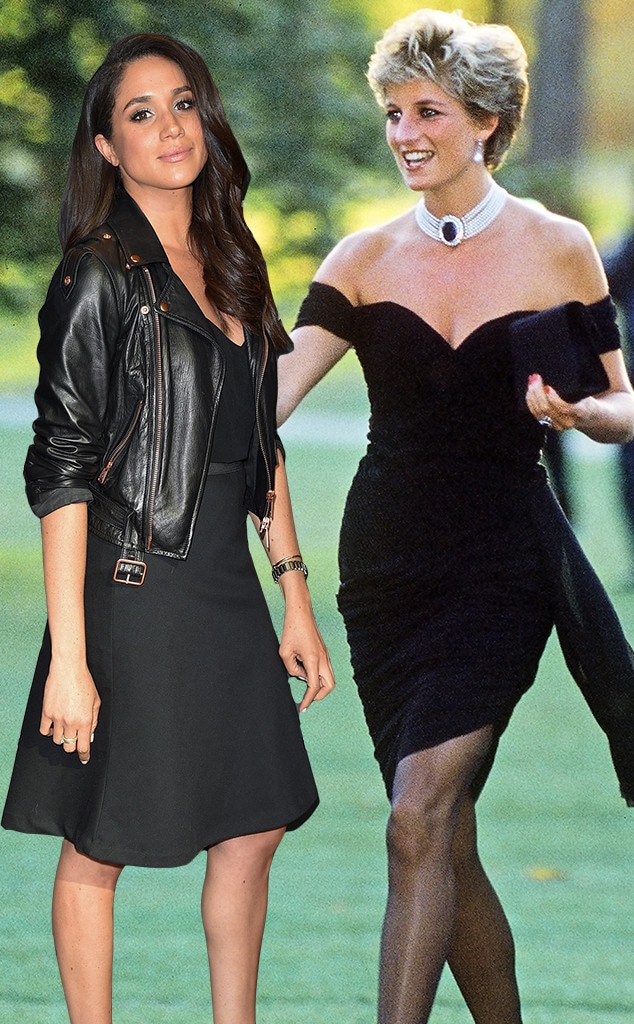 Getty Images/E! Illustration
As Meghan Markle's fate would have it, she's marrying into the family of her childhood role model.
Most of the world is well aware by now of the American star's romance and impending marriage to Prince Harry, the second son of the late Princess Diana. While the the California actress and British royal's lives had not crossed until the summer of 2016, when they were introduced by a mutual friend, his famous mother had made an impact on Markle, so claims a new book penned by a biographer of Diana's, Andrew Morton. 
In his latest publication, Meghan: A Hollywood Princess, Morton described Markle's alleged interest in the late princess of Wales. In an excerpt published by The Sunday Times, the then-teenager allegedly watched Diana's publicized funeral with her friends and, according to Morton, was a member of a philosophy class at her high school that debated the "paradox" of Diana's death. 
World Vision/Splash; Anwar Hussein/Getty Images
Citing family friends, Morton writes Meghan "was intrigued by Diana not just for her style but also for her independent humanitarian mission. She saw her as a role model."
As a result, Markle and a friend allegedly collected clothes and toys to donate and her interest was so apparent that her friend's mom gifted Markle a copy of Morton's biography of Diana. Markle went on to double major in theater and international relations at Northwestern University, an indication of an interest in politics and her budding humanitarian spirit . By the end of her college career, she had landed an internship abroad. 
"By my junior year I had finished most of my credits, and so I applied for an internship at the U.S. Embassy, so I ended up working in the embassy in Buenos Aires for a few months," she previously told Marie Claire. "It was their economic devaluation and our Secretary of the Treasury at the time, Paul O'Neill, was there, so I'm 20 years old, in Buenos Aires, in a motorcade, doing that whole thing. I thought for sure I would still have a career in politics."
While she's not exactly a politician today, she has been an avid public advocate, devoting her time to championing on behalf of women and girls' issues as well as for impoverished families around the world—a clear similarity to "the people's princess."
"She was always fascinated by the royal family," the star's childhood friend Ninaki Priddy is quoted as saying in the book. "She wants to be Princess Diana 2.0."
Meghan: A Hollywood Princess will be released in the United States on April 17.