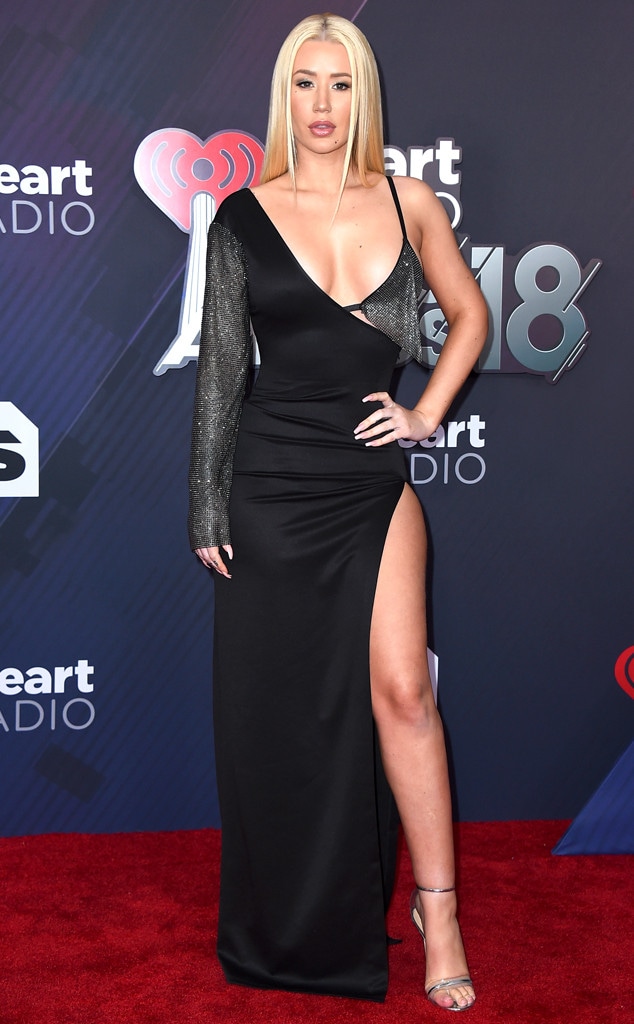 Jordan Strauss/Invision/AP
In a new interview with Billboard magazine, Iggy Azalea revealed she recently sought professional help for her mental health. 
The Aussie-born rapper, whose music career stalled out in recent years, said her new management team staged an intervention at the end of 2017 to address "anger issues" stemming from a history of feuds with fellow artists and the press. 
"They were like," Iggy recalled, "'We think you're really talented and you can go to the studio and make hits all day, but we don't know if, you know, someone says something about you and you have a reaction it could ruin a branding deal. We need you to go and speak to these people and make sure that you're mentally prepared to come out with new music.'"
Azalea said she initially wasn't on board, adding, "I didn't like the idea of being sent away somewhere. I was pissed."
Frederick M. Brown/Getty Images for MTV
She credits close friend Demi Lovato for ultimately inspiring her to go, telling Billboard she considered the pop singer's experience prioritizing mental health and the impact it could have on her own wellbeing. The pressure of the spotlight made Azalea feel "physically f--king ill," she said, and "personal trauma" further pushed her away from the industry.
Azaleas rep confirmed to the outlet that she underwent "intensive therapy" at a two-week "mental retreat" in Arizona, with the "Fancy" performer elaborating further on the stay. (In a recent tweet, Azalea also said she was suffering from depression.)
"I've never really sat down and had an honest conversation with professional people," Iggy explained. "It was good to say something to somebody who could give me the tools and information on how to make my life manageable when I'm feeling those things. So it was really useful—I'm glad that I went."
Despite having "tons" of regrets, Iggy is hopeful about the future: "I don't beat myself up about it at the same time, because it, everything, was like landing on Mars. I just think it's a lot for anybody to digest."
She remembers the past "in the way anybody looks back on life: There are moments that I loved, and there are moments where I cringe. I think it's as simple as an outfit you wore at a party... or like when you're grown up and you look back at your college days. You look back at it with love, and there are other things you were like, 'Oh God, I was such an idiot.'"
Iggy's latest single "Savior" is out now and her second studio album, Surviving the Summer, is scheduled for a 2018 release.