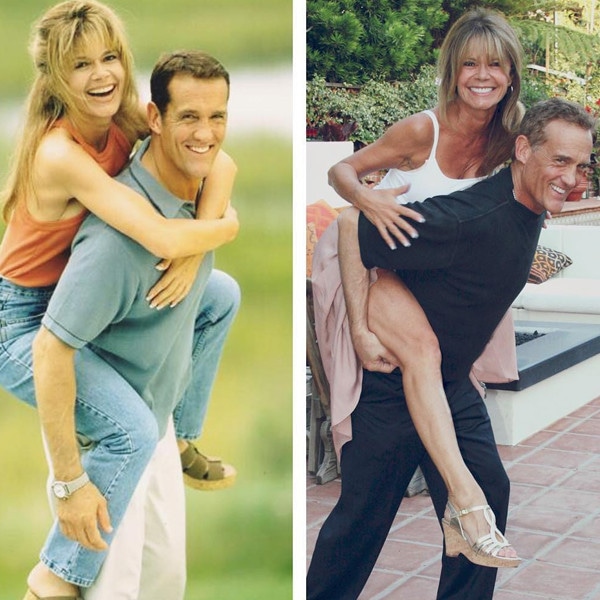 Columbia TriStar Television/Instagram
It's not a complete Dawson's Creek reunion without Dawson's parents.
Earlier this week, fans were delighted when Entertainment Weekly reunited eight stars from the popular WB series.
And while it was great to see Katie Holmes, Joshua Jackson, James Van Der Beek, Michelle Williams and crew, some were left wondering where Mary-Margaret Humes and John Wesley Shipp were?
As it turns out, the Hollywood stars claim they were unaware a reunion was happening.
"Okay, so let me get this off my chest as the initial hurt has subsided just a bit...I send an enormous amount of love and shout outs to the thousands of followers messages and love that both @johnwesleyshippjr and I have read about being left out of @entertainmentweekly's #dawsonscreek 'reunion' photos. This was their choice...not ours," Mary-Margaret wrote on Instagram. "It was done behind our backs and we both were literally blindsided by it when we woke up yesterday in NYC and LA."
Marc Hom/Entertainment Weekly
While the pair did participate in a short phone interview after the fact, Mary-Margaret claims they were both never told about the reunion.
It was a disappointment for the actress who has been posting behind-the-scenes photos from her six years on the show.
"We were a #family & I know how much the photos mean to you from all the love you send me in comments...Yes, I do read them. Having said that... I will continue to post because yes, I have so much more to share," she shared. "For the portion of our family that did appear in these photos...congratulations...you look great and I love you...I only wish I had been given the opportunity to have said it to your faces. Such a shame  #moretocome."
Created by Kevin Williamson, Dawson's Creek ran for six seasons from 1998 to 2003. And while there has been little to no signs of a possible reboot, Mary-Margaret believes you never say never.
"Everybody talks about, 'Oh is there gonna be a reunion? Is there gonna be a convention? Is there a way to bring everybody back together again?' Some say too many people are dead and yada, yada, yada. But in my mind, I have this thought that there's a way to suspend your disbelief where everyone can get the happily ever after," she previously told Us Weekly. "I'm just putting it out there into the universe because I'm harboring a little secret idea and we'll see what happens!"
Katie paid tribute to Mary-Margaret and John on Instagram on Friday.
"Mary Margaret and John were such a huge and important part of #dawsonscreek," she wrote. "I am so grateful to have worked with them and experience their kindness 💕 #creekweek."
Entertainment Weekly's reunion issue is on newsstands Friday.