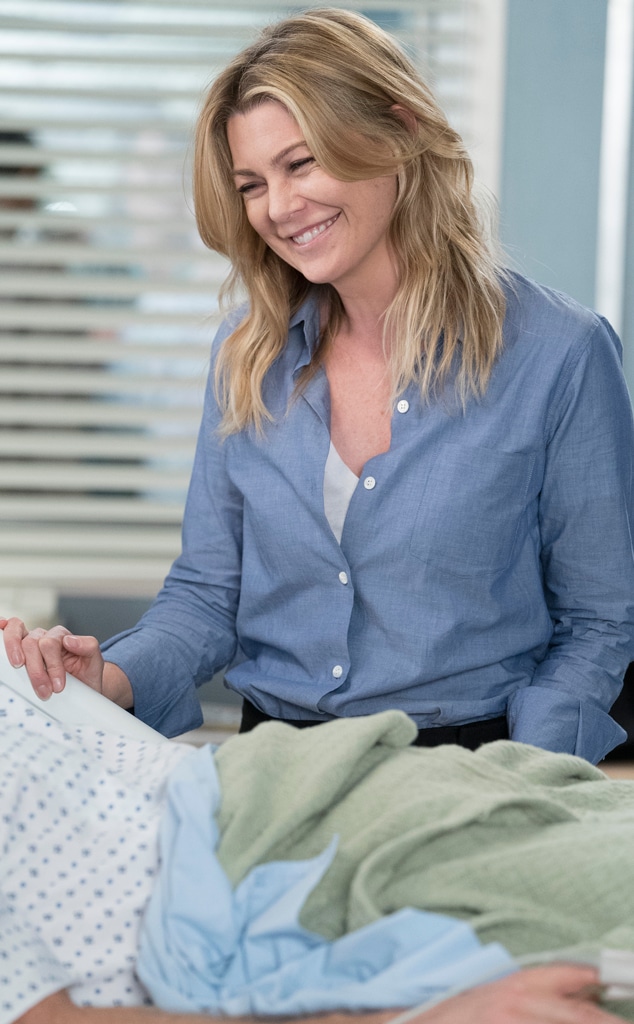 ABC
Is love in the air for Meredith Grey?
After the early departure of sorta-love interest Nathan Riggs when Martin Henderson left Grey's Anatomy last fall, there was talk that our favorite surgeon might not get love again. It certainly seemed like she was devoting herself to her work, earning herself a coveted Harper Avery Award in the process. But that was before hunky Scott Speedman waltzed into Grey Sloan Memorial to perform a transplant, only to become a patient himself. Turns out the doc, due to return home to Minnesota, was a recent transplant recipient and his body was starting to reject his new kidney.
As Meredith worked to save her new patient, she and Nick got to know each other and the meet-cute was unbelievably cute. They talked about their families, he appropriately fawned over her career achievements, she shared her dream of running away to Sardinia to live a carefree life where no one else's mortality depended on her. It was adorable and seeing Ellen Pompeo deliver a smile that we hadn't seen on Mer's face since Derek died was a delight.
As she told Alex (Justin Chambers) at the bar at the end of the day, she thought Nick was smart, funny, and hot. But he's also her patient. And unlike more of the other docs working in Grey Sloan Memorial, that seemed to be a line she didn't want to cross. "I really like the way my life is now," she admitted. "Just, he made me feel something I haven't felt since Derek."
"Is it really the worst thing in the world," Alex asked his BFF. "Knowing it's out there if you want it?"
"No, it's not," Mer replied. What would be the worst thing? Meredith falling for someone only to watch them die on her again. Here's hoping that if Speedman's Nick sticks around and doesn't return to Minnesota right away, that his health doesn't become a roadblock. Because Meredith deserves love again. Sure, it won't be like it was with Derek. What could? But that doesn't mean she's not deserving of someone in her life. Consider us cautiously optimistic here.
What were your thoughts on Meredith and Nick? Hoping this goes somewhere? Sound off in the comments below!
Grey's Anatomy airs Thursdays at 8 p.m. on ABC.