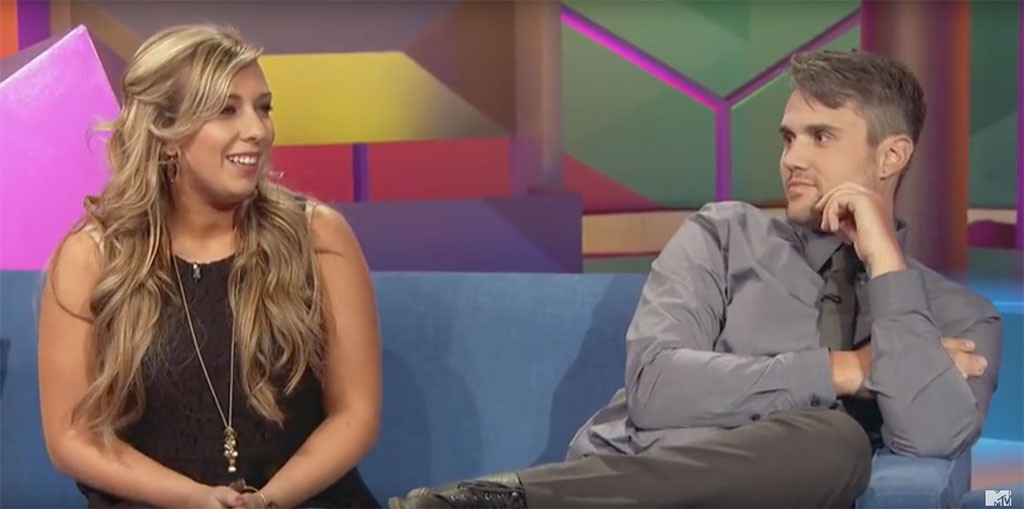 YouTube
For weeks Mackenzie Edwards' biggest worry was her gag reflex. While her pregnancy with now 4-year-old son Hudson was smooth—"I had energy and was never sick,"—now that she's expecting with husband of four months, Teen Mom OG standout Ryan Edwards, "I get the slightest smell in my nose and I just throw up everywhere," she admitted to E! News March 27. "I was throwing up all the time up until two weeks ago. Then I was feeling great. Now I'm sick again." But with her second trimester approaching, she expects less queasy times ahead and weeks of excitedly anticipating their baby's fall arrival: "We're definitely ready."
Well, mostly. Less than 24 hours after the pair confirmed their cheery news, they were the focus of a report that was undeniably bad: That same day, 30-year-old Ryan was arrested at their Tennessee home for violating probation related to a previous heroin possession. The reality star posted the $5,000 bond the same day—and a source tells E! News the lock-up was due to inadvertently missing a drug test—it marks yet another low in the couples' nearly two-year rollercoaster romance. But having already survived reports of infidelity (he allegedly exchanged flirty messages with a woman he met on Tinder) and Ryan's 30-day stint at a Texas rehab center, Mackenzie insists they're on the ascent. With Ryan marking more than 10 months of sobriety, "He's doing good," she insists to E! News. "He's in a really good place."
As is Mackenzie. At just 21-years-old, the nursing student has already overcome her share of struggle. As a mostly A-student at a private Tennessee high school, she had carefully cultivated a good girl rep. "I was always trying to be Little Miss Perfect," she wrote on her blog. But all that was dashed with one positive pregnancy test just weeks before the start of her senior year. "Everything changed," she recalled. The "popular" academy where her mom had taught for more than a decade expelled her. "I felt abandoned," she said. "I had known these people since I was 3 years old. They were like family."
Soon she had a new clan. Wanting to do what she called "the right thing," Mackenzie's parents urged her to wed boyfriend Zachary Stephens and the then-four-months-pregnant 17-year-old obliged.
While she thrived at her new school (even graduating early), her union "sunk like a ship," she said, "and fast." Working the night shift in the postpartum unit at a local hospital, "adulthood practically punched me in the face," she surmised. "It was tough." Things didn't get easier after she moved back home, but by scrimping ("I ate off the dollar menu at Taco Bell,") and reporting to work daily, "I was broke as a joke but we were finally making it."
Romance soon followed. Leaving a Chattanooga, Tennessee gym in May of 2016, Mackenzie crossed paths with a charming diesel mechanic who, unbeknownst to her, happened to be an MTV reality star. "Ryan asked me if I would like to go to dinner," she recalled on her blog, "and since I had a few minutes…I said ok." Little did she know, she wrote, "I was going on a date with my future husband."
Their bond developed quickly. Mackenzie dove into Ryan's on-camera world and earned the approval of his former fiancée—and mother to his 9-year-old son Bentley—Maci Bookout. On a 2016 episode of Teen Mom OG, no-nonsense Bookout told Mackenzie, "I really, really appreciate you," adding that she sees her as the grade-schooler's second mom: "All I ever wanted was for Ryan to find someone that makes him happy and a woman that will treat my son as their own child." Soon the pair settled into a pleasant life on a Tennessee lake, filling their days with ATVs, sunset boat rides and nights on the couch watching Sons of Anarchy.
By that December—two months after Mackenzie caught the bouquet at Bookout's Florida wedding to Taylor McKinney—Ryan dropped down to one knee during a private riverboat ride. After referencing the oval diamond ("You wanna see it?") Ryan stammered out, "Mack, will you marry me? Because you are the most special girl I've ever met in my life."
As the pair excitedly picked a date—Nov. 18, 2017—and booked the church where Ryan's parents Jen and Larry once wed, Bookout gave her wholehearted endorsement. "They have a very healthy relationship," she told MTV News. "I think she's very understanding and supportive of him—she's a really good friend to him, but she also has enough of a 'I'm not going to put up with your s--t attitude.' It's the perfect balance for what Ryan needs in a partner."
That trait was tested several months later. When Mackenzie discovered what she called Ryan's "strong addiction to heroin" last spring, she phoned Nashville's Addiction Campuses "immediately." Shocked and seeking "backup and guidance," she says, "I spilled my guts to them about what was happening." And, with the help of an interventionist, she formulated a plan. "The interventionist told me how I needed to decide my boundaries," she explained. "I distinctly remember him saying, 'Would you give up if he was dying?' I said no. He reminded me that if Ryan didn't get help, he would die."
With that in mind, she established her personal deal breaker—if he didn't agree to get help, she was out—and poured her heart out in a letter. "It spoke of our good times, our first date, our boys growing up and how I wanted him to be there for future times," she recalled. "It reiterated how much more he loved his family than his drug of choice. When he was ready to get help, I would be there. But until then, I couldn't do that." Tossing the letter on a counter, she grabbed her Cavalier King Charles Spaniel puppy Chance "got in my mustang and left. Then the waiting game started."
At first Ryan response was to fire off what she called "texts of hatred," but she remained firm. "I only responded with, 'I love you. Are you ready to get help?'" she said.
Her tactics worked. In late May—after a seemingly under-the-influence Ryan drove them to a quickie wedding that only his parents attended—he checked into a Texas treatment center with his new bride along for the ride. "The 11-hour drive to Texas was more than needed for my soul searching," Mackenzie admitted. "I did a ton of praying, a ton of crying."
And the drama didn't stop after Ryan successful completed his 30-day stay. Just weeks after his June release, outlets reported he'd been caught sending dirty messages—and photos—to a Tinder match Aug. 12. Asked why he'd be on the dating site while married, he allegedly replied, "I still like to have a little fun."
But an undeterred Mackenzie seemingly brushed off the claims, reportedly posting to Instagram, "Strength is what we gain from the madness we survive."
After all, she's nothing if not a survivor. Pushing on, she planned the Nov. 18 vows she dubbed "amazing." Despite threats of rain, the skies were clear when she entered the church at 4 p.m. The reception that followed, in a converted warehouse, featured a touching best man speech from Ryan's dad, a first dance to Gary Allan's "The One", a "huge" five-tier cake and plenty of sweetness. "It was the best day ever," Mackenzie gushed to E! News, "It does feel different, it does feel legit. It's like what I've always dreamed of."
Now they're fulfilling a new goal. Once Ryan declared on a recent Teen Mom OG episode he was ready to start trying for a baby, stating, "now is as good a time as ever," the duo decided to give it a whirl. "It was one of those, 'Let's try for two months and see what happens,'" Mackenzie explains to E! News. "We tried for two months and nothing happened. And then literally the next month we got pregnant."
Hamilton County Sheriff's Office
Though their sons' reactions were reserved—"Ryan called Bentley and Bentley was like, 'Oh, my,'" says Mackenzie adding Hudson is too young "to visualize what's going on until he sees a belly,"—Ryan's was appropriately over-the-top. "He was so excited," she relates. "I basically just threw the test at him and he was like, 'Ahh! Ahh!'" (As for Bookout, she hasn't reached out. Opines Mackenzie, "I don't think she's very happy about it.")
Even Ryan's legal snag wasn't enough to dull their joy. As part of his probation, he had been submitting to monthly drug tests since last spring, says a source, but when he went to court in March, "The judge told him he was doing a great job and that if he stayed out of trouble until December, he would be in the clear and everything would be over." What Ryan didn't realize, says the source, was he had to continue testing: "As a result, Ryan accidentally skipped a drug test. He did not fail one." And while Ryan was "very upset" by the misunderstanding, says the source, "It was explained to him that all he had to do was turn himself in and it would be done."
As for the haters, Mackenzie is done with them, too. Oft-vocal about how she's portrayed on the show—"It's easy to show the 'half truth'" she's said—she does her best to block out what she calls the "empty words of hatred and lies" and keep her eye on the figurative prize. "There's a lot of things I'd like to do for a living, lots of dreams that still sparkle when I close my eyes at night," she's written on her blog. "These things are still attainable."