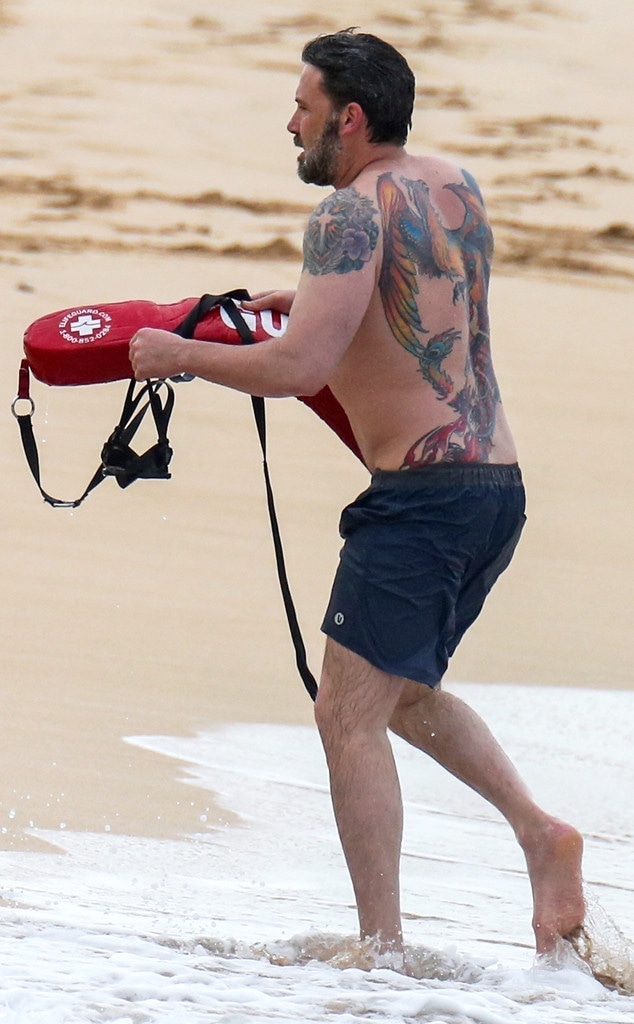 BACKGRID
Sometimes the celeb is the story, but sometimes the story is the story...
Ben Affleck is speaking out after The New Yorker published an article entitled "The Great Sadness of Ben Affleck" last week. Soon after the piece went live, the Internet erupted into a frenzy, alleging that the writer was fat-shaming the superstar.
In the seemingly light-hearted piece, Naomi Fry writes about the now-infamous photos that recently emerged of a shirtless Affleck on the beach in Hawaii, showcasing his phoenix rising back tatt while filming his upcoming movie, Triple Frontier.
In the article, which falls under the website's "Annals of Appearances" section, the writer penned, "His gut is pooching outward in a way that, in a more enlightened country like, say, France, would perhaps be considered virile, not unlike the lusty Gérard Depardieu in his prime but, in fitness-fascist America, tends to read as Homer Simpsonesque."
People did not take kindly to the writer's "gut is pooching outward" comment nor her comparison to the donut-loving glutton Simpson.
The piece continued, "A blue-gray towel is wrapped protectively around his midsection–recalling a shy teen at the local pool. Staring at the water before him, his gaze obscure and empty, Affleck is a defeated Roman senator."
The article has been slammed online, calling out the piece for body-shaming, cruelty and targeting a person who has publicly and privately struggled with alcoholism.
@Lefty__Knox wrote, "This is like the fifth time you've posted this disgusting, body shaming, cruel hack job of an article. The New Yorker lost a subscriber today. When did TNY become worse than tabloids?
@BatGal87, "I don't care for Ben Affleck, but there was still no need for this article."
@deancollins wrote, "This is a really mean spirited article. Poking fun of someone who is clearly depressed and dealing with substance abuse for your own personal gain is pathetic. Can't believe the @NewYorker published this garbage.. 'Never look down on someone unless you are helping them up.'
The New Yorker's story ends with a judgement and a query, "The image suggests not just the fall of Affleck but the coming fall of man. There is something about this exhausted father that reflexively induces panic. We've been living in a world run by Afflecks for so long, will we even know ourselves when they're gone?"
Affleck responded Thursday, tweeting, "I'm doing just fine. Thick skin bolstered by garish tattoos."