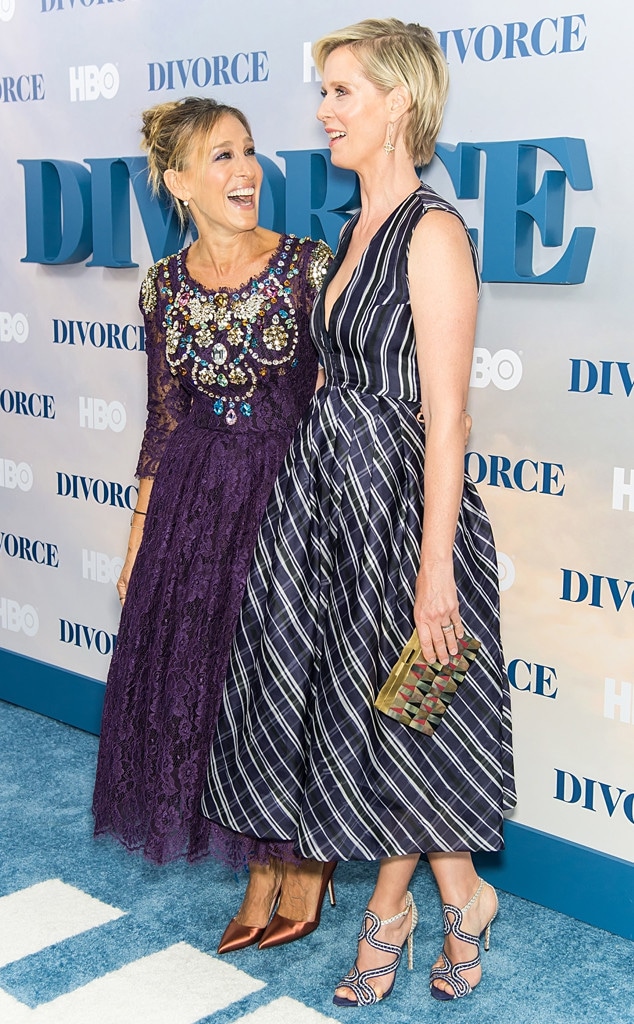 Gilbert Carrasquillo/FilmMagic
Sarah Jessica Parker is raising a cosmo to New York gubernatorial candidate—and her former co-star—Cynthia Nixon. 
Following mounting speculation, Nixon, an award-winning actress and Sex and the City alum, launched her bid for New York governor on March 19 against current democratic governor Andrew Cuomo. While fellow co-stars were quicker to react to the news—Kim Cattrall said she supports and respects "any former colleague's right to make their own career choices" and Kristin Davis immediately expressed her pride in and support of Nixon's run—Parker was noticeably publicly mum on the subject. 
Then, on Wednesday, Parker released a statement to Page Six via a representative, stating, "Cynthia has been my friend and colleague since we were little girls...I look forward to talking to her about her New York state gubernatorial bid."
Well, it seems the two discussed all they needed to because Parker has since issued a glowing public endorsement of her "sister on and off screen." 
Acknowledging the star as a "mother," "activist," "advocate," "fighter," "NY'er," and "dear friend," Parker said "you have my love, support and vote" and pointed followers to Nixon's campaign website. 
Parker's support is coveted considering she's a longtime vocal and proud New York resident and is synonymous with the Big Apple. 
Meanwhile, Nixon has hit the ground running in her path toward the office without any prior government experience. "We talk a lot about outsiders, but sometimes a little naïveté is exactly what is needed," she recently told Glamour. "With a jaded system, everybody says, 'Yeah, well, that's the way it is.' You need somebody to come and say, 'Why? Why is that the way it is? Don't try to tell me that I don't have a right to stand here and say, 'I want to be governor, because I think you're doing a lousy job. Nobody is talking about the things that you're not doing, so I am going to do it.'"
And she's going to do it with Sarah Jessica Parker's full support.