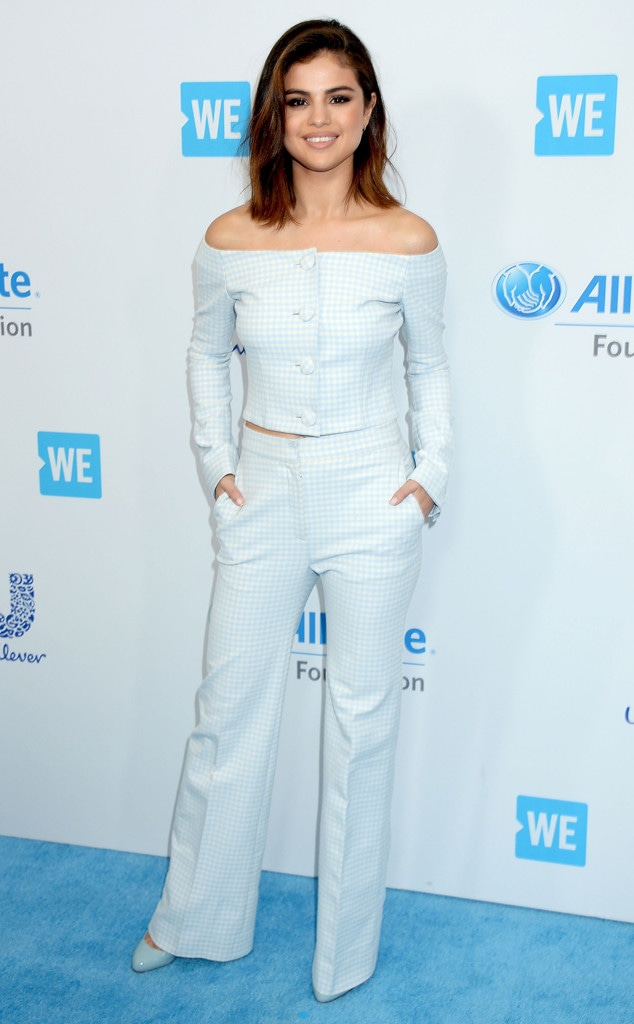 Broadimage/REX/Shutterstock
The lineup for the upcoming WE Day California event has been revealed.
Jennifer Aniston and Selena Gomez are among the stars set to appear alongside March for Our Lives organizers and Parkland students Jaclyn Corin and Cameron Kasky at the event on April 19. WE Day, the world's largest youth empowerment event, is returning to Southern California next month and will be filmed for a national televised broadcast special airing on ABC on August 17.
John Stamos has been announced as the host of the event, with stars Dierks Bentley, DVSN, Celebrity Marauders, Jessie Reyez, Jordan Fisher and The Chainsmokers set to perform. Jenna Ortega will also speak onstage.
"I'm constantly inspired by the determination in every single student at WE Day—the energy they bring is unforgettable," Gomez said in a statement. "This is my sixth WE Day and I can't wait to share words of encouragement with thousands of young leaders who have accomplished so much worth celebrating. This generation is changing the world and I'm humbled to be a part of this special day with them."
Michael Buckner/Getty Images for InStyle
WE Day California will bring together over 16,000 students and educators from across the state for a powerful, life-changing experience featuring renowned speakers, innovative thought leaders and celebrity performers.
More speakers set to take the stage at WE Day include Paula Abdul, Gunnar Gehl, Sofia Carson, Lonnie Chavis, Monique Coleman, Lily Collins, Will Ferrell, Connor Franta, Morgan Freeman, Lizzy Greene, Winnie Harlow, Olivia Holt, Lele Pons, Nicole Richie, Kelly Sawyer, Drew Scott, Martin Sheen, Lilly Singh, JoJo Siwa, Spencer West, Henry Winkler and Maddie Ziegler.
The presenters and performers will be joined at the event by international activists and WE co-founders, Craig Kielburger and Marc Kielburger, and will talk about their passion for change.
"We are surrounded by youth of the WE generation—a generation that is tuned-in to the needs of their community both globally and locally. They have committed to choosing hope, optimism, empathy and courage over fear, division, apathy and intolerance," Craig said of the event. "We are honored to celebrate young people from over 875 schools and youth groups from across California, who have joined together to make a difference and prove that you are never too young to change the world."
WE Day is a series of 19 stadium-sized events that are held across the United States, Canada, the U.K. and the Caribbean.
You can watch the WE Day event on ABC on August 17, 2018 at 8 p.m. ET/7 p.m. CT.