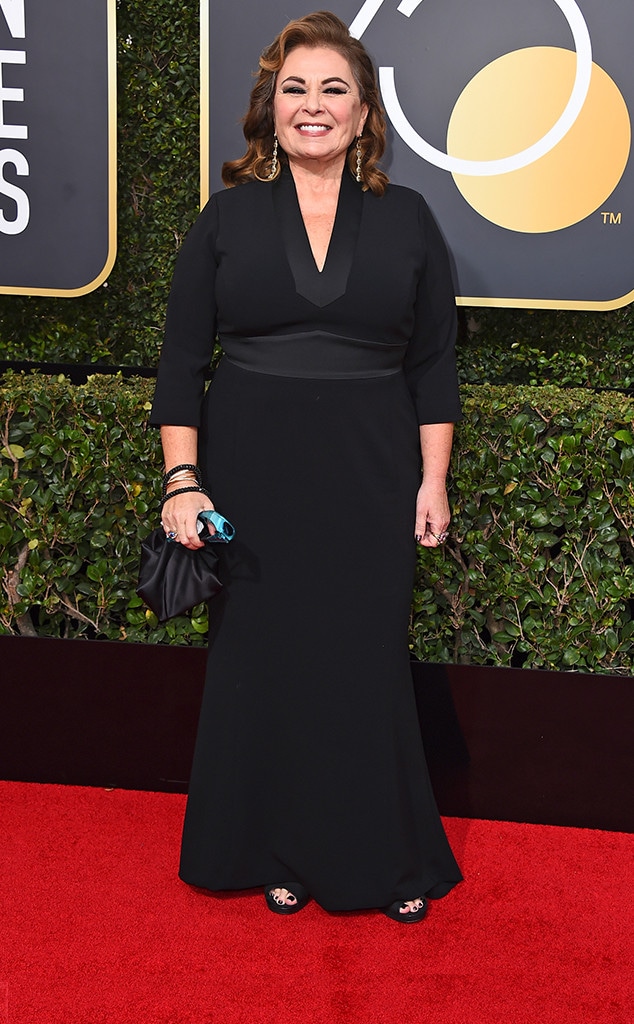 Jordan Strauss/Invision/AP
Just hours before the revival of Roseanne returns to TV, the show's matriarch and star Roseanne Barr stopped by to talk to shock jock Howard Stern on his Sirius Radio show.
During the candid chat, the frank star talks about her meteoric rise to the top in the late '80s and '90s, the difficulties of staying at the top, her challenges in Hollywood as a woman and what the show's highly anticipated reboot means to her.
Roseanne premiered in 1988 before its final curtain call in 1997, 21 years ago.
On May 16, 2017, ABC announced during Upfronts Week that it would be bringing back the beloved series for a reboot, starring the original actors.
At the time, network president Channing Dungey said, "We're rebooting Roseanne. It is planned for the midseason. We're still at the early stages." Per the network's press release, the eight-episode revival will find the Connors continuing to deal with "the economic challenges of living pay check to pay check in 2018."
And ABC has most certainly delivered on that promise!
Let's take at the seven highlights from the sometimes controversial and always entertaining star's newest interview…
1. She's Not Under Pressure: When Howard asked if she felt pressure for the reunion to be as successful as the original series, she said that kind of success wasn't likely given how programming and television works today.
"No. I just think it's impossible to do that. We used to get 40 million viewers a week, now you get 3 million. I'm just hoping to get ...6 [million]? There were only 4 networks or something back then, so now there's like 900. There's a lot of competition."
2. She's Got GOOOOOOALS!: Roseanne says that the kind of success she had in the '80s and '90s isn't realistic but she does have one major goal for the ABC revival, "I just want to do well. I want to get renewed."
3. It's All Thanks to Darling Darlene: Turns out The Talk's Sara Gilbert was the one who spear-headed the revival of the beloved sitcom after a sketch of Gilbert coming out as a talk show host to her TV dad John Goodman went viral.
Once the video amassed millions of views, Sara called up her TV mom to see if she's be interested in rebooting the sitcom.
Roseanne recalled to Howard, "I go, 'Well, if he's in, I'm in.'"
Once the Conner matriarch was on board, the rest of the cast was all in.
"Everybody said yes immediately," Roseanne said. 
4. The Cloones Was a No-Go: Roseanne said everyone jumped at the opportunity for the reunion, everyone but one very famous former star: George Clooney.
"Well, George Clooney didn't want to come on—so that was a bummer, but he lives in Italy."
For those who don't recall, before hitting it big with E.R., the Cloones played Roseanne's pencil-pushing foreman at the factory where she worked from 1988 to 1991. 
5. She's Not Your Candy Girl: To mark the momentous occasion of Roseanne hitting the No. 1 slot back in the day, ABC sent the show a giant No. 1 in chocolate.
Roseanne recalled that Clooney told her that other stars got gifted Rolls Royces when they hit that mark, so he suggested Roseanne smash the confection with a baseball bat because she deserved something much better than chocolate. He took a photo of the smashing and then sent the pics to the president of ABC. 
The comedy queen admitted to Howard, "That caused a lot of problems for me. I should not have sent that picture."
She couldn't help but say, "But it's so funny."
6. She Loved to Break the Rules: Roseanne told Howard that the cast and crew would hang out after tapings and drink until the wee hours of the morning on the show's set.
"We used to stay over on the set and get drunk and stuff til the lot security found out about it and they made us not come in there no more."
7. She's Still Rough Around the Edges: She tells Howard, "When I … got the first script, they had made Laurie Metcalf into me and I was Donna Reed," Roseanne said.
In the chat she says she thought an exec probably thought she should be more of a typical mom and one not so "rough around the edges." She says she didn't know that her creator credit got stripped then and she only found that out when she saw the pilot episode. 
"I wanted to quit right there," Roseanne said.
She details how the higher ups tried to intimated her into complying with their desires for the show and even came into the the Conner's TV kitchen and spit what Roseanne called a "luger" into the sink in front of her.
"I had stood there crying through a lot of it and my manager at the time, she's like, 'Do you see that your star is weeping and it's a comedy show? Do you see that at all?'" Roseanne told Howard. "People don't understand how sexist Hollywood is. It really is."
Despite the ups and downs, Roseanne has done it her way and that's what's gotten her to the top so many times. 
Roseanne returns Tuesday, March 27 at 8 p.m. on ABC.