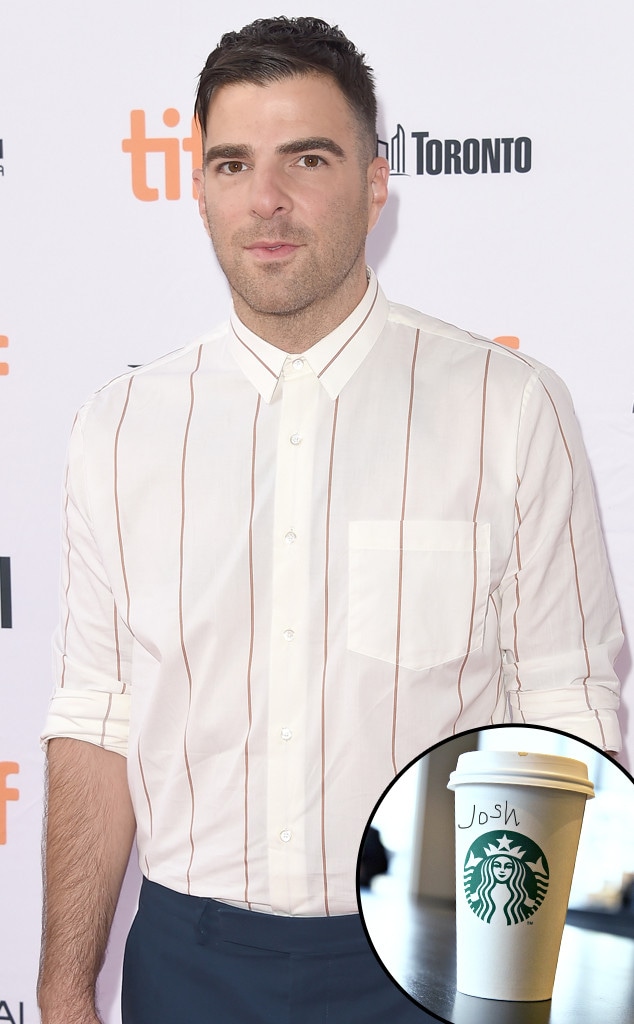 Getty Images, E! Illustration
Who knew a Starbucks order could cause such a stir?
On Monday's episode of The Late Late Show, Zachary Quinto told the story of how he used a fake name to place his Starbucks order—and how he got totally busted for it. 
According to Quinto, the 40-year-old actor was in Ann Arbour, Mich. shooting a film when he decided to go to Starbucks for a quick coffee break. Not wanting to use his real name, the Star Trek star said the order was for "Josh." That's when the actor heard a young woman "sort of snickering" at him.
After his visit, he noticed that a young woman by the name of Sophia had called him out on Twitter for his fake alias. 
"Zachary Quinto thinks he can come into MY Starbucks, use the fake name Josh for his order, and not get recognized??" she wrote. "Girl check ur eyebrows."
She even blew the cover on his drink order. 
"He got a tall latte [with] almond milk and 1 pump of vanilla," she wrote. 
When host James Corden asked Quinto if he thought the tweeter and onlooker were the same person, Quinto replied, "That was definitely Sophia. 100 percent in retrospect."
Quinto apologized for using the false name and said he sometimes gets a little "nervous or self-conscious" when he's by himself.
"Maybe people don't' know me, and I can go undercover," he said. "Clearly, that's not always the case as evidenced by the tweet."
So, why did he pick the name Josh?
"People call me Josh a lot, though, in my life," he added. "You know when people get your name wrong? I would say that people call me Josh more than any other name accidentally. I don't know if I look like a Josh."
Fellow guest star Rupert Friend told the actor his parents would have named him Diggory if they hadn't settled on Rupert.
"Well, the next time you're in Starbucks, there you go," Corden teased, giving Quinto a new fake name to use.
Watch the video to see the full interview.