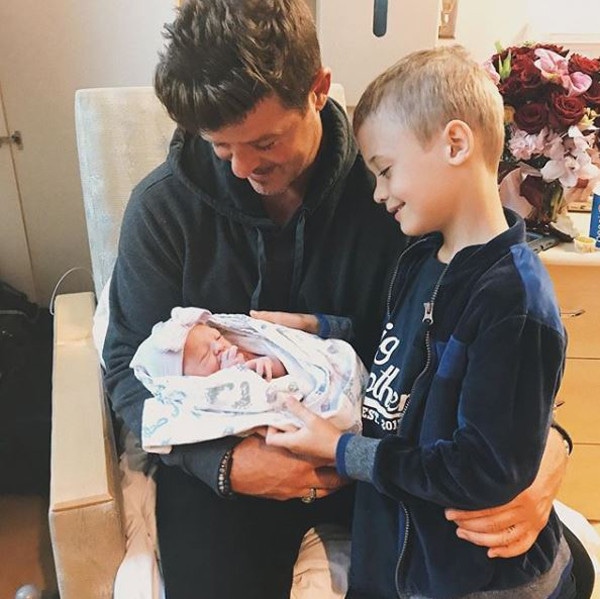 He's a big bro!
Robin Thicke documented the special moment in the hospital when his son Julian Fuego Thicke became a big brother to his newborn sister Mia Love Thicke—and it's just so precious!
The Instagram photo shows Robin and Julian, whom he shares with ex-wife Paula Patton, gazing upon the little lovebug, who was born on Feb. 22.
The "Blurred Lines" singer posted the image with the simple caption, "Lucky Daddy!"
The sweet snap comes a couple days after girlfriend April Love Geary shared a photo of the couple's newborn daughter, Mia Love Thicke.
April has been documenting her first days of motherhood on social media. On Monday she shared several more adorable images of her baby girl on Instagram Stories, documenting the little family's intimate "Monday Mornings" for fans.
April Love Geary/Instagram
April Love Geary/Instagram
On Saturday, the 23-year-old shared the first image of Mia's face on social media, cradling her while wearing a sweatsuit with the words "baby girl" written on it.
On Feb. 24, the singer posted an Instagram video cradling his newborn daughter (whose face you could not see) with the caption, "On 2/22 at 13:33 Mia Love Thicke was born. Thank you God and April Love."
Days earlier, April posted on her Instagram Stories feed a video of herself lying on a hospital bed, to the tune of The Four Tops' 1972 song "Ain't No Woman Like The One I Got."
She also shared a photo from inside the room showing of balloons, including a pink, heart-shaped one that read, "Baby girl."