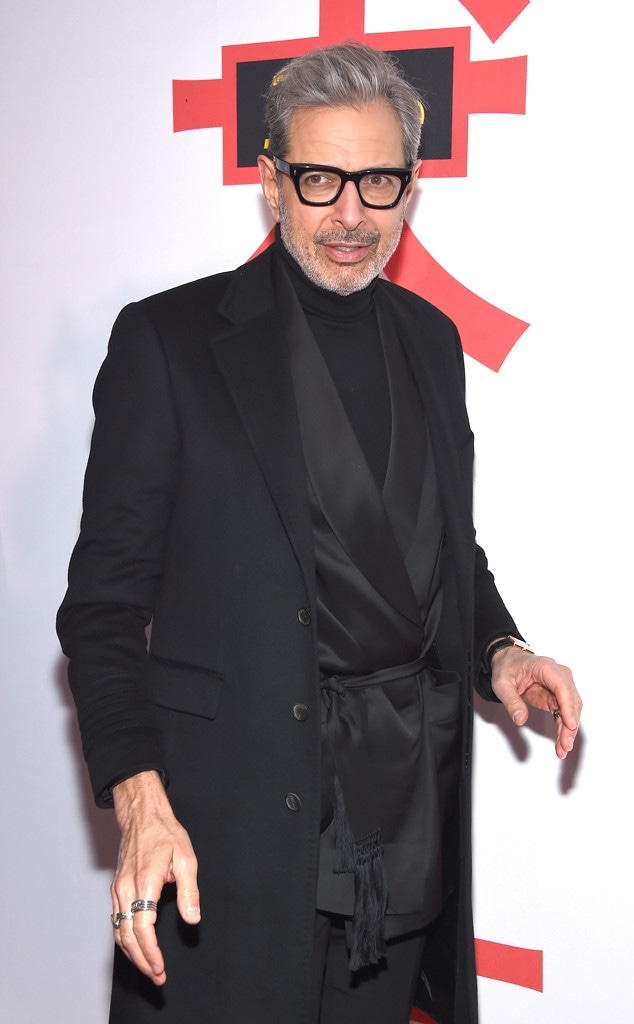 Dimitrios Kambouris/Getty Images
Jeff Goldblum isn't afraid to take it off for the camera.
In an interview with the Daily Beast, the 65-year-old actor, who is set to appear in the upcoming Jurassic World: Fallen Kingdom flick, dropped hints that he may be going shirtless, yet again.
"If I have anything to say about it, I'm going to rip my clothes off at the drop of a hat, yes!" he joked. "When you look like this, you gotta flaunt it!"
As viewers of 1993's original Jurassic Park may remember, Goldblum, who played the role of Dr. Ian Malcolm, sported an oddly-timed bare chest after breaking his leg during a T-Rex attack.
"It's supposed to be Costa Rica, right?" Goldblum said while defending his iconic shirtless scene to Yahoo. "So things are hot and I'm sure I'm in some sort of fever. So all the logic is that we gotta get some of these wet clothes off immediately. As I remember, I don't think anybody fought me on that."
The clip eventually became a popular meme on social media—one in which paleontologist Alan Grant, played by Sam Neill, breathes as one with the professor as he lays his head on Malcolm's bare chest.
"That's my favorite one," Goldbum laughed during an interview on The Graham Norton Show in 2016. "They also have it as a video, and so you see me breathing and he's going up and down."
And that's not all. The scene also inspired an oil painting, as well as a Funko toy of Goldbum's character striking a sexy pose as he lies on his side with his shirt open.
As E! News previously reported, the actor, who starred in the first two films in the '90s, reprises his role in the new film. Jurassic World stars Chris Pratt and Bryce Dallas Howard return as raptor trainer Owen Grady and love interest and park operations manager Claire Dearing.
Whether he bares all in the June 22nd film or not, one thing is for certain. Jeff Goldblum is game to go shirtless!