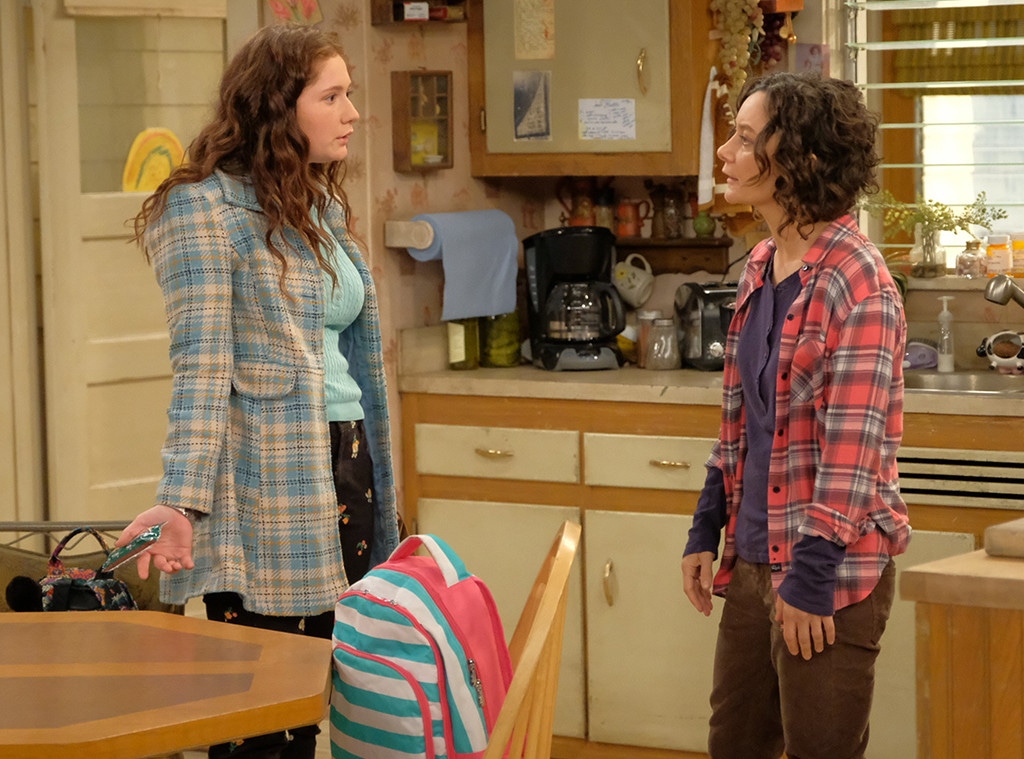 ABC/Adam Rose
Cue the laugh.
Roseanne returns to ABC tonight after 21 years and along with the revival (literally, in Dan's case) of most of your favorite wise-cracking characters, there's a new generation of Conner family members to get to know.
Emma Kenney, 18, plays Harris Conner, daughter of Sara Gilbert's Darlene and Johnny Galecki's David—and we're guessing that any kid of those two (there's also brother Mark, played by Ames McNamara) has already witnessed plenty of life's ups and downs and is well-versed in the art of the eye roll.
Kenney tells E! News that her character has definitely inherited her mom's dry sense of humor, but she is very much a composite of Conner family traits.
She has grandma Roseanne's "strong will," the teen tells us, plus grandpa Dan's work ethic, Aunt Becky's desire for normal stuff like a social life, Uncle D.J.'s loving and protective nature (how the O.G. Conner kids have grown!) and Great-Aunt Jackie's free spirit.
Though Kenney wasn't even born yet when Roseanne ended its Emmy-winning run in 1997, the New York native's mom and dad were fans and she caught episodes on nick@nite growing up.
"I binge-watched the show as character research before filming too," she says. 
Speaking of research into the dynamics of a unique TV family, Kenney has also grown up playing the wise-beyond-her-years Debbie Gallagher on Shameless, which has been renewed for a ninth season.
William H. Macy's Frank Gallagher may make Roseanne Conner look like Carol Brady, but each bordering-on-dysfunctional family has its own heartwarming glue that holds the clan together when all seems to be on the verge of falling apart. The sprawling families also exist in similar socioeconomic circumstances—and both even live in Illinois. 
"Shameless is just such a realistic show," Kenney says, noting that for all of their issues, the Gallagher family's "loyalty, their honesty, straightforwardness and realness" make them relatable.
Sounds familiar.
But unlike on Shameless, where Debbie's already a mom, on Roseanne Kenney gets to just be a Conner kid, with all the laughs, smart-ass remarks and angst that entails.
In real life, meanwhile, Kenney is a busy actress on two high-profile shows, and while dream plans for the future include going to NYU's Tisch School of the Arts to study directing, she's focused on her work in front of the camera for now.
Ahead of tonight's big premiere, she sat down and took our E!Q, so here are a few more things to know about your new favorite member of the Conner family.
Hometown: Brooklyn, NY
What time did you wake up this morning? 8 am. everyday… every off day that is.
Who's the first person you talked to today? My dad.
Night owl or early bird: Early bird catches the worm!
What do you never leave the house without?  Earbuds
Road trip or catch a flight? Road trip
If you could go somewhere you've never been before tomorrow, where would you go: Dominican Republic
Secret talent: I can put both legs over my head.
Last movie that made you laugh: The Bee Movie
Next show you want to binge: Atypical on Netflix
First acting job: A short film by a student at NYU Tisch.                                                    
Celebrity crush: River Phoenix and Jim Morrison
What's the last thing you Googled? Gmail to answer these questions. I try not to spend too much time on my computer. 
Name your favorite thing that starts with the letter E: Elephants
Roseanne returns to ABC tonight at 8 p.m.