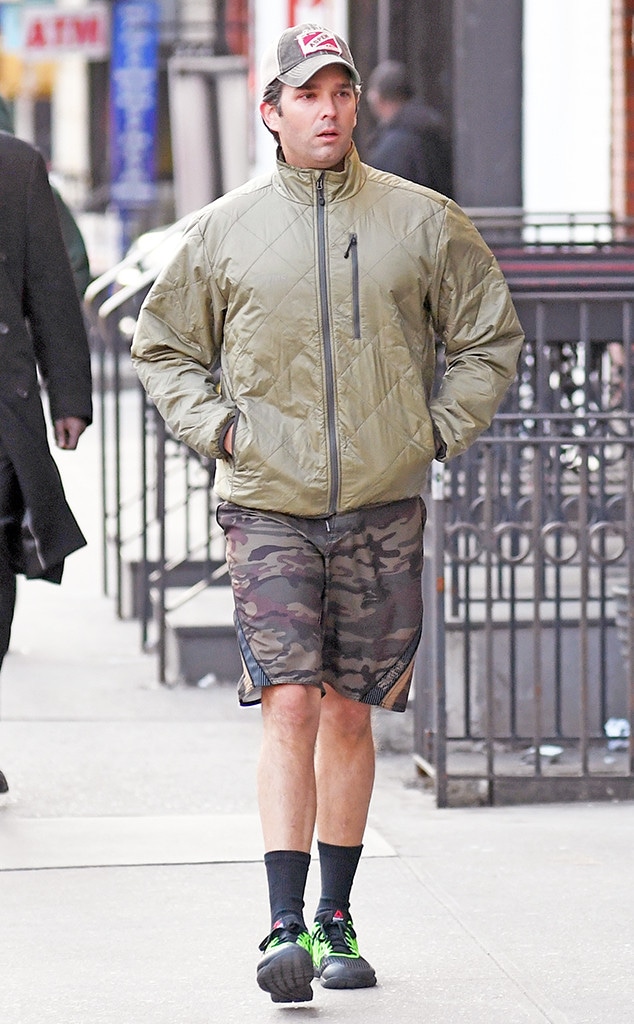 Elder Ordonez / Splash News
Donald Trump Jr. is back in the Big Apple. 
After spending more than a week in Palm Beach, Fla. with his little ones for their spring break, the 40-year-old soon-to-be divorcé has resurfaced in New York City. He jetted home to Manhattan late Sunday night, chronicling his flight on social media. 
"Bye PB," he wrote over an aerial snapshot on social media. "Back to work."
After his wife of 12 years, Vanessa Trump, filed for divorce on March 15. Donald Jr. swapped the cold city for some fun in the sun with all five of their kids. While he was vacationing at his famous father's Florida resort, Mar-a-Lago, a report from Page Six emerged claiming Donald Jr. cheated on Vanessa with songstress Aubrey O'Day while they filmed The Celebrity Apprentice in 2011. Neither Trump nor O'Day have addressed the allegations publicly. 
Meanwhile, no matter what is going on behind closed doors, the estranged couple has put on a united public front, telling E! News in a joint statement, "After 12 years of marriage, we have decided to go our separate ways. We will always have tremendous respect for each other and our families. We have five beautiful children together and they remain our top priority. We ask for your privacy during this time." 
It looks like they both have kept true to the statement, spending quality time with their three sons and two daughters on this most recent vacation and documenting their activities on social media. In particular, there seemed to be no shortage of fishing outings between Don and the youngsters in recent weeks. Vanessa later confirmed she joined them in Florida, updating social media with a photo of palm trees last Tuesday and writing, "It's time for spring break with my kiddies."
"I'm enjoying the beach with my two youngest Chloe and Spencer!" Vanessa updated on Sunday. "My kids are definitely beach babies!"
As a source told People, they have been spotted together with their children, but "more often, each is with some of the kids separately." Either way, the insider noted, "I have not seen anything unpleasant at all."