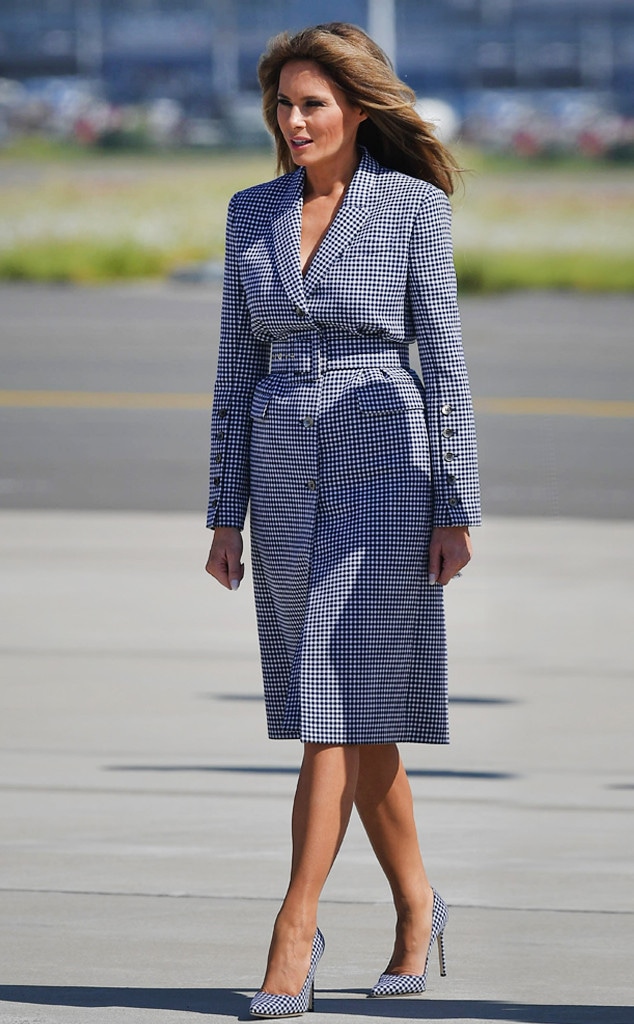 MANDEL NGAN/AFP/Getty Images
First Lady Melania Trump doesn't want to get caught in the eye of the storm.
Adult film star Stormy Daniels sat down with Anderson Cooper on CBS' 60 Minutes Sunday to clarify reports about her alleged affair with President Donald Trump. Asked Monday whether Melania had seen the interview, her spokeswoman, Stephanie Grisham, told NBC News, "She's focused on being a mom and is quite enjoying spring break at Mar-a-Lago while working on future projects." The First Lady is scheduled to stay in Florida with her son for at least a week.
Early Nielsen ratings indicated the interview drew more than twice as many viewers than a typical episode of the show. It's expected to rank as the program's highest-rated episode since Barack Obama and Michelle Obama gave their first post-election interview in November 2008.
Though Donald did not mention Stormy or 60 Minutes, he did tweet this Monday:
In her 60 Minutes interview, Stormy claimed that when she first visited Donald's hotel suite in the summer of 2006, he bragged about his picture on the cover of a magazine. "Someone should take that magazine and spank you with it," she claimed she told him, adding that she told him to "hand it over" to her. "So, he turned around and pulled his pants down a little—you know, he had underwear on and stuff—and I just gave him a couple swats." From then on, the porn star added, Donald was a "completely different person. He quit talking about himself and he asked me things and I asked him things and it just became like you know more appropriate."
"He was like, 'Wow, you—you are special. You remind me of my daughter,'" she said. "He was like, 'You are smart and beautiful, and a woman to be reckoned with, and I like you. I like you.'"
According to Stormy, she and Donald ate dinner in his suite. After using the restroom, she returned and saw him "perched" on the edge of the bed. "I just felt like maybe...I had it coming for making a bad decision, for going to someone's room alone," she said. "And I just heard the voice in my head, 'Well, you put yourself in a bad situation, and bad things happen, so you deserve this.'" Stormy, who was 27 at the time, said she was not physically attracted to the 60-year-old and didn't want to have sex with him. "But I didn't say no," she said. "I'm not a victim."
Stormy also claimed  Donald did not use a condom during their sexual encounter.
Shortly before the 2016 election, Donald's personal attorney, Michael Cohen, paid Stormy to keep quiet about the alleged affair. His lawyers have said Stormy violated the nondisclosure agreement she signed and is liable for unspecified damages—and that was before 60 Minutes aired. "I guess I'm not 100% sure on why you're doing this," Anderson said. Stormy replied, "Because people are just saying whatever they wanted to say about me. I was perfectly fine saying nothing at all, but I'm not OK with being made out to be a liar, or people thinking that I did this for money. People are like, 'Oh, you're an opportunist. You're taking advantage of this.' Yes, I'm getting more job offers now, but tell me one person who would turn down a job offer making more than they've been making, doing the same thing that they've always done?"
(E! and NBC are both members of the NBCUniversal family.)