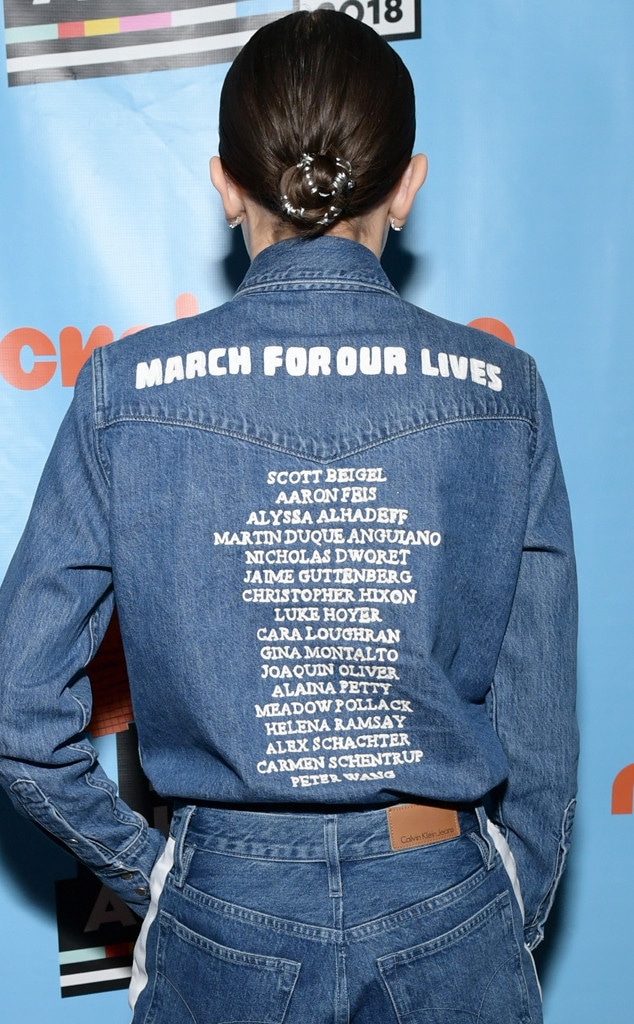 Emma McIntyre/KCA2018/Getty Images
Millie Bobby Brown's denim button-down said it all. 
Appearing at the 2018 Kids' Choice Awards in the same Calvin Klein ensemble Kim Kardashian West wore in the brand's ad campaign, the Stranger Things actress customized the back of her shirt to feature the names of the 17 victims of the Parkland, Fla. shooting. Above the names read "March For Our Lives" in support of the weekend's nationwide protest against gun violence.
The actress who plays Eleven on the Netflix hit took to the stage to accept the award for Favorite TV Actress before calling attention to the cause in an emotional speech. 
"Thank you so much for this award, and to Nickelodeon for bringing us all together. As we saw a moment ago, the March for Our Lives demonstrations that took place all over the world today have inspired me and impacted us all in one way or another," said Millie.
Kevin Winter/Getty Images
"But more than anything, I get to be up here, and I'm privileged to have a voice that can be heard, one that I can use to hopefully make a positive difference and help influence change," the 14-year-old star added. "OK, so there's an amazing support, love and kindness in this room right now, and I want to encourage everyone to embrace it and to pass it on."
"For the angels among us, your spirit lives on. This is for you," she concluded. 
While the star wasn't available to march with thousands this weekend, other celebrities, including Demi Lovato, Miley Cyrus and George and Amal Clooney, took to the streets to display their support. Kim K. and Kanye West even flew to Washington, D.C. with eldest daughter, North West, to rally with fellow protestors and fans. 
Other stars, including Cher, Madonna, Taylor Swift and more, took to social media to also support the cause.