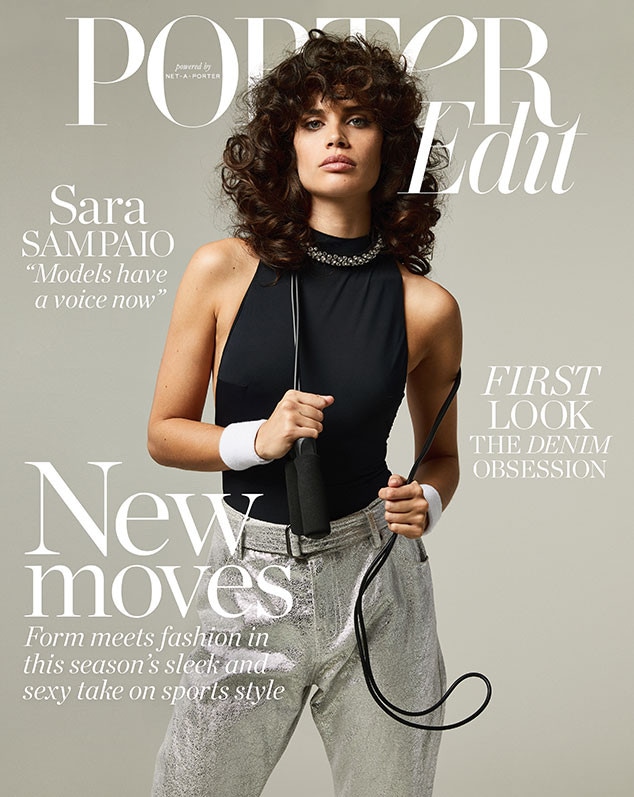 Hanna Tveite/PorterEdit/ NET-A-PORTER.COM
"Models are expected to show up on set, just be pretty, do our job and not say a word," Victoria's Secret Angel Sara Sampaio told NET-A-PORTER's digital magazine, PorterEdit. Well, she's defying industry expectations. 
Last year, Lui released its Fall 2017 issue featuring the 26-year-old model on its cover. The image was of a topless Sampaio laying on her side, wrapped in a fur-lined jacket with her breast exposed. Inside the magazine, another photo showed the star in a wet white tank top, both nipples visible. According to the model, she did not want to pose with any nudity, so the French magazine allegedly signed an agreement. According to PorterEdit, she claims the magazine told her the image of her in the jacket would only be used from the neck up as they wanted to photograph her wet skin. 
"I felt violated," the star told NET-A-PORTER's PorterEdit of when the images were made public. "So, what, now every time I'm on a set, do I have to delete the photos to make sure nobody uses them?"
Hanna Tveite/PorterEdit/ NET-A-PORTER.COM
Hanna Tveite/PorterEdit/ NET-A-PORTER.COM
The catwalk pro further explained her aversion to nudity for men's magazines. "I'm fine with nudity. I have done nudity in the past, but I don't do nudity for men's magazines," she noted to the online magazine. "I can suggest nudity, but I don't want to show my boobs to a men's magazine." 
The model first spoke out publicly against the magazine in October 2017 in the hopes of not only sharing her story, but also to demonstrate to fellow models that they have a right to make decisions about their body and image no matter how the industry may perceive them. "I was reluctant even scared about posting this but now more than ever is important to speak out!" she wrote to her social media followers at the time. 
"When we do open our mouths, we're branded as difficult, opinionated, troublemakers; we are told that we don't know what we are talking about," she told PorterEdit. 
While the industry is a female-dominated one, "we are still not respected," Sampaio added to PorterEdit. "We are still exploited. And it's such a disposable industry that girls feel like they can't say anything, because there will be some other girl out there who will just do it." 
E! News has reached out to Lui for comment. 
To see the full interview with Sara Sampaio, read PorterEdit and/or download the Net-A-Porter app for iPhone, iPad and Android.