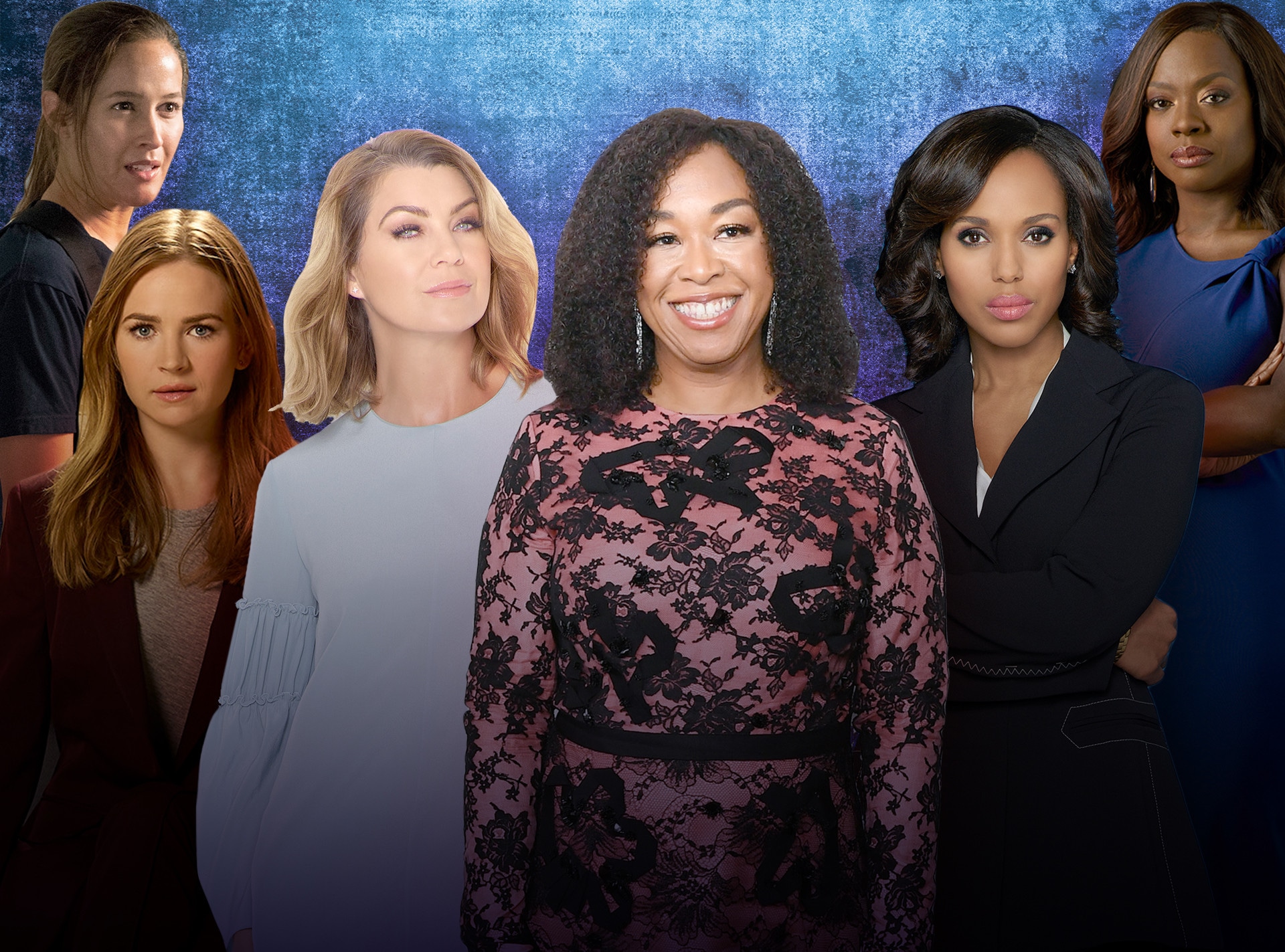 ABC/E! Illustration
When Shonda Rhimes announced her landmark exclusivity deal with Netflix, which locks the uber-producer into a multi-year contract to produce new series and other projects with the streaming giant, we were bullish about the the future of Shondaland properties on ABC. So was ABC.
But that was back in August, before a new season of TV had gotten underway and before potentially the last new shows from the production shingle had their debuts on the network that gave Rhimes her start. But now that For the People and Station 19 have each premiered, the current state of Shondaland on ABC has us feeling slightly less confident about its future. Allow us to explain.
Before we get to the two new kids on the block, let's take a look at the trio of TGIT staples who've come to define the Shondaland brand at the network. Obviously, with only three episodes left to air before its series finale on April 19, Scandal has no place in any talk about the future of the brand. So, while we thank the Gladiators for their seven seasons of service and can't wait to see how Olivia Pope's story wraps up, we're going to move on.
Naturally, there's very little reason to believe that Grey's Anatomy fans have anything to worry about. While the long-running drama, currently in its 14th season, can no longer claim to be ABC's highest-rated drama—that title now belongs to the fall's biggest success story The Good Doctor—Grey's still delivers ratings wins for the network and will have a home there for as long as Rhimes and star Ellen Pomepo want to continue telling Meredith Grey's story. 
As for How to Get Away With Murder? That's a different story. The legal thriller starring Viola Davis just wrapped up its fourth season, pulling in 3.83 million total viewers for the finale. While that number is on par with its performance all season long, it has to be disappointing for a show that premiered to 14 million viewers and much fanfare. Each season of HTGAWM has seen its ratings decline when compared to the year prior and the water cooler chatter surrounding it has seemed to follow suit. The big question here seems to be how much longer Davis will want to continue in the role of Annalise Keating. She continues to garner award season acclaim, earning an Emmy nod for each of the first three seasons (and a win for her first)—and that's something the network certainly places value in. But does it outweigh the diminishing returns in the ratings? We're not so sure anymore. 
Now, let's turn our attention to the pair of new shows who've made their debuts in recent weeks. And let's just get the bad news out of the way: For the People is not the hit Tuesday night series ABC was hoping for. The legal drama, created by Scandal scribe Paul William Davies and starring Britt Robertson, had a rather rocky road on its way to air, with Robertson and her co-star Jasmin Savoy Brown replacing original leads Britne Oldford and Lyndon Smith, respectively, after the pilot was ordered to series. While that's not an uncommon occurrence in the TV industry, production on the series came to a temporary halt after wrapping the second episode so that future episodes could be re-tooled to fit the dynamic of its new leads.
And though reviews of the show were kind, when it finally premiered on March 13 in its 10 p.m. timeslot, a night and time that has been notoriously difficult for the network to program, the numbers were soft, to put it mildly. Only 3.22 million total viewers tuned in, with the show earning a 0.8 rating in the key adult 18-49 demo. And week two was even worse, with a middling 2.69 million total and 0.6 rating. While there are only so many timeslots available in the TGIT lineup and Station 19 was clearly the more obvious fit to follow Grey's, it's clear that airing outside of the programming block did For the People no favors.
Though, as Station 19's early ratings for its series premiere last night indicate, airing behind Grey's Anatomy doesn't mean immediate success. While the fire station-set spinoff, created by Grey's scribe Stacy McKee and starring Jaina Lee Ortiz and Jason George, didn't stumble as badly as For the People did right out of the gate, it didn't exactly set the night ablaze. Following a Grey's lead-in of 7.5 million total viewers and a 1.9 demo rating, the two-hour premiere averaged 5.4 million viewers and a 1.1 rating. The premiere also failed to best its direct competition on NBC, the similarly-themed Chicago Fire, which narrowly edged out a victory with 6.8 million viewers and a 1.2 rating. 
While it's still early days for Station 19, these numbers have to come as a disappointment, especially considering the direct connection to Grey's and the promise of continued crossovers between the two. (However, in our highly scientific post-premiere poll, 42.2 percent of E! News readers voted they'd make the show a permanent part of their TGIT routine, while 39.7 percent said they needed to see more to decide and only 18.1 percent said outright that it was a hard pass. So that's something.)
This all leaves us wondering what Shondaland's impact on the ABC line-up will even look like come this fall. Grey's, of course, is a given, but if we're being honest, everything else seems like a bit of a toss-up. It's highly unlikely that ABC would outright cancel HTGAWM without giving it some sort of send-off. You don't disrespect an actress of Davis' caliber and her impact on your network like that. But we wouldn't be surprised if its fifth season renewal came with a caveat that it would also be its farewell season. As for For the People and Station 19, it's certainly still a little too early to speak with any certainty, but unless there's a drastic reversal of fortunes, the former's days seem numbered. Station 19's connection to Grey's should work in its favor. Its premiere also improved on Scandal's numbers in the same timeslot the week earlier, so unless there's a great many drama pilots that warrant series orders in the next few months, you can probably expect to see Andy Herrera following Meredith Grey yet again in the fall.
But with no other pilots currently in contention for the 2018-19 season from the production company, and Rhimes' deal with Netflix due to begin bearing some fruit in the relatively near future, this is it. The state of Shondaland, and its continued presence on ABC, lies with these four shows. And if this season has proven anything, it's that not all of these shows appear have the staying power necessary to keep Shondaland an elemental force in the network's identity.
For the People airs Tuesdays at 10 p.m., while Grey's Anatomy, Station 19 and Scandal air Thursdays from 8-11 p.m., on ABC.