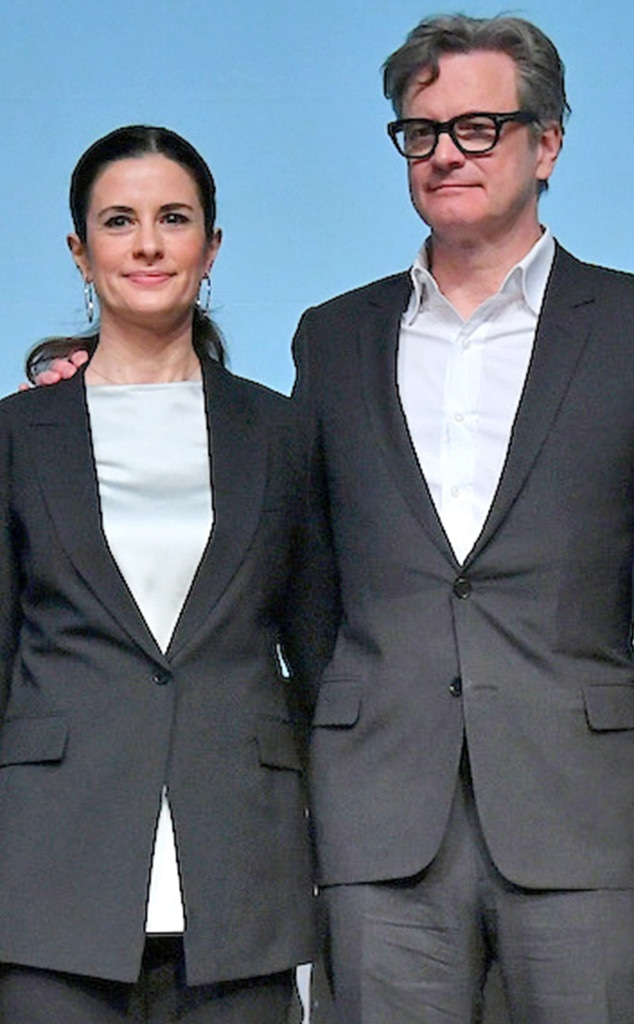 Harold Cunningham/Getty Images for Chopard
Colin Firth and his wife Livia Giuggioli are still going strong, despite the affair and stalking scandal that broke earlier this month.
The couple made their first public appearance together at the Chopard Press Conference at Baselworld 2018 in Basel, Switzerland on Thursday alongside Julianne Moore. Livia hosted the Q & A event, in which Colin and Julianne discussed Chopard's latest initiative.
The couple's public appearance Thursday comes just two weeks after Livia admitted to having a past affair with her alleged stalker. In a statement to E! News on March 9, the couple's rep addressed Livia's former romance with Marco Brancaccia.
George Pimentel/WireImage
"A few years ago Colin and Livia privately made the decision to separate. During that time Livia briefly became involved with former friend Mr Brancaccia. The Firths have since reunited," the rep told E! News. "Subsequently, Mr Brancaccia carried out a frightening campaign of harassment over several months, much of which is documented. As a consequence of his stalking, threats and refusal to desist, the legal complaint was lodged with the Italian authorities."
The couple's rep also said they never spoke publicly about the affair for "obvious reasons." But Colin and Livia felt the need to address it when La Repubblica published details of the police investigation prompted by Giuggioli's accusations.
"The reporting this week on this case is understood to be the consequence of a leaked court document," the rep added. "This is greatly to be regretted. It does not serve the interests of any of the parties involved."
Italian journalist Brancaccia denied the stalking allegations to The Times on March 9 and to People days later, telling the magazine that he's only contacted the couple a few times since his 11-month affair with the Livia came to an end in 2016.
"The reality is that Livia and I have known each other since we were youths, then in 2015-2016 we had an 11-month love affair," Brancaccia told the publication. "After it ended in June 2016 I never called her again. I did send her two WhatsApp messages, one happy birthday [text message] and an email to Colin, the latter which I truly regret."
He went on to share, "It was sent out in a moment of frustration, sadness—a terrible moment. In the email to Colin—which now in retrospect I truly regret sending—I informed him of the affair I had with Livia. I would never now send that email. It was a terrible mistake, so much so that I even apologized. But to go from that to being made out to be a stalker is just not right."