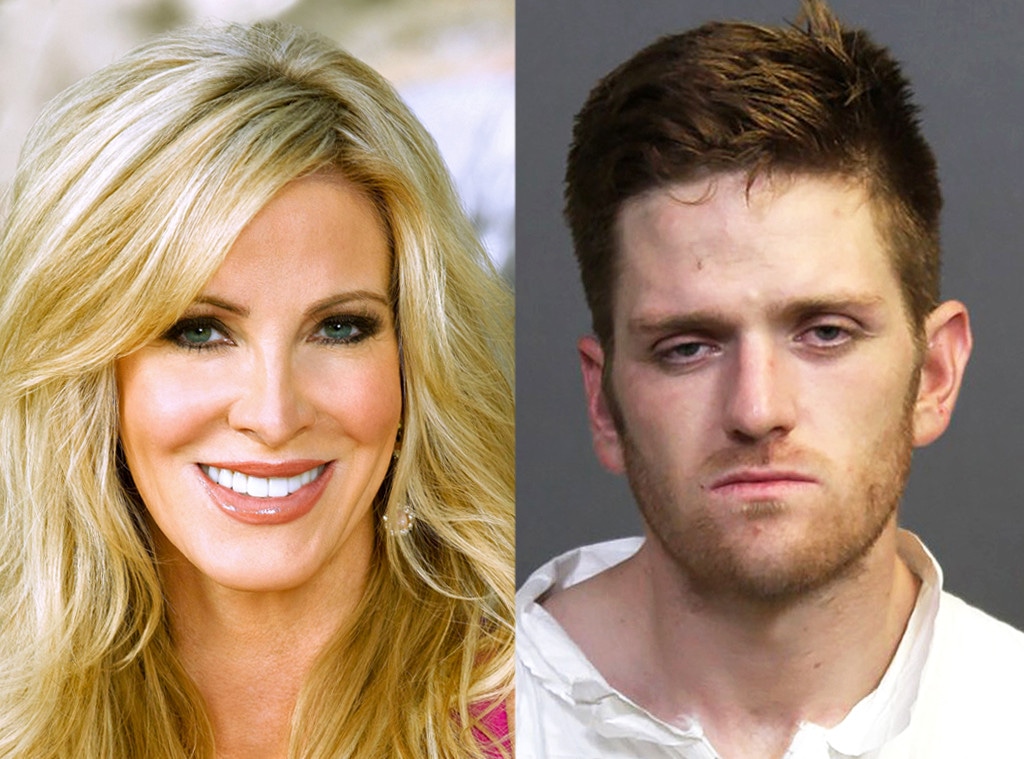 Courtesy of Costa Mesa Police Department, Mitchell Haaseth/Bravo
Real Housewives of Orange County star Lauri Peterson took to Twitter on Thursday to set the record straight about her son Josh Waring's arrest. 
Back in 2016, Waring was arrested for allegedly shooting a man in Costa Mesa, Calif. and fleeing the scene in a stolen car. In addition to the attempted murder charge, he faced charges of battery, hit and run with property damage; resisting arrest and obstructing an officer; unlawful taking of a vehicle and, lastly, evading police and reckless driving.
Unfortunately, this wasn't his only run-in with the law. Later that year, Waring was charged with possession of contraband while in prison after police said he "knowingly and unlawfully" had an alcoholic beverage in the men's maximum-security jail.
"After keeping silent for nearly 2 years in regards to my sons arrest, I am going to begin laying out the facts of his case and how easily it is to be falsely accused," Peterson tweeted. 
When a follower asked the former Housewife to "let us know the truth," the reality star replied "you will get facts only! I promise!"
"I will lay out the facts starting from the day of the arrest," she added. "I'll let you be the judge but it is going to take me time to organize and far to lengthy for one tweet."
Peterson also retweeted an article titled "Cop-Protected Orange County Snitch Avoids Murder Beefs With Laughable Tales" from OC Weekly News twice. In the article, author R. Scott Moxley suggested a man by the name of Bryan Jason Goldstein was also at the crime scene but "managed to quickly win police exoneration." According to a January 2018 article by the Los Angeles Times, Waring's attorney Joel Garson alleged in court that Goldstein received "special treatment."
"If you read the story that I tweeted previously by Scott Moxley from @OCWeekly you will get an abbreviated summary," Peterson wrote. "He understands this case and although there were a couple of minor mistakes, he is the closest to the truth that I've seen so far. Much more to come."
However, Peterson suggested she would expand upon details about the case in a blog post. She also said she saw a "silver lining" in her son's "injustice." When a follower asked if her son was sober, she replied, "Yes! His sobriety is the silver lining in this injustice! It is what keeps me going!"
As E! News previously reported, Peterson has opened up about her son's battle with addiction before, including on the Real Housewives. She left the show in 2008 when Waring was getting into trouble.
According to the Los Angeles Times, he pleaded guilty to three felony counts of possession of a controlled substance with intent to sell and six drug-use or possession-related misdemeanors in 2008. The newspaper also reported he pleaded guilty to misdemeanors, including a hit and run in 2008, as well as battery and drug paraphernalia in 2009.
Lauri and husband George Peterson adopted Waring's daughter Kennedy in 2012.