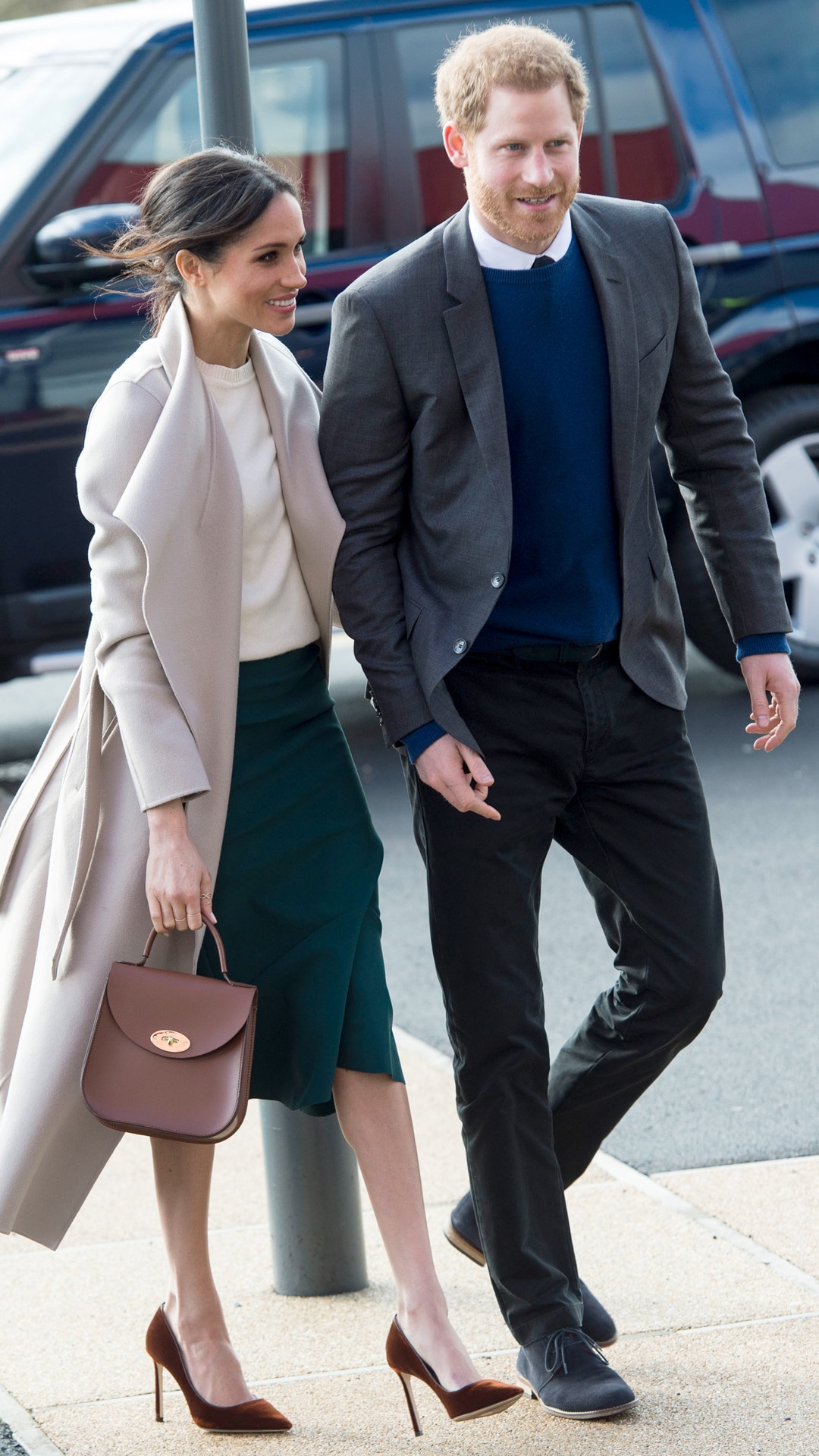 Mark Cuthbert/UK Press via Getty Images
Meghan Markle and Prince Harry made a surprise visit to Belfast.
Photographers spotted the smiling couple arriving at the Eikon Center on Friday morning, where they sat front row at an event for Amazing the Space, a youth-led peace-building initiative.
For the visit, Markle wore velvet Jimmy Choo heels, a Mackage coat, a Victoria Beckham sweater and a teal Greta Constantine skirt. She was also photographed holding a Charlotte Elizabeth purse while arriving at the event on Friday.
Markle's event look actually holds great significance and shows a shift in her fashion choices, according to Christine Ross of Meghan's Mirror, the popular Meghan Markle fashion blog.
"Meghan finally showed off a brighter color palette in her outfit today," Ross tells E! News. "Her bold, rust-colored velvet Jimmy Choo shoes were an unexpected choice, but fashionistas could not stop talking about them. The deep orange color added an unexpected pop to the outfit, which brightened the other pieces she wore with them. Her teal skirt was a great way to use an unexpected color as a neutral. Although the skirt was not your standard black, brown, or navy, it was subdued enough to add a neutral base to the outfit without seeming boring."
And Ross says that Markle's coat was the perfect choice to complete her look.
"Her dusty pink coat by Mackage was the perfect topper for today's outfit. Mixing three different colors - pink, orange, and teal - is not for the faint of heart, but Meghan fashionably combines them into a cohesive and modern look," Ross shares.
Niall Carson - WPA Pool/Getty Images
So what's the significance of this pop of bright clothing?
"This could be a sign that Meghan is already embracing spring and transitioning her wardrobe from monochromatic neutrals to bold colors," Ross says. "Meghan has been favoring black, white, and navy for royal engagements, but today's look shows that she's not afraid to wear - or mix and match - colors in a stylish and creative way. Many royalists have noted that wearing all-black to an event is seen as a 'no-no' for royal women, so seeing her in soft colors has pleased even the most conservative of royal watchers."
As the summer months approach, we might see Markle wearing more and more bright clothing.
"As the weather warms up, we can expect to see more bold colors in the form of dresses, blouses, handbags, and shoes," Ross says. "In the past, Meghan has embraced bright colors like pink, red, and blue, so we look forward to seeing her royal style expand into those colors as well."
Samir Hussein/Samir Hussein/WireImage
This was also the first time Markle wore a skirt to a royal engagement.
"Although she has worn them plenty during her career as an actress, this was her first time wearing a skirt as an almost-member of the royal family," Ross says. "The skirt sends a professional, yet ladylike vibe which may be more suitable for royal events than a more formal suit or trousers look. A few people noted that today's outfit was just like something Rachel Zane would wear in suits!"
In addition to her wardrobe, Ross notes that Markle's bun hairstyle is getting a lot of attention.
"Meghan brought back the messy bun, which is probably the most divisive part of today's look," Ross says. "Some people thought the bun was chic, while others felt the messy, piece-y updo was unprofessional."
But it could just be a more practical decision, Ross shares.
"When Meghan's hair is tied back, she is able to shake hands, give hugs, and meet people without her hair getting in the way," Ross explains. "She also does not have to battle against the weather, as it was a windy, rainy day in Belfast. Meghan may want to explore different hairstyles for these events, like a sleek ponytail or elegant chignon, to keep the naysayers at bay!"