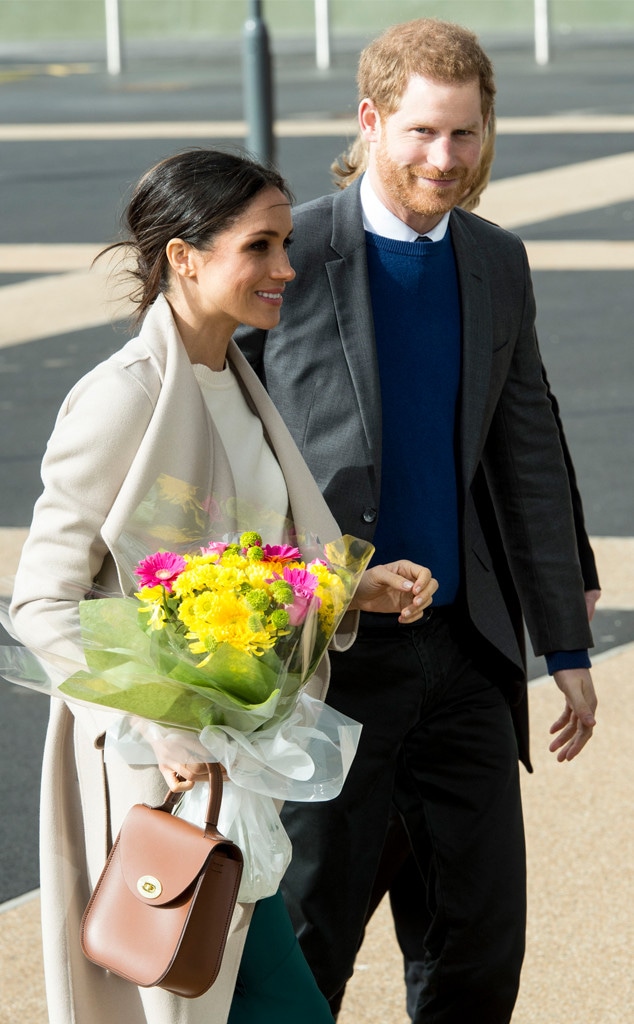 Mark Cuthbert/UK Press via Getty Images
Prince Harry and Meghan Markle sure are sneaky.
The couple popped up in Belfast Friday for an official—but unannounced—visit. According to reporters on the ground, Harry and Meghan's trip had been kept a secret for "security reasons." (Prince William and Kate Middleton visited Northern Ireland prior to their 2011 wedding, too.)
Harry and Meghan had every reason to be cautious. For several decades, the area suffered numerous bombings and shootings as the Irish Republican Army sought to end the British rule. In 1979, Prince Charles' uncle, Louis Mountbatten, was assassinated when an IRA bomb blew up on his boat; Louis' twin grandsons and Doreen, Lady Brabourne, were also killed in the blast.
But Harry and Meghan looked happy as ever as their flight touched down at 10 a.m. local time. They began their day at the Eikon Center to see a youth-led peace-building initiative, Amazing the Space. Always in vogue, the former Suits actress wore a Mackage coat, a Victoria Beckham sweater, a Greta Constantine skirt and Jimmy Choo heels. She held a Charlotte Elizabeth purse.
Mark Cuthbert/UK Press via Getty Images
"The 2,000 schoolchildren had no idea that the royal couple were joining them," a source tells E! News. "So, when they were announced, all the kids went crazy with cheering and clapping." Harry grinned and looked at Meghan as they walked to the front and took their seats. The couple them enjoyed a long video presentation featuring dancing, singing and several speeches.
Afterward, Harry and Meghan met 19-year-old Emma Horan, who had just performed. Their host, Rev. David Latimer, suggested to the couple that she could sing at their spring wedding.
Harry launched Amazing the Space when he visited Northern Ireland for the first time in September 2017. The program empowers young people "to become ambassadors for peace." During their visit, they gave out prizes and met six youngsters who organize the steering group.
"The previous generations have caused such problems, but with your help it can never happen again...You're trying to educate the older generation which is just amazing. Well done," Harry told the schoolchildren. "Clean the slates, guys. You got this!" According to the source, Meghan laughed at Harry's passionate outburst and joked, "No pressure..." Elsewhere in his address to students, Harry said, "Over the years religion has divided us, but we're all the same underneath. The most important thing is that the door is open and you just keep pushing at it. Ten or fifteen years ago, you would have been up against the tide—but you're going with it now. Keep it up!"
Ryan McCallion, 17, was among the youths who had welcomed the royal couple to the Eikon Center. "They were so humble and down to earth. I felt they'd be up on this pedestal but they brought us together and made us feel almost equal. They were really interested in what we were doing. Compared to what our parents have gone through, it's easier for the younger generation," Ryan said. "But we don't see religion or race or color as a barrier, but a welcome."
Niall Carson - WPA Pool/Getty Images
Caoishe McLaughlin, 18, described the experience as "amazing."
"We were expecting it to be more formal," she said. "And when they came in it was just so relaxed. We were kind of surprised at that. It was like, 'Is this actually a royal we are meeting?'"
Rossa Smallman, 17, echoed that sentiment. "We were told all the proper etiquette we had to carry out before we met them. When we actually met them, they were very humble and down to earth," he revealed. "They were above that etiquette; they just seemed like normal people."
Samir Hussein/Samir Hussein/WireImage
The couple's second stop was at Belfast's historic Crown Liquor Saloon. Harry and Meghan met bar staff and local comedians at the former gin palace, which the National Trust now owns. The couple enjoyed half pints of Guinness and half pints of Mourne Mountain Brewery gold ale. Harry ordered sausage and potatoes, while his fiancée dined on the pub's signature Irish stew.
"We're very excited to be here," Meghan told Heather McLachlan and Claire Magill from the National Trust. Harry called it an "amazing" site, adding, "It's on people's bucket lists, isn't it?" After asking about Saturday's rugby matches, Harry guffawed, "You don't show sports here?!"
"It's been a great day. We've all really enjoyed it. There's always a bit of nervousness in the build-up, but it's great that we've been able to showcase The Crown and Northern Ireland," general manager Andy Dickinson said. "I'm really pleased they chose to visit us. They seemed to know a lot about The Crown. We're really glad to be a little part of their wedding build-up."
Caoimhe Whyte, 21, was one of the first to talk to the couple as they left The Crown. "Harry asked us if we were waiting to go into the bar," she said. "He was so friendly and she was just so beautiful in real life. I was star struck." Christina Graham, 38, offered gifts. "I gave Meghan a crystal for the sacral chakra, which is all about opening and creativity," Christina said. "I gave the heart one to Harry because he has an important job and he's doing it from a place of love."
Despite the rainy weather, the couple happily stopped to greet fans outside on Great Victoria St. Roisin Kerr, 35, met the royal couple after popping out on her lunch break. "It was a really lovely surprise," she said. "She's absolutely stunning. They are the perfect Prince and Princess. We wished them all the best for May. She showed us her ring, which was massive and beautiful, and she said she was excited about the wedding. It means a lot to us that they came here. It means we matter. It's a momentous occasion that they decided to come here and see Belfast."
From underneath his umbrella, Harry joked with the crowd, "Take shelter!"
Meghan also talked to Sarah McSparran, calling her 3-year-old daughter a "tough cookie" for braving the rain. "Louise so wanted to meet a real princess," Sarah said. "She's a fantastic, inspirational woman." Another woman joked she had yet to receive her wedding invitation, to which Meghan smiled and replied, "Oh, my goodness! You'll have to talk to Harry about that! What was your name again? Maggie?" Turning to Harry, she joked, "You forgot her invitation!"
During a tour of Catalyst, Inc., which supports innovative entrepreneurs, Harry and Meghan met a married team, Adam Murphy and Sinead Murphy, who make state-of-the-art baby products. Meghan pointed to the product line and said, "I'm sure at some point we'll need the whole thing!" Later, Sinead said, "They seemed very engaged with the products. Harry was particularly interested in the bath. I wonder if he has witnessed bath time with his nephew or niece. As soon as he saw the bum bump, he understood immediately. He said, 'Oh! Non-slip.'"
Next on the itinerary: visiting the Titanic Belfast tourist attraction, which tells the story of the ship from its conception in the early 1900s, through its construction to its failed maiden voyage.
According to a Kensington Palace spokesperson, Harry and Meghan were "guided through the interactive galleries, which explore the sights, sounds, smells and stories of RMS Titanic, as well as the city and people who made her." During the visit, the lovebirds also learned about "how the regeneration of the Titanic Quarter has provided Belfast with an exciting new urban space."
Away from the cameras, the couple enjoyed a five-minute cable car ride around part of the museum, just before signing the visitors' book. The museum's chief executive, Judith Owens, was quite proud to show them the six-year-old exhibition. "In particular, I think Meghan was very interested in the industrialization of Belfast, how the different industries developed and how Belfast had the wealth to build the biggest ships in the world," she said. Harry, however, was more focused on how the ship was designed. "From her origins as a Royal Mail steamship, RMS Titanic has always had a royal connection," she said. "As such, we are absolutely delighted to welcome Prince Harry and Ms. Markle on their first official engagement to Northern Ireland."
Sadly, there was not a recreation of the iconic moment between Leonardo DiCaprio and Kate Winslet's characters in the 1997 movie Titanic. Said Judith, "That's not something we do here."
Afterward, Harry and Meghan boarded a private—for security reasons—en route to London. But before she left, Meghan said, "It's been lovely. Everyone has been so warm and friendly."
(Originally published on Friday, March 23, 2018, at 4:55 a.m. PDT.)