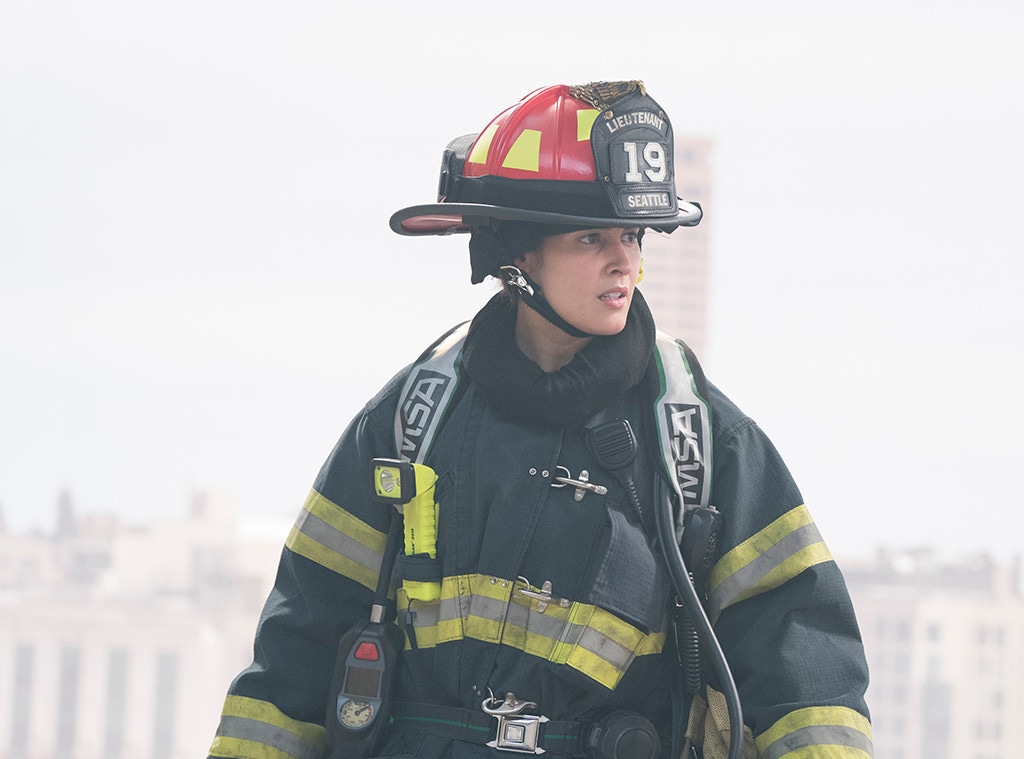 ABC
While her new show was still a couple of months away from premiering when we sat down with her, Stacy McKee seemed incredibly chill for a woman with a show a couple of months away from premiering.
McKee has been a writer/producer on Grey's Anatomy for its entire 14 season run, and now she's in charge of its highly anticipated spinoff, Station 19—the first Grey's spinoff since the beloved Private Practice ended in 2011. To most, that would seem like a high-pressure situation. To McKee, it's no big thing.
"I really haven't felt any pressure about it whatsoever," she tells E! News to our admitted astonishment. "To me, I just walked into this as what an amazing opportunity, what a cool thing to get to do."
McKee says she approached this spinoff the same way Shonda Rhimes herself created Grey's Anatomy back in the day.
"I remember a long time ago Shonda talking about when she came up with Grey's Anatomy, she just had to figure out what the type of medical show was that she would want to watch and she would want to write, and move forward from there. So that's been my whole approach," McKee says. "I'll come up with a firefighter show I would love and want to watch, I'll figure it out, I'll write that, and we'll see if people like it or if they don't. But at least I'll know I've done the thing that is true to my heart and is appropriate for what I would want to write and go from there. So there's no pressure. The pressure's off."
McKee says that the only specification she was given during the pitching process was that a spinoff had to organically connect to the world of Grey's Anatomy, and the rest sort of fell into place.
"I just loved the idea of this world, this firefighting world, and the more research I did about it, the more I fell in love with it," she says. "It seemed like the perfect place to have this really messy, dysfunctional work family with lots of fun and lots of adrenaline."
She had no real world knowledge of firefighting before diving into the show, but McKee says she and her writing staff quickly learned, with the help of research and some helpful firefighter consultants.
"I didn't know anything about surgery when I started on Grey's, and there's where I tell stories from is from characters first, and then by throwing these characters into this really super-charged awesome world, you get to use the pieces of that world that you learn about," she explains. "I think that as a writer it's my job…to look at those pieces of that world and turn them on their head and figure out a way that they can support really amazing dramatic character stories."
To connect organically with Grey's Anatomy, the new show obviously had to be set in Seattle, which led to some discoveries about the regional differences in fire departments.
"Some departments are set up differently, and not every department includes both paramedics and firefighters," she explains. "In Seattle, every firefighter is also a paramedic and that seemed like a really excellent story engine."
Seattle even has a highly renowned program called Medic One, which basically trains and provides elite paramedics. One of those programs is operated by the Seattle Fire Department, which seems pretty perfect for a show exploring the fire department and its ties to the local hospital.
There are also decorating specifics for a fire station set in Seattle.
"They have a different approach to all of their fire stations. They've renovated them in the past several years, so they have a very modern, sleek, new, energetic, fresh vibe to them across the city—every fire station you visit with the exception of one, and that's for historical reasons," McKee explains. "I loved that. I thought that was so exciting that this could be a show set in that environment and you know, not be in your grandpa's fire station."
Another important aspect of a Grey's Anatomy spinoff was a Grey's Anatomy character, and that comes in the form of Ben Warren (Jason George), who has switched jobs once again to become a firefighter, meaning he's back at the bottom of the totem pole. And in some ways, that frustrates the writing team just as much as it frustrates Ben.
"He's gotta start from the ground and move up," McKee says. "That is legitimately how you would have to enter the firefighting force, and in fact I kept asking our consultants questions like, 'Yes, but if you were already a surgeon, and you already had experience, would that give you a leg up in the training?' And the answer is universally no. Nobody gets special treatment."
Working his way up in a new field has, in a way, always been part of Ben's character, as has his marriage to Miranda Bailey (Chandra Wilson), who is remaining on Grey's Anatomy. That may seem like a tricky relationship to balance between two shows, but McKee isn't worried just because, come on, it's Bailey and Ben.  
"To me, I love that there's this connective tissue, and that it can feel like a complicated, messy, very human relationship," she says. "I mean I'm sure we all have spouses that we have difficulties with as well as really amazing wonderful moments with and you work through those things. And to me, Ben and Bailey have always been sort of an example of a really strong couple who face really tough things and they still figure their way out through it, even if it's messy and even if it's hard, so now they just have a new thing to try and work through."
While Ben is that Grey's Anatomy connection and the show is an ensemble, it's Jaina Lee Ortiz' Andy Herrera who is following in the footsteps of characters like Meredith Grey, Olivia Pope, and Annalise Keating as the woman at the center of it all.
"I would definitely say that her character is an emotional anchor for the show, and also a real driving force, plot-wise," says McKee. "It's an important place to anchor a show when you have a character whose heart and whose emotional life is the thing you want to really dive into, and that's definitely her character"
But, McKee says, Andy can only thrive in the midst of all the other characters around her. And that's what she calls the "magic formula" that has worked so well on Grey's Anatomy.
"It's really about the ensemble as much as it is about the one particular character," she says. "All of the pieces fit together to make this really perfect puzzle."
Of course, any comparison to Grey's Anatomy has to consider that Grey's is still going strong after 14 seasons. That's completely insane in general, let alone in today's landscape of 500 and some TV shows to choose from. McKee says that working on that show has taught her to think long game automatically, but she's thinking that long game a little more cautiously in creating a whole new show.
"I don't know what magical thing has helped Grey's Anatomy last," she says. "I think it has just captured an audience and held onto it. And I don't think that's something you can predict or that you can magically make happen. For me, I just try and do the best work I can do and be as true to myself as I can be and put it out into the universe, and what happens happens. I would love for it to last for a long time and for people to love the show as much as I do, and if they don't, I understand, but I can't control any of that. All I can control is what I'm doing and what I'm doing is what I love to do."
Station 19 debuts tonight at 9 p.m. on ABC with a two-hour premiere.